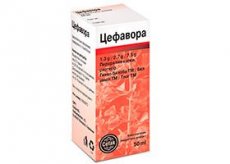 Cefavor is a homeopathic medicine with a complex composition.
Pharmacodynamics
The constituent elements of the drug allow to improve the processes of microcirculation in the heart and brain, as well as peripheral circulation. In addition, they reduce erythrocyte and platelet aggregation, as well as blood viscosity. As a result, there is an improvement in blood characteristics and an increase in the rate of capillary circulation.
Normalization of capillary permeability and cell walls is carried out. Inside tissues, processes that promote the absorption of sugar, as well as oxygen, are activated. Flavonoids prevent the effects of free radicals released by the body in fairly large quantities against the background of IHD.
With the stabilization of circulatory processes, the subclavian syndrome does not develop, as a result of which there is an improvement in the metabolic processes inside the heart tissues, and also in the internal organs with the brain and in the extremities, and also providing them with oxygen.
Side effects of the cefavor
Due to the administration of drops, the following side effects may develop:
immunity reactions: allergy manifestations, including pruritus and rash;
disorders in the digestive tract: digestive disorders;
neurological disorders: development of headaches.
For some time, manifestations of the existing pathology may increase (aggravation of the primary type). These phenomena are completely normal, they do not require discontinuation of drug use. But if they do not pass with time, you should cancel the application and consult with the doctor. Also, the doctor should be treated in case of any unusual signs.
Dosing and administration
The medicine is taken orally (nebulized drops are allowed).
Adolescents from 12 years and adults are required to take the medication 3-4 times a day (20-30 drops each). Children 6-12 years old - the number of methods is similar, and the dose is 10-15 drops.
Duration of therapy is prescribed by the doctor individually, taking into account the expected result and the purpose of admission. Without medical advice, you can not take drops for a long period of time.
Attention!
To simplify the perception of information, this instruction for use of the drug "Cefavor" translated and presented in a special form on the basis of the official instructions for medical use of the drug. Before use read the annotation that came directly to medicines.
Description provided for informational purposes and is not a guide to self-healing. The need for this drug, the purpose of the treatment regimen, methods and dose of the drug is determined solely by the attending physician. Self-medication is dangerous for your health.