Medical expert of the article

х
All iLive content is medically reviewed or fact checked to ensure as much factual accuracy as possible.
We have strict sourcing guidelines and only link to reputable media sites, academic research institutions and, whenever possible, medically peer reviewed studies. Note that the numbers in parentheses ([1], [2], etc.) are clickable links to these studies.
If you feel that any of our content is inaccurate, out-of-date, or otherwise questionable, please select it and press Ctrl + Enter.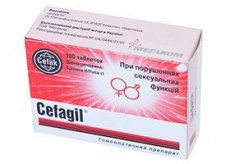 Cefagil is a homeopathic remedy.
Indications of the cefagil
It is used to treat disorders of sexual function (both in women and men), taking into account the principles of therapeutic homeopathic methods.
Release form
Issue in tablets, inside the blister 20 pieces. In a separate pack contains 5 blister plates.
Pharmacodynamics
The elements contained in the medicine stimulate sexual reflexes in the cerebrospinal region, and in addition stabilize the circulation processes in the genitals. Cefagil has a stimulating effect on the central nervous system, and also enhances the female and male libido.
Use of the cefagil during pregnancy
Cefagil may be given to pregnant or lactating women only by a doctor who takes into account the benefits of taking it and the risks to the child. Unambiguous information about the safety of the drug in this period does not exist.
Contraindications
Contraindications are intolerance of the medicinal components that make up the drug, as well as children's age.
Dosing and administration
Tablets should be swallowed, washed down with water, or chewed. Reception is carried out in the amount of 1 tablet at intervals of 0.5-1 hour, but at the same time no more than 12 times a day. In the presence of chronic disorders it is required to drink 1-well a tablet 1-3 times a day.
If you miss the time of reception, you need to continue using in normal mode, without taking a double portion.
The duration of therapy is selected by the treating doctor for each person individually.
[3], [4]
Overdose
An overdose of a medicine can trigger the development of abnormalities in the work of the gastrointestinal tract or have a laxative effect (in people with hypolactasia).
Shelf life
Cefagil is allowed to take in the period of 5 years from the date of release of the drug.
[7]
Attention!
To simplify the perception of information, this instruction for use of the drug "Cefagil" translated and presented in a special form on the basis of the official instructions for medical use of the drug. Before use read the annotation that came directly to medicines.
Description provided for informational purposes and is not a guide to self-healing. The need for this drug, the purpose of the treatment regimen, methods and dose of the drug is determined solely by the attending physician. Self-medication is dangerous for your health.