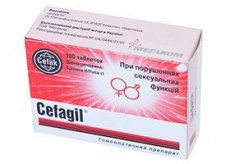 Cefagil is a homeopathic remedy.
Dosing and administration
Tablets should be swallowed, washed down with water, or chewed. Reception is carried out in the amount of 1 tablet at intervals of 0.5-1 hour, but at the same time no more than 12 times a day. In the presence of chronic disorders it is required to drink 1-well a tablet 1-3 times a day.
If you miss the time of reception, you need to continue using in normal mode, without taking a double portion.
The duration of therapy is selected by the treating doctor for each person individually.
Attention!
To simplify the perception of information, this instruction for use of the drug "Cefagil" translated and presented in a special form on the basis of the official instructions for medical use of the drug. Before use read the annotation that came directly to medicines.
Description provided for informational purposes and is not a guide to self-healing. The need for this drug, the purpose of the treatment regimen, methods and dose of the drug is determined solely by the attending physician. Self-medication is dangerous for your health.