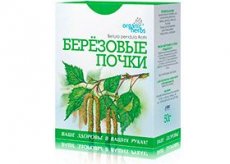 Birch buds are a medicine with antimicrobial, diuretic, wound-healing, as well as anti-inflammatory and restorative properties.
Indications of the birch buds
Birch buds have a medicinal effect and are often used as a means of alternative medicine. Basically, this tool is used:
as an expectorant or disinfectant in the treatment of pathologies of respiratory organs (eg, tracheitis or bronchitis);
as a diuretic in eliminating edema developing against a background of heart problems;
tinctures with broths are required to be used externally (in the form of lotions) with the following diseases: arthritis, neurotic-type pain and myositis (the medicine is rubbed into diseased areas), and rheumatism (compresses are applied to the joints);
the anti-inflammatory effect of the drug makes it possible to use it as a lotion with hygienic baths and bandages to eliminate damages to soft tissues and small wounds, and decoctions with tinctures can be used for a variety of types of eczema.
Contraindications
The main contraindications:
functional renal impairment in chronic form;
glomerulonephritis in acute form;
lactation period in women;
children age less than 12 years;
the patient has an increased sensitivity to birch leaves and kidneys, as well as tinctures, decoctions and other derivatives made from grass.
Dosing and administration
Method of manufacturing medicinal tincture.
About 10 g (1 tablespoon) of herbs should be filled in a container and pour it 1 glass of boiled hot water (200 ml). After that, the container is closed with a lid and heated for 15 minutes in a water bath. Ready tincture should be cooled (about 45 minutes) in a room temperature, then strain it and wring out the rest of the raw material. In the resulting tincture add more boiled water (to get a volume of 200 ml).
Manufacturing of medicinal broth.
Take the grass in the amount of 10 grams per 1 cup (200 ml) of water. Boil the medicine for half an hour, then cool (wait about 10 minutes) and strain using gauze.
Take a decoction or tincture follows this scheme - 1-2 tablespoons for half an hour before meals (3-4 times per day). Before taking shots, you must shake the container with the medicine.
Attention!
To simplify the perception of information, this instruction for use of the drug "Birch buds" translated and presented in a special form on the basis of the official instructions for medical use of the drug. Before use read the annotation that came directly to medicines.
Description provided for informational purposes and is not a guide to self-healing. The need for this drug, the purpose of the treatment regimen, methods and dose of the drug is determined solely by the attending physician. Self-medication is dangerous for your health.