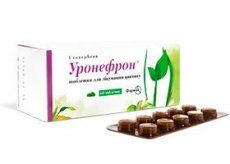 Herbal medicines Uro nephron is designed to treat and prevent the formation of concrements in the urinary system.
Indications of the uronefron
Herbal medicine Uronefron may be prescribed by a doctor:
with acute cystitis, or with exacerbation of chronic cystitis;
with acute or chronic pyelonephritis;
with a chronic inflammatory process in the urethra and / or prostate.
Uro neuron may be useful for preventing the development of urolithiasis, as well as after the operative removal of the concrements from the urinary system (to prevent recurrence of formation of stones).
Release form
Uronefron may be produced in several forms:
Oral syrup of 100 ml, in dark glass bottles and a cardboard box.
Oral drops of 25 ml in dark glass bottles and a cardboard box.
Oral gel 100 g in tubes and carton.
The composition of the medication is presented with onion husks, a goldenroot plant, a rhizome lover, birch leaves, a field horsetail, a rhizome of wheatgrass, a fenugreek seed, a birdwoman, and a parsley root.
Pharmacodynamics
Herbal medicine Uronefron has anti-inflammatory, diuretic, antispasmodic and antibacterial properties.
The diuretic ability of Uro nephron is explained by the presence of flavonoids, inositol, saponins and silicates. Silicate ingredients, among other things, accelerate the removal of urea in the presence of urate in the kidneys.
Uronefron prevents mineral precipitation of crystals in the urinary system, normalizes the balance between urinary colloids and crystalloids.
Saponin substances lower the surface tension, promote the formation of protective colloids, bind the pathogenic components of the urinary fluid, prevent precipitation and sedimentation.
In addition, Uronefron accelerates the excretion of the smallest sediment and small stones, prevents the increase in the size of stones and the formation of concrements in the future.
Onion husks are rich in essential oils, ascorbic acid, carotenoids, flavonoids, acids, sugars, which determines its anti-inflammatory effect.
The root stock of wheatgrass is rich in polysaccharides, sugars, glycoside and vitamin substances, oily and organic acids, therefore the main effect of this plant is a diuretic and regulating metabolic processes.
Birch leaves have in their composition oils, saponins, astringents, resins, vitamins, due to which the herbal remedy is diuretic, choleretic, antispasmodic and anti-inflammatory properties.
Fenugreek seed is rich in trigonelin, vitamins, steroid saponins, phytosterols, oils, flavonoids, which show an anti-inflammatory, wound-healing and restorative effect.
The rhizome of parsley contains a large amount of aponyl, flavonoids, myristicin. Parsley plays the role of litholytics - a means that dissolves concrements.
Goldenrod is a plant with pronounced antimicrobial and anti-inflammatory properties, which is due to the presence of flavonoids and glycosides.
Grass horsetail is rich in flavonoids, phenolcarbonic acid, astringents, saponins, which show the main action. Uro nephron is a diuretic, anti-inflammatory, litholytic and cleansing.
The plant mountaineer has hemostatic and diuretic properties, which are explained by the presence of phenolic acids, astringent components and flavonoids.
Lyubistok is rich in oils, organic acids, starch, mineral components. Thanks to him, Lubistok has a diuretic and anti-inflammatory effect.
Contraindications
Do not use Uro neuron in these cases:
with a tendency to allergic reaction to the drug, or to any of the plant components separately;
with exacerbation of glomerulonephritis, with acute form of interstitial nephritis;
with nephrosis;
when forming phosphate stones;
for conditions requiring forced restriction of fluid intake (eg, failure of renal or cardiac activity);
with obstructive changes in the urinary tract;
with an increase in blood coagulability.
Side effects of the uronefron
Due to the variety of herbal ingredients, Uro neuron can cause, in the first place, allergic reactions, which are usually manifested:
a rash;
itching;
an allergic rhinitis.
Individual patients showed signs of photosensitization, digestive process disorders, nausea, changes in taste, diarrhea, flatulence, dizziness.
If there are significant concrements, development of renal colic is possible.
Dosing and administration
Uronefron is prescribed only to adults.
Urofterrone is drunk after eating, up to 4 times a day.
Syrup Uronefronum is taken in undiluted form, with 1-2 sips of water. The usual single amount of syrup is 5 ml.
Drops of Uronefron diluted in half a glass of water. The average single dosage can be from 25 to 30 drops.
Gel Uronefron diluted in half a glass of warm water. The average single amount of gel is 15-20 g (3-4 tsp).
The duration of the treatment course can vary, depending on the indications. Most often, treatment lasts 2-6 weeks.
Interactions with other drugs
Considering the fact that Uronefron has a pronounced diuretic effect, this drug can increase the excretion of most medications that are prescribed as a complex treatment.
Uro neuron is able to potentiate the effect of blood pressure lowering agents, as well as non-steroid anti-inflammatory drugs, MAO inhibitor drugs, and anti-clotting medications.
Uronefron extends the effect of Paracetamol, Pentabarbital, Aminopyrin.
Uronefron degrades the absorption of β-carotene, α-tocopherol and cholesterol in the small intestine.
Attention!
To simplify the perception of information, this instruction for use of the drug "Uroeneuron" translated and presented in a special form on the basis of the official instructions for medical use of the drug. Before use read the annotation that came directly to medicines.
Description provided for informational purposes and is not a guide to self-healing. The need for this drug, the purpose of the treatment regimen, methods and dose of the drug is determined solely by the attending physician. Self-medication is dangerous for your health.