Medical expert of the article

х
All iLive content is medically reviewed or fact checked to ensure as much factual accuracy as possible.
We have strict sourcing guidelines and only link to reputable media sites, academic research institutions and, whenever possible, medically peer reviewed studies. Note that the numbers in parentheses ([1], [2], etc.) are clickable links to these studies.
If you feel that any of our content is inaccurate, out-of-date, or otherwise questionable, please select it and press Ctrl + Enter.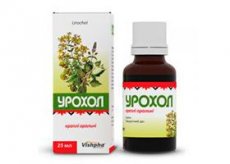 Drops Urochol - a common antispasmodic, which is actively used in urological practice.
Indications of the urochola
Usually Urochol is prescribed alone or in combination with other medicines in acute periods and with exacerbations of chronic inflammatory processes in the kidney and bladder, with urolithiasis, kidney stone disease, cholelithiasis, with exacerbation of calculous cholecystitis or pyelonephritis, with dyskinesia of bile ducts.
[1], [2]
Release form
Urochol is a drop for oral use, which looks like a brown solution with a specific flavor. Sometimes the solution precipitates in a dark color.
The composition of the drug Urochol is represented by water and alcohol extracts:
wild carrots;
leaves of kidney tea;
Grassland herbs;
corn stigmas;
inflorescence of elderberry;
shoots of horsetail;
cones of hops;
birch buds;
St. John's wort;
mint leaves.
 The Urochol solution is packaged in 25 or 40 ml vials, placed in packs of cardboard.
[3]
Pharmacodynamics
Urochol is a complex remedy that combines various plant components. The components of ethers, which are presented in the preparation Urohol, stop the development of inflammation, improve blood circulation in the liver and kidneys, show diuretic, choleretic and antimicrobial effects, stabilize the smooth muscle tone of the urinary system and the hepatobiliary system.
Active Ingredients Urochol is rapidly absorbed into the bloodstream, enhancing urinary output and bile secretion.
Urochol increases the daily amount of urine, prevents azotemia, accelerates the excretion of urea and chlorides from the body, improves blood circulation in the liver, prevents the formation of concrements in the kidneys, bladder and urinary system.
[4]
Use of the urochola during pregnancy
Oral drops of Urochol are not intended for use by pregnant patients. If the doctor intends to appoint Urohol to a patient of childbearing age, then he should be convinced of the absence of her pregnancy.
When breast feeding, Urochol treatment becomes possible only if lactation is suspended.
Contraindications
Do not appoint Urohol:
pregnant or lactating patients;
children under 12 years;
with mechanical jaundice;
in the presence of stones, the size of which exceeds 3 mm;
with a tendency to allergies to ingredients Urohol.
A relative contraindication for Urochol can be hypercoagulation of various etiologies.
[7], [8]
Side effects of the urochola
Doctors pay attention to the fact that the degree of occurrence of side effects during the intake of Urochol is very small. But one should not completely exclude the possibility of developing unwanted symptoms, such as:
dizziness;
soreness in the abdomen;
nausea;
digestive disorders;
allergy;
photosensitivity.
During therapy Urohol not recommended to sunbathe or visit the solarium.
Dosing and administration
Drops of Urochol should be taken before meals, in an amount of 10-20 drops, dissolved in 100 ml of water, three times a day.
The duration of therapy depends on many factors and is determined by the doctor individually. Most often, treatment lasts from five days to four weeks.
If there are indications, the therapeutic course of Urochol is repeated.
[14], [15]
Overdose
Taking large amounts of Urochol can cause digestive upset and dizziness. If this happens, it is recommended that the victim drink a large amount of warm liquid (water, tea) during the day. In complicated cases it is necessary to consult a doctor who prescribes symptomatic preparations and enterosorbents.
[16]
Attention!
To simplify the perception of information, this instruction for use of the drug "Urochol" translated and presented in a special form on the basis of the official instructions for medical use of the drug. Before use read the annotation that came directly to medicines.
Description provided for informational purposes and is not a guide to self-healing. The need for this drug, the purpose of the treatment regimen, methods and dose of the drug is determined solely by the attending physician. Self-medication is dangerous for your health.