Sodium thiosulfate to cleanse the body: how to take?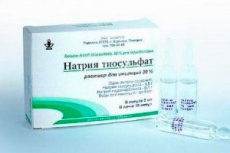 Diseases in the human body occur for various reasons, and one of these causes is considered to be excessive accumulation of various toxic substances in it. Therefore, not so long ago, experts actively began to apply the method of antitoxic "cleansing" of the body, removing from it harmful compounds, radionuclides, decomposition products and other "harmfulness". Sodium thiosulfate has become particularly popular among patients: cleansing the body is carried out gently and quickly, and the circulatory system and the digestive tract get rid of unnecessary substances.
What is this purification? To whom it is suitable, and to whom - no? Will thiosulfate not be harmful to health?
Indications Sodium thiosulfate
Sodium thiosulfate is a combined pharmaceutical agent that belongs to a group of antidote drugs (specific antidotes, anti-toxic drugs). Thiosulfate helps rid the body of harmful and toxic compounds.
While reviewing the instructions, you can learn about the therapeutic properties of sodium thiosulfate:
stops the inflammatory process;
prevents the development of allergies;
inhibits the development of parasites;
neutralizes and removes toxic substances;
cleans tissues.
Sodium thiosulfate is mainly used for the speedy recovery of patients with intoxication (including alcohol), as well as skin diseases, diseases of the joints, gynecological problems, and tuberculosis.
Often, sodium thiosulfate is prescribed for psoriasis, namely, for exacerbation of this disease. The drug has a powerful detoxification and anti-inflammatory effect, helps reduce the number of lesions and accelerates the onset of remission.
Thiosulfate is actively used for gynecological problems: for cystic formations, infertility of unknown origin, endometriosis. The effect of treatment usually does not take long to wait - of course, provided that it is properly used and under the supervision of a doctor.
With sodium thiosulfate treatment, there are general improvements in well-being. A person becomes more cheerful, more energetic; improves the condition of the skin and hair, nails.
Cleansing the body with sodium thiosulfate after chemotherapy, after prolonged and strong toxic effects on the body - this is one of the main uses of the drug. After a full course of therapy, the function of many organs is improved, digestion is improved, hair growth is stimulated, weakness, apathy disappears, and the mental state of patients is optimized. Many note the strengthening of memory and activation of work capacity.
Other indications for sodium thiosulfate treatment:
swelling;
systematic pain in the head, migraine;
disruption of the liver, endocrine disorders;
joint pathologies;
allergic processes, bronchial asthma;
frequent depressive states, moderate mental disorders.
Sodium thiosulfate facilitates the hangover syndrome, relieves craving for alcohol, reduces dependence.
Allergy sodium thiosulfate is indicated for acute process. The drug eliminates the unpleasant allergic manifestations, cleanses the skin, facilitates breathing, improves the work of the digestive system. However, for prophylactic purposes — for example, to prevent the occurrence of an allergic reaction, thiosulfate is useless.
Sodium thiosulfate for weight loss is often used: this tool is available and effective, as it promotes the removal of excess fluid from the body, facilitates the course of metabolic processes, improves liver function. The appetite returns to normal, the general condition improves. For maximum effect, it is important to combine the course of taking thiosulfate with changes in nutrition: you need to increase the percentage of plant foods in the diet, eliminate fatty, salty, fried foods. In addition, you need to drink water: at least two liters per day.
Sodium thiosulfate in gynecology is used because of these beneficial properties of the drug: it stops the development of inflammatory processes, improves metabolism, removes "ballast" substances and toxins from the body, stabilizes hormones. The drug is frequently used in the complex therapy of endometrioid and dermoid cystic formations, infertility of unclear genesis, fibromyomas, etc.
Sodium thiosulfate from acne and other skin problems is perhaps one of the most common uses of the drug. Patients say that during the first 3-4 days the problem of eruptions can worsen, which is associated with increased removal of toxic substances from the tissues. However, later the condition begins to improve rapidly: acne disappears, the inflammatory process subsides, allergy disappears, hormonal background stabilizes, and local immunity is strengthened.
Release form
Sodium thiosulfate can be purchased in pharmacies as a powder, or as a 30% solution (5, 10, or 50 ml ampoules).
The active ingredient is sodium thiosulfate directly, and among the auxiliary ingredients are indicated: sodium bicarbonate, disodium edetate, injectable water.
The solution is colorless (or slightly colored), transparent.
The drug belongs to the category of antidotes.
Titles
Other possible names for sodium thiosulfate:
sodium hyposulfite;
sulphurous sodium;
sodium hyposulfate;
sodium salt of thiosulfuric acid;
thiol sodium;
hyposulphate sodium.
Sodium thiosulfate is the most common drug name, so pharmacies should ask this option.
Pharmacodynamics
Sodium thiosulfate has at the same time several healing properties:
counteracts, removes and neutralizes toxins;
stops the development of inflammatory processes;
prevents and reduces allergic manifestations, lowers the body's allergic mood.
Na thiosulfate serves as a supplier of sulfur ions. It can be used as a basic substrate by the system of rhodanide complexes in the body for the production of non-toxic thio compounds.
Sodium thiosulfate has antidote abilities and can be used for intoxication with hydrocyanic acid or cyanide, arsenic, mercury, lead, iodide and bromide compounds. Against the background of intoxication, arsenic, mercury and lead form a series of non-toxic sulfites. Against the background of cyanide exposure, it forms low toxic rhodanide compounds.
Pharmacokinetics
The drug can be used orally, externally and in the form of intravenous fluids. Oral use of thiosulfate is currently not well understood.
With intravenous infusion, the active ingredient in a short time penetrates into the intercellular fluid, is excreted in unchanged form with urinary fluid.
The half-life is 0.65 hours.
Pharmacokinetic effects of the drug when applied externally are also poorly understood.
Use Sodium thiosulfate during pregnancy
Pregnant women, as well as lactating, thiosulfate is used only in case of severe poisoning with mercury, lead or arsenic compounds, hydrocyanic acid, iodine and methyl bromide, if there is a threat to life for the patient. To cleanse the body during pregnancy, thiosulfate is not used.
General cleansing is recommended in other, more gentle ways. For example, it is recommended to make changes to the diet of a woman, to improve the work of the digestive system. It is necessary to drink sufficient volumes of liquid, walk more often in the open air, fully relax and get enough sleep. These simple methods also contribute to the active cleansing of the body and contribute to the normal development of the unborn child.
Contraindications
Unlike most drugs and antidotes, thiosulfate has a small list of contraindications. For example, it cannot be used to cleanse the body in the following cases:
with increased sensitivity of the body to the ingredients of the drug;
during pregnancy and lactation period;
at children's age (without special indications).
Self thiosulphate treatment is completely discouraged, even if it is carried out in order to cleanse the body. Any use of this tool should be discussed with your doctor.
Sodium Thiosulfate Harm
Thiosulfate can not only help but also harm if the patient suffers from such diseases:
severe decompensated kidney disease;
severe pathologies of the cardiovascular system;
severe anemic conditions.
If a person has stones in the bile system, then he should also stop using sodium thiosulfate, as taking the drug can cause an attack of biliary colic - exacerbation of calculous cholecystitis.
Care should be taken to treat such patients with diabetes, gastric ulcer and duodenal ulcer, immunodeficiency syndrome.
And in no case should one practice self-medication: sodium thiosulfate is harmless, at first glance, but very powerful in its effect. In the absence of skill and experience, treatment can cause irreparable harm to the body.
Side effects Sodium thiosulfate
Thiosulfate can cause some side effects that everyone should be aware of who wants to use the drug in order to cleanse the body:
difficulty breathing, shortness of breath;
nausea, unpleasant "hydrogen sulfide" belching, vomiting, frequent loose stools, bloating and increased flatulence;
headache, dizziness, noise or tinnitus, transient vision loss;
hypotension (in severe cases - up to hypotensive collapse), increased heartbeat, pain along the veins;
allergy, fever, joint pain;
skin redness, hot flushes, fever;
frequent urination, weakness;
local reactions (pain, redness at the site of intravenous thiosulfate).
Dosing and administration
Cleansing the body with sodium thiosulfate can be done in several ways. Consider the most common ones.
Purification by internal solution intake is perhaps the most popular use of this medication. How to drink thiosulfate solution? It is necessary to mix one ampoule of 10 ml of the drug with 200 ml of water (if the patient's body weight is more than 70 kg, then the dosage is increased - for example, twice, but not more than 30 ml / day). The resulting solution is drunk twice: half should be drunk in the morning 1 hour before breakfast, and the second half - in the evening, before going to bed, 2-3 hours after meals. The duration of the course on cleansing the body - from ten days to one week.
Cleansing the body with sodium thiosulfate Kondakova carried out for ten days. In the evening, mix 10 ml of the drug with 200 ml of water or saline solution, drink on an empty stomach immediately before bedtime (after dinner should be 1-2 hours).
How to inject sodium thiosulfate intravenously? Intravenous administration is carried out only by a medical specialist in polyclinic conditions. The standard of administration is 1000 mg / m² per day, in a drip method, with 250-500 ml of saline (5% glucose solution can also be used). A single dose of an intravenous drug may not exceed 2 g (equivalent to 20 ml of 10% thiosulfate). The maximum daily amount of the drug - 4 g (or 40 ml of 10% thiosulfate). The duration of therapy is up to 4 days, after which a break of 3-4 days should be taken. The total possible duration of treatment is up to 4 weeks.
Cleansing the body will not be complete if the intake of thiosulfate is not combined with certain changes in nutrition. So, all patients who undergo a similar therapy should remember the following rules:
during treatment can not overeat, take alcohol;
coffee, smoked products, spices and soda, fresh milk, butter, cream and sour cream, muffins and sweets, mayonnaise, fatty foods should be excluded from the diet;
you can eat vegetable products, kefir, cereals, fish dishes, honey;
Be sure to drink at least 2 liters of pure fresh water per day.
Application for children
According to the instructions, sodium thiosulfate is not prescribed to pediatric patients, due to the lack of clinical data on the effect of the drug on the children's body. However, in practice, this medication is still used: for example, for the treatment of atopic dermatitis, psoriasis, body hypersensitivity reactions.
For the treatment of children using oral administration of a 3% solution, the dosage is calculated individually depending on the age of the child. Such an appointment may be done only by a qualified doctor, and the immediate treatment takes place exclusively under its strict control.
Without weighty indications, ostensibly to cleanse the child's body, the drug is not prescribed.
Overdose
Incorrect dose calculation, the introduction of an excess amount of sodium thiosulfate to cleanse the body can cause the patient to deteriorate. Most often, an overdose is detected when the appearance of such painful symptoms:
joint pain;
increased reflexes;
convulsions;
psychotic disorders (agitation, hallucinations);
digestive disorders, diarrhea, vomiting;
increased adverse events.
In case of such signs, intervention by a medical specialist is necessary. The use of hemodialysis, the appointment of supporting and symptomatic drugs.
Interactions with other drugs
Purification should be carried out gently, non-aggressive, so as not to create additional stress to the body. To do this, it is necessary to eliminate the possibility of negative interactions of thiosulfate with other substances and medicines. These interactions need to be known before proceeding with treatment.
The combination of thiosulfate with drugs, in which the metabolic processes include the stage of rodanating, can minimize the therapeutic effect.
Thiosulfate can neutralize the action of medicines, which include iodine and bromine compounds.
Thiosulfate purification and alcohol ingestion are non-measurable (the body's response may be unpredictable).
In addition, experts do not recommend simultaneous oral intake of sodium thiosulfate and sorbent preparations.
Thiosulfate, which is administered intravenously, is not compatible with any other drug in the same syringe.
Storage conditions
Ampoules with sodium thiosulfate solution are kept in normal room conditions, away from direct sunlight and household heating appliances. Storage of ampoules in the refrigerator is impractical, and in the freezer is prohibited.
If the solution in the ampoule is clouded or a precipitate has formed in it, then such a preparation is considered unsuitable for therapeutic use.
The solution, diluted for oral administration, must be consumed during the day.
Analogs
According to the active ingredient there are such analogs of thiosulfate:
Sodium Tiosulfate Darnitsa;
Sodium Tiosulfate Biolek.
Other antidotes with a similar mechanism of action, but with another active ingredient in the composition, are:
Atsizol (solution, encapsulated drug);
Bridan (injection solution);
Hepaval (Glutathione, powder for preparing injection solution);
Zorex (a capsular preparation based on unitiol and calcium pantothenate);
Methionine (tablet preparation);
Naloxone (injection solution);
Protamine (injection solution);
Calcium thetacin (sodium calcium edetate injectable solution).
The use of analogs is necessarily agreed with the attending doctor: self-replacement of drugs is unacceptable.
Doctors reviews
In itself, cleansing the body - a good idea, because with age, the tissues and circulatory system become clogged, the liver loses its former performance, resources are depleted. A special negative imprint imposes on our health living in large metropolitan areas, in industrial areas, near motorways. According to doctors, sodium thiosulfate in this situation is the best fit - this drug is effective, affordable and relatively safe.
For patients suffering from psoriasis and atopic dermatitis, doctors recommend cleaning each year: the renewed tissues of the body recover faster after injuries, become healthier and stronger, and perform their functions better.
For diseases of the liver, pancreas or intestines, it is advisable to repeat the cleansing 1-2 times a year: this is how gastroenterologists advise. This will help reduce the risk of recurrence of diseases present in the body in a chronic form.
Cleansing with thiosulfate strengthens the immune system. This is important for people who often suffer from colds and inflammatory diseases, as well as for those who suffer from osteochondrosis, has problems with metabolic processes.
In endocrinology and gynecology, thiosulfate is actively used by physicians for diseases such as mastopathy, fibromyoma, endometriosis, and infertility. Periodic "cleansing" is especially recommended for patients living in ecologically unfavorable regions or in areas of high radioactivity.
Patient Reviews
On the Internet you can find a lot of reviews on the use of sodium thiosulfate. Of course, among them there are different opinions - from enthusiastic to extremely negative. Many patients who have undergone a course of purification, note such improvements in their condition:
the appearance of lightness, vigor, mobility;
deliverance from sleepiness, apathy, depression;
improve digestion;
relief of chronic pain in the joints, back;
improvement of the skin and hair, nails;
elimination of skin problems (allergic rashes, pimples, blemishes, psoriatic plaques, papillomas).
Immunity is restored, problems associated with poor environmental conditions, the use of poor-quality products, and a wrong way of life disappear.
Doctors prescribe the drug, both intravenously and for internal use. However, the one and the other method has its own "minuses". Thus, according to users, injecting is sometimes accompanied by pain in the veins, "falling off" of the venous vessels, and unpleasant pulling sensations in the body. Internal reception of the solution may be accompanied by a temporary indigestion, fetid loose stools, unpleasant belching, and increased gas formation. Of course, such symptoms are not present in all. And to avoid them, treatment should be carried out against the background of changes in nutrition and lifestyle, and under the supervision of a doctor.
In general, the following conclusions can be made: Thiosulfate cleans the body qualitatively. But the treatment should be prescribed and monitored by a doctor, in order to avoid complications and unpleasant additional symptoms.
Attention!
To simplify the perception of information, this instruction for use of the drug "Sodium thiosulfate to cleanse the body: how to take?" translated and presented in a special form on the basis of the official instructions for medical use of the drug. Before use read the annotation that came directly to medicines.
Description provided for informational purposes and is not a guide to self-healing. The need for this drug, the purpose of the treatment regimen, methods and dose of the drug is determined solely by the attending physician. Self-medication is dangerous for your health.