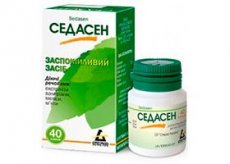 Sedasen is a combined sedative. Consider the indications for its use, dosage, possible side reactions and other nuances of use.
The drug is part of the pharmacological group of hypnotics and sedatives on a plant basis. The combined composition provides a synergistic effect. The drug can be purchased without a prescription, but before using it, you should consult your doctor.
Indications of the sedasena
Sedasen is used in the treatment of mild neurological disorders. Let's consider the main indications for its application:
Neurasthenia and neurosis.
Nervous tension.
Increased irritability.
Anxiety, fear, depression.
Increased fatigue.
Sleep disorders.
In addition to the above indications, the drug can be used in the complex therapy of headache and migraine, which are associated with nervous overstrain. Helps with mild forms of dysmenorrhea, climacteric syndrome, neurocirculatory dystonia with tachycardia, cardialgia or hypertensive syndrome, as well as with prolonged mental stress and inadequate concentration of attention.
Release form
Sedasen has a tablet form of release. The drug is released in the form of hard gelatin capsules for oral administration. The composition of one capsule includes such substances: 50 mg of valerian extract of dry, 25 mg of peppermint extract of dry pepper, 25 mg of peppermint. Auxiliary components: lactose, silicon dioxide colloid, talc, gelatin, iron oxide, titanium dioxide.
Sedasen Fort. Combined herbal preparation with sedative properties. Reduces the level of irritability and excitability of the central and autonomic nervous system, helps with mental fatigue. Sleeping and antispasmodic effect has valerian. This substance activates the secretory functions of the mucous membranes of the digestive tract, exerts choleretic action, dilates the coronary vessels and slows the heart rate. Essential oil of peppermint leaves stimulates the secretory activity of the digestive glands, reduces diarrheal disorders, nausea.
Indications for use: mild forms of neurosis and neurasthenia, anxiety, irritability, increased excitability and fatigue. Migraines and headaches, arterial hypertension, decreased concentration of attention, dermatosis.
Dosage and administration: the drug is prescribed for patients over 12 years of age for 1 capsule 2-3 times a day. The maximum daily dosage is 6 capsules. Duration of treatment is from 2 weeks to 3 months. In some cases, therapy can last up to 1 year.
Side effects: lethargy, drowsiness, dizziness, skin allergic reactions.
Contraindications: patients under 12 years of age, individual intolerance to the components of the drug, pregnancy and lactation.
Overdose: dyspeptic disorders, arterial hypotension, depression, drowsiness, dizziness. For treatment, gastric lavage and further symptomatic therapy are indicated.
Sedasen Forte is contraindicated to take concomitantly with alcohol, antispasmodics, hypotensive and other sedatives.
Pharmacodynamics
The composition of the drug includes several active components of plant origin. Sedasen's pharmacodynamics is based on the mechanism of their action:
Valerian - contains esters of borneol and isovaleric acid, valepotriates, alkaloids valerin and hotenin. These substances reduce the excitability of the central nervous system, have a sedative, choleretic, spasmolytic effect. Biologically active substances slow the heart rate and dilate the coronary vessels.
Peppermint - has a wide range of pharmacological activity. Has spasmolytic, hypnotic and sedative effect. Reduces nausea, stimulates the secretion of digestive glands.
Melissa (mint lemon) - has anticonvulsant, sedative, hypotensive, antispasmodic and antiemetic properties. It improves the digestive process, has a mild choleretic effect, normalizes appetite.
The active substances do not cause dependence.
Pharmacokinetics
After ingestion, the drug is quickly absorbed and distributed throughout the body. Pharmacokinetics indicate low binding to blood plasma proteins. Therapeutic effect occurs within 20-30 minutes and lasts for 4-5 hours. The medicine is excreted by the kidneys in the form of metabolites with urine.
Use of the sedasena during pregnancy
Efficacy and safety of use during pregnancy Sedasen not established. The medicine is used when the potential benefit to the mother is higher than the possible risks to the fetus. The drug is not recommended for lactation and may affect the speed of psychomotor reactions.
Contraindications
Sedasen has such contraindications for use:
Hypersensitivity to the components of the drug.
Pronounced arterial hypotension.
Bronchial asthma.
Depression.
A condition with marked depression of the respiratory and central nervous system.
The drug is not used to treat patients younger than 12 years.
Side effects of the sedasena
In some cases, Sedasen can cause such side effects:
Nausea and vomiting.
Spasmodic pain in abdomen.
Heartburn.
Increased drowsiness and weakness.
Frequent mood swings.
Reduction of concentration and efficiency.
Skin allergic reactions.
If the above symptoms appear, stop taking the medication and seek medical help.
Dosing and administration
Sedasen is prescribed to treat patients older than 12 years. The method of administration and dose depend on the severity of the disease state and the doctor's recommendations.
For children and adolescents with increased mental load, 1-2 capsules are prescribed 2-3 times a day.
For insomnia, 1-2 capsules 1 hour before bedtime.
With increased nervous excitation and irritability, 1-2 capsules 2-3 times a day.
The maximum daily dosage should not exceed 6 tablets divided into 3 doses. To achieve a stable therapeutic effect, the course of treatment should be at least 14 days. With prolonged use, the drug is not addictive.
Overdose
The use of elevated doses of Sedasen can cause such symptoms of an overdose:
Fatigue.
Muscle spasms.
A feeling of contraction in the chest.
Dizziness and headaches.
Tremor of extremities.
Dilation of pupils.
Reducing acuity of hearing and vision.
Bradycardia.
Adverse reactions take place on their own within 24 hours. If necessary, symptomatic therapy is performed.
Interactions with other drugs
Sedasen has limited interactions with other drugs. The drug enhances the sedative, antispasmodic, analgesic and hypnotic properties of other medications. Clinically significant interactions with substances that are metabolized by cytochrome CYP2D6, CYP3A4 / 5, CYP1A2 or CYP2E1 have not been established. It is not recommended simultaneous use with synthetic sedatives.
Medical expert editor
Portnov Alexey Alexandrovich
Education: Kiev National Medical University. A.A. Bogomolets, Specialty - "General Medicine"
Attention!
To simplify the perception of information, this instruction for use of the drug "Sedasen" translated and presented in a special form on the basis of the official instructions for medical use of the drug. Before use read the annotation that came directly to medicines.
Description provided for informational purposes and is not a guide to self-healing. The need for this drug, the purpose of the treatment regimen, methods and dose of the drug is determined solely by the attending physician. Self-medication is dangerous for your health.