Medical expert of the article
Ointments with atopic dermatitis

х
All iLive content is medically reviewed or fact checked to ensure as much factual accuracy as possible.
We have strict sourcing guidelines and only link to reputable media sites, academic research institutions and, whenever possible, medically peer reviewed studies. Note that the numbers in parentheses ([1], [2], etc.) are clickable links to these studies.
If you feel that any of our content is inaccurate, out-of-date, or otherwise questionable, please select it and press Ctrl + Enter. For the complex treatment of allergic rashes and plaques on the skin with atopic dermatitis, often prescribed drugs that are used externally. It should be remembered that in order to achieve a positive result, it is necessary to use only those drugs that the attending physician prescribed to you after diagnosis of the disease.
In order to evaluate the effectiveness of the drug, first make a pharmacological test. On one of the lesions on the skin is applied a small drop of ointment. How to react to the drug, your skin needs to be checked first in twenty minutes, then in two and twelve hours. If the redness and inflammation subsided, then you can safely continue the therapy.
Indications of the ointments for atopic dermatitis
Indications for prescribing ointments are the following symptoms of allergic dermatitis:
The skin becomes dry and rough.
There is itching on the skin.
Skin blushes and swells.
There may appear spots of red color with well-marked edges.
Plaques appear, which from constant combing turn into erosion.
If you have the above symptoms, do not be lazy to go to a dermatologist. He will diagnose and write out the ointment that will be most effective in your case.
Release form
It is ointment, as a form of release, is considered quite popular in the complex treatment of atopic dermatitis, as the active substances that make up such drugs affect the focus of the lesion. They are easy to apply and apply. In addition, non-hormonal ointments are recommended for use not only during pregnancy, but also for children under one year of age.
Names of ointments for atopic dermatitis
Drugs that are used externally and help to get rid of allergic rashes are divided into three large groups:
Nourishing ointments that moisturize the skin.
To reduce itching and combat the inflammatory process.
Bactericidal.
To slow down the development of the inflammation process, to reduce the intensity of unpleasant sensations (burning and itching), usually use drugs with non-hormonal basis or corticosteroid drugs. They should be applied only during periods of exacerbations and use short periods of time (no more than fifteen days).
Ointments that moisturize and nourish the skin can be applied to the skin every day. With increased dryness of the skin, it is best to apply them twice a day.
Very often rashes in allergic diseases are complicated by a variety of infectious inflammatory skin processes, in such cases antibacterial drugs will come to the rescue.
[11], [12], [13], [14], [15], [16], [17], [18]
Hormonal ointments with atopic dermatitis
Drugs with hormones are recommended by specialists as effective remedies for allergies, only in one case: if the patient does not get relief after therapy with conventional medicines. It should be understood that such ointments can be prescribed only by a specialist, in any case do not use them yourself.
Hormonal drugs often cause pigmentation on the skin (especially if used for a long time), and lead to adrenal insufficiency and atrophy of the skin. The following preparations are the most ointments based on hormones for the treatment of allergic rashes in the form of dermatitis.
Celestoderm. Ointment based on betamethasone valerate. Removes the main manifestations of allergies and helps reduce inflammation.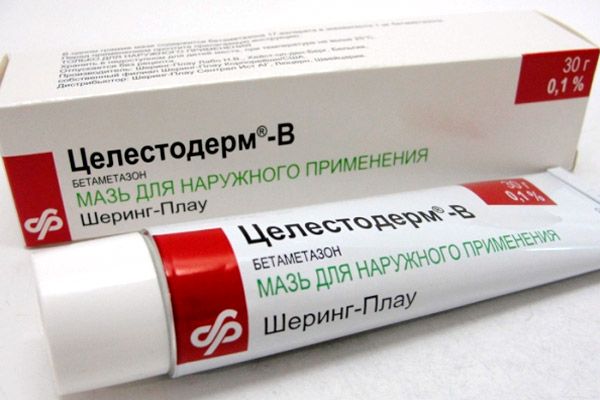 Ointment does not leave greasy traces and has no unpleasant odor, so it can be used not only at the time when you are at home. Use a small amount of ointment, applying it to clean, dried skin one to three times in 24 hours. It is forbidden to use the drug if it is possible to intensify allergic reactions due to intolerance of the components. Do not use for therapy of pregnant, nursing mothers and infants up to six months.
In the process of using Celestoderm, the following side effects are possible: folliculitis, skin reactions (itching or irritation), hypopigmentation, secondary infections, striae, eruptions in the form of acne, maceration.
Flucinar. A fat semi-transparent agent in the form of an ointment in which the active component of fluocinolone acetonide is located. Thanks to him, the drug struggles with itching, allergic manifestations, inflammation. The active ingredient inhibits the synthesis of leukotrienes and prostaglandins, which causes inhibition of inflammatory reactions.
It is applied in small amounts only to the lesions once or twice in 24 hours. It is not recommended to continue therapy longer than fourteen days. Very gently apply to the skin of the face. In order to treat children (from the age of two), the drug is applied with a doctor's recommendation once a day.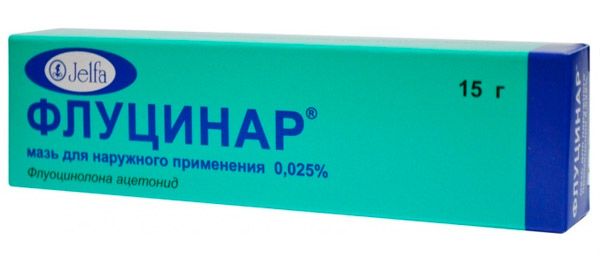 Patients with tumorous or precancerous diseases on the skin, viral or fungal skin diseases, vulgar and pink acne, hypersensitivity to fluocinolone should not be used. Do not use when treating infants and pregnant women.
When used, some unpleasant symptoms may appear: urticaria, folliculitis, cutaneous atrophy, melasma, cataracts, depressive condition, acne.
Advantan. A local antiallergic agent in which the active component of methylprednisolone acetoponate is found. Helps to get rid of allergic skin reactions and inflammation, as well as to remove additional symptoms (burning, swelling, itching).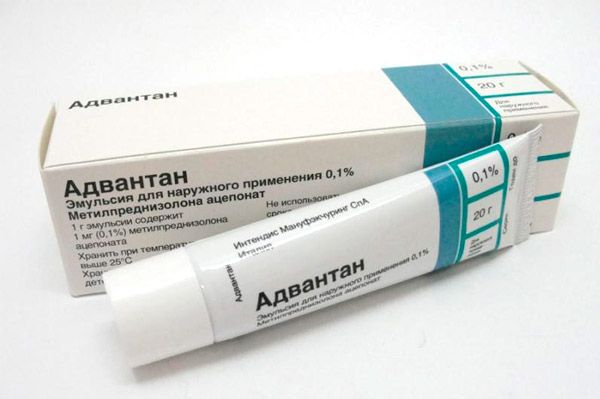 It is applied in small quantity only to the affected skin once in 24 hours. After use, allow to soak yourself. Doctors are allowed to use even for therapy of infants (over four months old). Patients with cutaneous tuberculosis, rosacea, perioral dermatitis, skin diseases caused by a viral infection, the drug is prohibited. Do not apply during treatment to pregnant women.
Usually, this remedy is well tolerated, but in rare cases, unpleasant symptoms may appear: hypertrichosis, folliculitis, depigmentation, erythema, rashes, itching, burning, atrophy.
Hydrocortisone ointment
Recently, more and more specialists are inclined to the opinion that Hydrocortisone Ointment is the best drug for the treatment of atopic dermatitis, especially in children. This is also proved by some studies that were carried out by English scientists.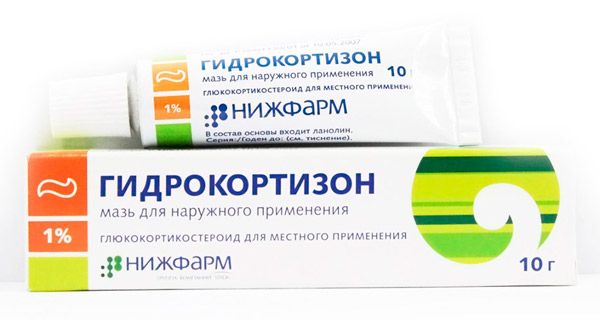 The drug is the first glucocorticosteroid, which was used by doctors for the therapy of various types of dermatitis. The drug contains the active substance hydrocortisone, which helps suppress the functions of tissue macrophages and leukocytes.
Dosage is appointed by the attending physician in accordance with the individual situation. Patients with fungal, viral and infectious skin diseases, cutaneous tuberculosis and syphilis, rosacea, tumors, vulgar acne should not be used. Do not use for therapy of pregnant women.
The use of ointment leads to some side effects: latent diabetes mellitus, dysmenorrhea, hypocalcemia, weight gain, euphoria, depression, nervousness, pseudotumors, hypernatremia, fluid retention, bradycardia, thrombosis, vision loss, myopathy, allergy, leukocyturia.
Non-hormonal ointments with atopic dermatitis
Non-hormonal drugs act on the skin softer, but not always as effective as hormonal drugs. Typically, such medications are used to treat atopic dermatitis in children.
Radevit. Means for improving regeneration and trophism of tissues, which contain such active substances: ergocalciferol, retinol palmitate, α-tocopherol acetate. The drug is antipruritic, anti-inflammatory, moisturizing, softening, reparative effect.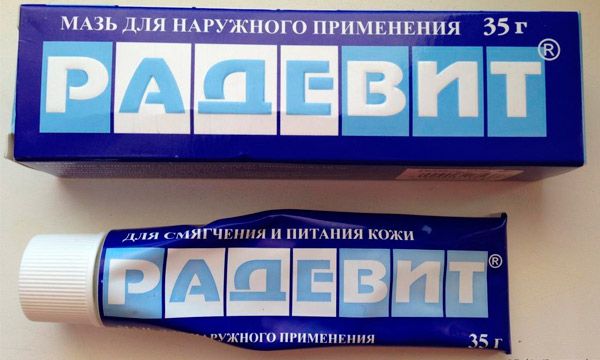 Apply a thin strip of ointment to the affected skin twice in 24 hours. Do not rub. If the skin is too much flaky, you can use a bandage. Patients with hypervitaminosis A, E, D, intolerance to the components of the drug to use it is prohibited. Do not use during pregnancy.
Very rarely, during the use of Radevite, allergies may occur (urticaria, rash, itching).
Gystan. Antiallergic drug, which should not be confused with the hormone "Gistan-N." In the medicine there are such active substances: betulin, dimethicone, lupine, lily of the valley oil, birch buds, spiny veronica, tripartite sequence, spurge, tri-colored violet, calendula and dropsy.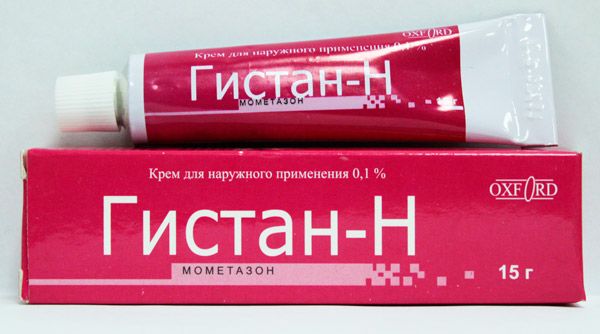 Ointment applied a thin strip on the skin with inflammation once every 24 hours. Therapy can last up to four weeks. Do not use to treat pregnant women. Patients with intolerance to the components of the drug treatment with his help is prohibited.
During therapy with Histamine, the following symptoms may manifest: sweating, striae, acne, paresthesia, itching, skin atrophy, maceration of the skin, hypertrichosis.
Timogen. The drug, which is used to stimulate local immunity, helps improve tissue regeneration. The drug contains the active substance thymogen. Can be used during treatment of atopic dermatitis with secondary infection.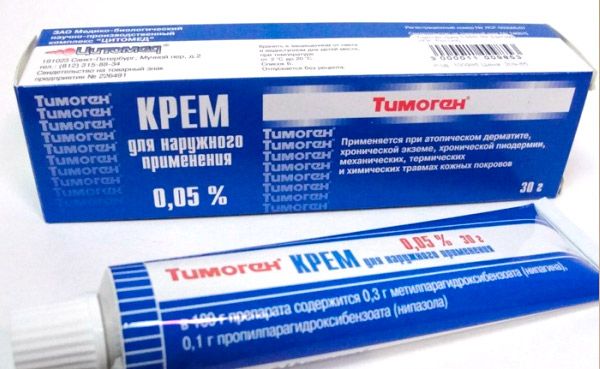 It is recommended to use 2g of ointment in 24 hours. Apply only to inflamed areas with a thin band. After application, the skin can be closed with a bandage. Use until the symptoms disappear, but not longer than twenty days.
Patients with thymogen intolerance should not use the drug. Do not use to treat pregnant women. During the therapy, allergic reactions may occur.
Zinc ointment
Zinc ointment is an effective tool for the treatment of atopic dermatitis. It is able to remove inflammation in a short time, heal rashes. But experts do not recommend using this tool if the patient has too dry skin with roughness and peeling.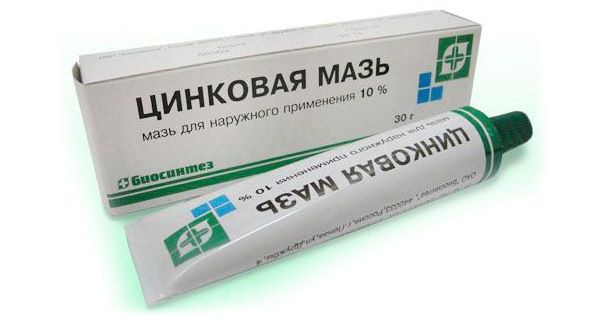 Before applying Zinc ointment to the affected skin, it must be well cleaned and dried. Use a small amount of the drug every two hours. It is possible to apply the ointment up to six times in 24 hours. If you can not use the product so often, you can reduce the application to one time (at night), but do not wash it off the skin until the morning.
Patients with zinc oxide intolerance are prohibited from using the drug. There were no side effects from the use of the product.
Ichthyol ointment
A popular disinfectant and antiseptic drug. The drug contains the active substance ichthyol, which is distinguished by anti-inflammatory, antiseptic, antipruritic and keratostatic effect. Does not affect gram-negative bacteria.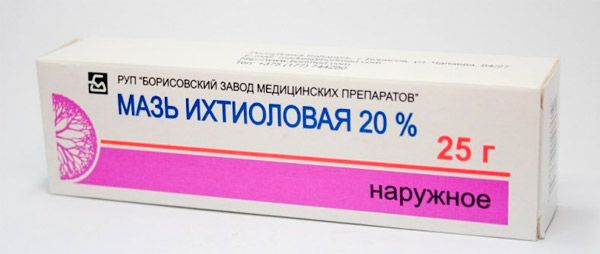 Evenly distribute a thin strip of ointment over the entire surface of the affected skin. Rub with massage movements until a feeling of warmth appears. Patients with intolerance to ichthyol use the drug is prohibited. Side effects of ointments do not cause, although in rare cases, the manifestation of allergies.
Sulfuric ointment
Sulfur ointment is an effective treatment for atopic dermatitis in adults and children. As a rule, the composition of this drug includes sulfur, petrolatum or purified water. Getting on the skin, sulfur begins to interact with organic substances, why acid and sulphides are formed. They are distinguished by antiparasitic and antimicrobial effect.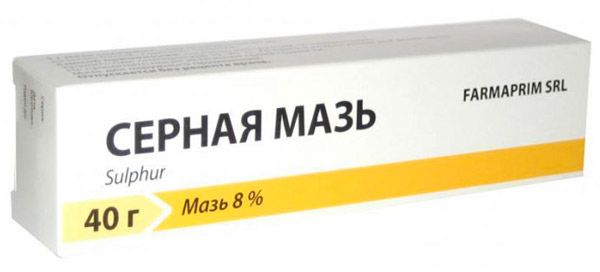 Before applying the ointment on the body, it is necessary to wipe the lesion well and wipe it dry. Before going to bed, cover the skin with dermatitis foci with a thin band of the drug and do not wash off for 24 hours. Before re-applying, take a bath.
Patients with sulfur intolerance to use ointment is prohibited. You can treat atopic dermatitis during pregnancy. Sulfur ointment causes dryness and redness of the skin, peeling and itching.
Heparin ointment
In the composition of this drug are the following active substances: benzilnicotinate, heparin sodium and benzocaine. Heparin is gradually released on the skin and relieves inflammation. Also differs antithrombotic effect. Already existing thrombi rapidly disappear, and new ones do not appear. Pain sensations decrease due to benzocaine.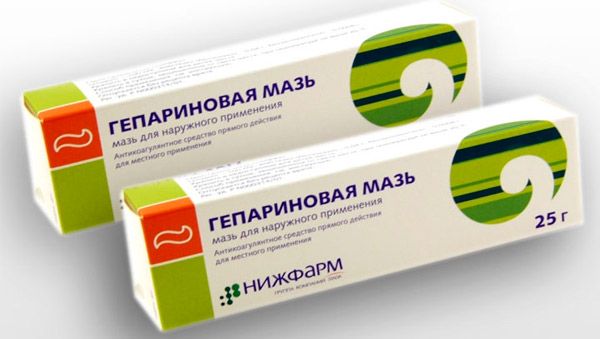 Apply in small amounts to the affected skin two to three times in 24 hours. As a rule, the therapy lasts from three to seven days. If necessary, the attending physician can extend the course.
Patients with intolerance to drug components, ulcerative-necrotic processes, violations of the integrity of the skin can not use Heparin ointment. In some cases, the application leads to skin hyperemia.
Calendula Ointment
The composition of the drug includes the active substance of marigold extract, as well as additional components: water and petroleum jelly. The drug is anti-inflammatory, antiseptic, reparative effect. This is why this ointment is often used to treat atopic dermatitis.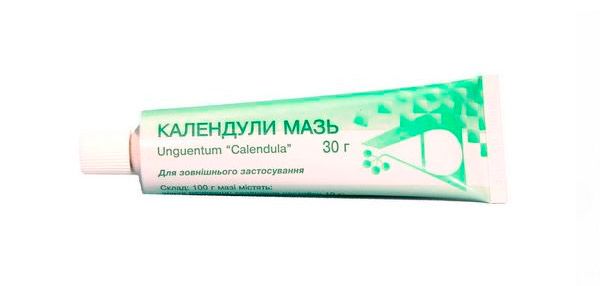 Apply ointment should be in a small amount, without affecting the healthy skin. If necessary, you can use a bandage. The duration of therapy depends on the patient's condition. People with intolerance to the components of the drug to use it is prohibited. Do not use to treat children under the age of five, as well as pregnant women.
[19], [20], [21], [22], [23], [24]
Moisturizing ointment for atopic dermatitis
During the treatment of atopic dermatitis, it is very important to properly moisturize and soften the skin, which is often overdried. For this, special ointments and creams are used.
Lokobeyz Rippea. Ointment to restore the elasticity and softness of dry or overdried skin. Cosmetic, which is used to restore the skin barrier. It has an effective and long lasting effect.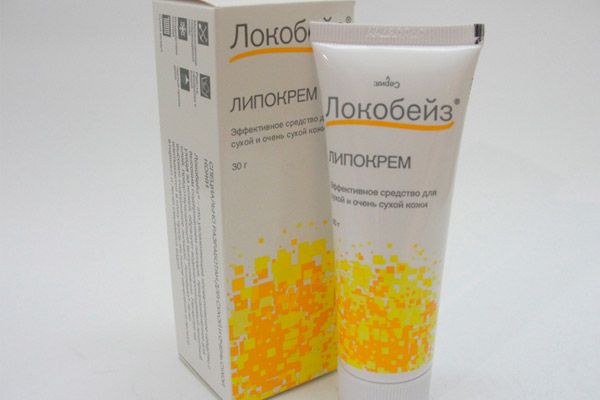 Lokobase Ripea is the source of three important components that moisturize the skin, namely: cholesterol, free fatty acids and ceramides. To make dry skin softer, it is enough to apply the ointment once every 24 hours every day. If you use creams or ointments that additionally dry the skin, the amount of application can be increased. The product has no perfumes, dyes and preservatives, so it can be used to moisturize the skin of children.
Ruzam +. Ointment with anti-inflammatory, antipruritic and antiallergic effect, which helps to moisturize dry skin with atopic dermatitis. The remedy helps not only to calm the inflamed skin, but also to soften it.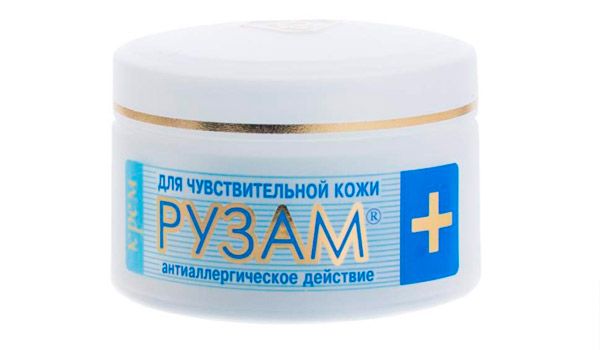 The drug is not hormonal, so it is suitable for the treatment of children and pregnant women. It has a protein nature. Side effects do not cause. Apply a thin strip on the skin, do not rub. Use until allergy symptoms disappear. The drug is prohibited for use in cases of intolerance to its components.
Antipruritic ointments with atopic dermatitis
Often with atopic dermatitis, patients develop an unpleasant itch, which causes them to comb out inflammation and lead to unpleasant complications. To remove the itch, popular antipruritic ointments are used.
Diakhilnaya ointment. A popular disinfectant that can be used to relieve itching with atopic dermatitis. The drug contains active substances: a simple lead-in plaster and petroleum jelly.
To obtain a positive result, apply one to three times in 24 hours to the affected skin. If necessary, you can use a bandage. Patients with intolerance to the components of the ointment drug should not be used.
[25], [26], [27], [28], [29], [30], [31], [32], [33]
Ointment for atopic dermatitis in children
Atopic dermatitis can occur in a child of any age. That's why doctors distinguish three main types of skin allergies in children:
Infant (up to three years).
Children's (three to seven years).
Teenager.
Most often, atopic dermatitis affects children between the ages of six months to two years. Therapy of this disease is associated with some difficulties, because often it turns into a chronic type and can be accompanied by secondary infectious diseases of the skin.
Ointments for the treatment of atopic dermatitis are used very often, since they help to quickly achieve a positive result. When bacterial infection using antibiotic-based ointments (for example, Dioxydin ointment, lincomycin ointment).
In acute form the doctor can prescribe hormonal means: Hydrocortisone ointment, Advantan, Flucinar. If the disease occurs with mild symptoms, non-hormonal drugs can be used: ointment Keratolan, Radevit, Zinc ointment, Ichthyol ointment.
Pharmacodynamics
Consider pharmacodynamics and pharmacokinetics of ointments in atopic dermatitis using the example of the popular "Celestoderm".
In the composition of this drug is betamethasone, which has an effective anti-allergic and anti-inflammatory effect. It inhibits the release of inflammatory mediators and cytokines, which disrupts the metabolism of arachidonic acid. Betamethasone also induces the synthesis of lipocortins, has anti-edematous activity, reduces vascular permeability.
The drug quickly penetrates into the deeper layers of the skin and starts to act actively due to its low-fat ointment form.
Contraindications
Depending on what kind of ointment you choose (non-hormonal or hormonal), it can have special contraindications, which should be carefully read in the instructions.
Hormonal ointments, as a rule, are forbidden to use during pregnancy, in childhood, in patients with intolerance to the components of the drug.
Non-hormonal drugs may not have special contraindications. Thanks to a natural basis, they are used even for the treatment of babies. But even here one should not forget about possible manifestations of allergy to active substances of the ointment.
Attention!
To simplify the perception of information, this instruction for use of the drug "Ointments with atopic dermatitis" translated and presented in a special form on the basis of the official instructions for medical use of the drug. Before use read the annotation that came directly to medicines.
Description provided for informational purposes and is not a guide to self-healing. The need for this drug, the purpose of the treatment regimen, methods and dose of the drug is determined solely by the attending physician. Self-medication is dangerous for your health.