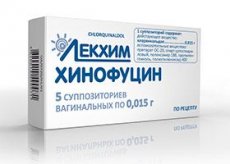 Hinofucin is used in gynecology. Included in the category of antiseptics and antimicrobial drugs.
Pharmacodynamics
Suppositories have antimycotic properties and affect ascomycetes from the family of aspergillus and penicillium, fungi yeast and yeast-like type (candida albikans, etc.), and in addition to dermatophytes.
Hinofucin has an antibacterial effect and acts against Gram-negative and also gram-positive microbes (Streptococcus pyogenes, Staphylococcus aureus, Pseudomonas aeruginosa, vulgar proteus, diphtheria corynebacterium, Salmonella and Escherichia coli), and at the same time separate protozoa (dysentery amoeba, vaginal trichomonas and intestinal lamblia ).
The medicine is characterized by a moderate hyperosmolar activity, which allows it to absorb the discharge from the vagina.
Side effects of the hinofucin
There may develop manifestations of allergy, including itching and eruptions on the genitals, as well as the contact form of dermatitis (due to the action of cetostearyl alcohol). It is also possible the appearance of side effects on the site of introduction - irritation (due to the action of propylene glycol) or burning.
Dosing and administration
The medicine is used by adult women - the suppository is administered vaginally, 1 time per day for 20 days, or 1 suppository twice a day for 10 days.
Before administration, the suppository should be moistened in water. The course of treatment is required to begin with the onset of the menstrual cycle.
Attention!
To simplify the perception of information, this instruction for use of the drug "Hinofucine" translated and presented in a special form on the basis of the official instructions for medical use of the drug. Before use read the annotation that came directly to medicines.
Description provided for informational purposes and is not a guide to self-healing. The need for this drug, the purpose of the treatment regimen, methods and dose of the drug is determined solely by the attending physician. Self-medication is dangerous for your health.