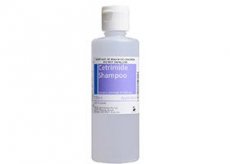 Cetrimide is a therapeutic shampoo.
Pharmacodynamics
The solution, which contains up to 10% of the substance cetrimide, can be converted to a detergent. This circumstance makes it possible to use this medicine to eliminate the seborrheic form of dermatitis caused by Pityrosporum spp.
Shampoo has antimycotic properties (with respect to malassezia furfur), and together with this antibacterial action against gram-positive microbes. In the case of an increase in the concentration of drugs, it can affect individual viruses and individual gram-negative microorganisms.
Cetrimide can act in a weakly alkaline or neutral medium. Bactericidal properties are weakened by the action of an acidic medium, but they are significantly increased when combined with alcohol. As a result, the solution is used in the form of a shampoo. In this dosage form it is also used as a detergent that cleans the skin.
All these characteristics allow us to consider Cetrimide as the first line medicine that eliminates dandruff, because it removes scales and cleans the scalp on the head. Antibacterial action helps to eliminate viruses with microbes and bacteria.
Pharmacokinetics
Cetrimide is a 4-ammonium antiseptic drug with characteristics that are observed in sanitaryic sufractants. Inside the aqueous solution, Sufractants is converted into a bioactive cation, the function of which is the surface effect, as well as an anion with a weaker activity.
The substance is synthesized for a long time with cetarin, as well as collagen, thus forming cetrimide-protein complexes. That is why solutions used for the treatment of dermatological diseases with a low level of cetrimide do not have significant absorption. In addition, the active properties of the drug have a very narrow scope of side effects.
Attention!
To simplify the perception of information, this instruction for use of the drug "Cetrimide" translated and presented in a special form on the basis of the official instructions for medical use of the drug. Before use read the annotation that came directly to medicines.
Description provided for informational purposes and is not a guide to self-healing. The need for this drug, the purpose of the treatment regimen, methods and dose of the drug is determined solely by the attending physician. Self-medication is dangerous for your health.