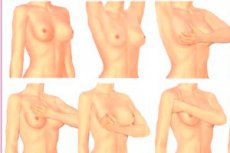 Examination and palpation of the mammary glands by a gynecologist is just as necessary as examining the cervix in the mirrors for gynecological examination.
When examining the mammary glands, you need to pay attention to the structure of the mammary glands, their size (hypoplasia, hypertrophy, graphic changes).
The examination of the mammary glands is  carried out in a standing and lying position with sequential palpation of the external and internal quadrants of the gland. Palpation allows you to determine the location of the tumor, its size, boundaries, consistency, relationships with surrounding tissues. First, it is carried out by light touch of the pads of II, III, IV fingers laid flat on the palpable mammary gland.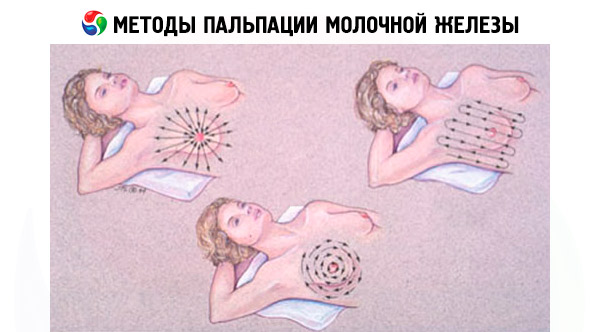 Then go to a deeper palpation, but it should be painless. The study of the metacarpal gland in the horizontal position can greatly facilitate the diagnosis of minimal tumors. In this position, the entire breast (breast) becomes softer that allows to identify small compaction areas in it. In addition, with the horizontal position of the woman being examined, the areas of dyshormonal hyperplasia become softer to the touch, or are not detected at all, while the tumor node does not change its consistency but in comparison to standing.
In all patients, the absence or presence of nasal discharge, its color, consistency is determined. Palpation of the supra- and subclavian as well as axillary regions is carried out in order to identify enlarged lymph nodes.
Medical expert editor
Portnov Alexey Alexandrovich
Education: Kiev National Medical University. A.A. Bogomolets, Specialty - "General Medicine"
Other articles on the topic

Among the signs of that restructuring of the female body, which occurs with the onset of menopause, is also the change in the mammary glands with menopause.

The mammary glands in newborns develop in a special way in utero and after birth, therefore it is very important to distinguish the features of the physiological process and the onset of the development of the disease.

Reconstruction of mammary glands after mastectomy is performed with the purpose of restoring appearance, loss of volume, size and shape of the breast.
The latest research relating Breast examination

French scientists said that women need to give up bras, since this wardrobe item was previously overrated, but in fact it brings more harm to the body than good.

Implants of the breast are one of the popular methods of restoring the shape of the breast. They are used mostly in plastic surgery to give the mammary gland better forms. Their use is found in patients with breast cancer.