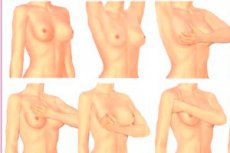 Examination and palpation of the mammary glands by a gynecologist is just as necessary as examining the cervix in the mirrors for gynecological examination.
When examining the mammary glands, you need to pay attention to the structure of the mammary glands, their size (hypoplasia, hypertrophy, graphic changes).
The examination of the mammary glands is  carried out in a standing and lying position with sequential palpation of the external and internal quadrants of the gland. Palpation allows you to determine the location of the tumor, its size, boundaries, consistency, relationships with surrounding tissues. First, it is carried out by light touch of the pads of II, III, IV fingers laid flat on the palpable mammary gland.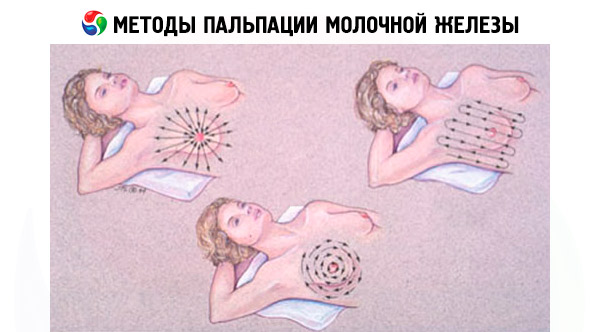 Then go to a deeper palpation, but it should be painless. The study of the metacarpal gland in the horizontal position can greatly facilitate the diagnosis of minimal tumors. In this position, the entire breast (breast) becomes softer that allows to identify small compaction areas in it. In addition, with the horizontal position of the woman being examined, the areas of dyshormonal hyperplasia become softer to the touch, or are not detected at all, while the tumor node does not change its consistency but in comparison to standing.
In all patients, the absence or presence of nasal discharge, its color, consistency is determined. Palpation of the supra- and subclavian as well as axillary regions is carried out in order to identify enlarged lymph nodes.
It is important to know!
Treatment of pain between breasts is performed after the necessary set of clinical studies: for pain of stenocardia, the appointment of antianginal drugs (nitrates) for the treatment of ischemia, prevention of the development of acute coronary artery disease (angiotensin-converting enzyme inhibitors, beta-blockers, calcium channel blockers, etc.) .).
Read more..