Medical expert of the article
New publications
Hawthorn with diabetes mellitus

х
All iLive content is medically reviewed or fact checked to ensure as much factual accuracy as possible.
We have strict sourcing guidelines and only link to reputable media sites, academic research institutions and, whenever possible, medically peer reviewed studies. Note that the numbers in parentheses ([1], [2], etc.) are clickable links to these studies.
If you feel that any of our content is inaccurate, out-of-date, or otherwise questionable, please select it and press Ctrl + Enter.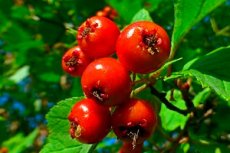 Hawthorn is another very vitamin berry. 
Hawthorn is allowed to consume in fresh, dried and frozen form. From scarlet fruits you can prepare teas, infusions, decoctions, alcohol tinctures, which help saturate the body with useful substances and control the level of sugar in the blood. But still you should not abuse this useful berry.
Benefits
Its vitamin composition is similar to the currant. In addition, the berry contains more than 15 microelements, including potassium, magnesium, calcium, iron, copper, zinc, iodine. Due to the high content of potassium and glycosides, hawthorn has a positive effect on the state of the cardiovascular system, suffering from diabetes mellitus. This same berry can be considered a rich source of calcium, which diabetics lose daily in large quantities.
Hawthorn, like many other berries, contains flavonoids that prevent the formation of atherosclerotic plaques, strengthen the vessels and help preserve youth. Pectin in the composition of berries contributes to the normalization of metabolic processes in the body and has an anti-inflammatory effect in wound processes against the background of diabetes mellitus. Multiple organic acids maintain acid-base balance and improve the work of the digestive system, in particular the intestine and pancreas. A rare component of choline nourishes the brain and prevents the development of obesity, which often happens with diabetes.
[7], [8]
Contraindications
These berries, incredibly useful for people with cardiovascular pathologies, require some caution in the application. For example, in post-stroke state, with bradycardia and lowered arterial pressure from taking berries it is better to refuse. And with other diseases of the heart and blood vessels, it's just not worth to abuse the fruits, limiting 1 glass a day, which is the norm in diabetes. Abuse of berries can also lead to kidney failure.
Although scarlet hawthorn berries do not have a sour taste, they can stimulate the production and secretion of bile, which is dangerous in acute gastrointestinal pathologies. Eating fruits on an empty stomach can provoke a spasm of the vessels and muscles of the body, an emetic reaction, and if after drinking fruits with cold water, there is a risk of painful intestinal colic.
Hawthorn has a pronounced sedative effect, due to which it is able to stabilize the CNS condition and improve sleep. But this property can be unsafe for people whose activities require a high concentration of attention. From the use of a small handful of berries there will be no harm, but from a glass and more there may be drowsiness.
Pregnant women and nursing mothers are allowed only light infusions and teas from the fruits of the plant.
[9], [10]