Medical expert of the article
New publications
Black, red and white currants with diabetes mellitus

х
All iLive content is medically reviewed or fact checked to ensure as much factual accuracy as possible.
We have strict sourcing guidelines and only link to reputable media sites, academic research institutions and, whenever possible, medically peer reviewed studies. Note that the numbers in parentheses ([1], [2], etc.) are clickable links to these studies.
If you feel that any of our content is inaccurate, out-of-date, or otherwise questionable, please select it and press Ctrl + Enter.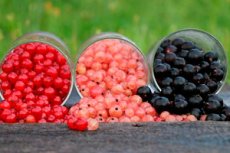 In order to replenish the stores of nutrients, people in the season try to eat as much berries and fruits as possible, and also to make preparations for the winter period. Many know that the leader in the content of vitamin C is the currant. But it's not so simple with diabetics. On them, the disease imposes a number of gastronomic restrictions, tk. Diabetes is associated with impaired glucose uptake, and many berries are sweet in taste. We'll figure out whether it is permissible for currants and some other berries for diabetes.
What berries can you eat with diabetes?
Know what berries you can eat with diabetes, it is very important for the patient. Summer time is a time to strengthen health, increase immunity, and just pamper yourself, but there is a danger of harm by raising blood sugar. To avoid this, one must have an idea of the chemical composition of each species and its effect on carbohydrate metabolism:
raspberries with diabetes - delicious, sweet, aromatic, juicy and at the same time has a low glycemic index (30 units), low caloric content (52 kcal / 100 g). It is rich in vitamins A, C, PP, E, polyunsaturated fatty, malic, citric, folic, salicylic acids, essential oils, zinc, copper, phosphorus, iron, cobalt, pectins, tannins, glucose, fructose, etc. Thus raspberry is useful in diabetes and for the prevention of its development, but with a single caveat - do not abuse the amount, with type 1 diabetes - no more than 100 g once, so as not to cause a jump in sugar;
gooseberries in diabetes - the value of this berry in the presence of chromium in it in the amount necessary for the normal functioning of the body. It is this element that stimulates the production of the pancreas of insulin. To berry as much as possible gave away its useful substances, it must be combined with honey and butter;
cranberries with diabetes mellitus - in people the berry is known for its curative properties, it coughs, kidney stones, headaches, colds, liver, pancreas. The latter gives her the right to be deservedly used in diabetes. It lowers glucose in the blood and saturates the body with many vitamins, flavonoids, pectins and other substances necessary for a full-fledged existence. And, in the dried form its properties are not lost, which allows you to include it in your diet all year round;
apricot in diabetes - it is famous for its high content of iron, potassium, beta-carotene and is very useful for the heart, vascular system, digestion. But for diabetics, its use should be strictly limited because of the large amount of sugar. Having eaten apricots, you need to adjust the other glycemic index to reduce glycemic index. It is more suitable for diabetics apricot in dried form - dried apricots;
cherry with diabetes - is not limited in this pathology. It has a valuable ellagic acid that prevents the development of cancer cells, anthocyanidins that reduce uric acid, as well as anthocyanins that improve the production of insulin.
The main question remains, is it possible to eat currants in type 1 and type 2 diabetes?
Black currant with diabetes
In the world there are about 200 species of currant varieties, but the most common and favorite is black. Pharmacological properties of black currant are contained in its bactericidal, diaphoretic, diuretic, fixing, antioxidant, immunity-strengthening action. And with diabetes, it is also valuable because its consumption does not lead to a rapid jump in glucose in the blood. Its medicinal properties is due to vitamins A, K, P, E, group B, phytoncides, pectins, tannins, organic acids, trace elements and other useful elements. By using it, a person gets a real vitamin and mineral complex, improves his metabolism, which suffers from the disease.
Red currant in diabetes
On this berry, many look down on, as a second-rate relative of black, and very vain. According to the content of coumarins, preventing the formation of blood clots, it surpasses its eminent rival and stands on par with the figs and pomegranate. It has many pectins, the role of which is to remove toxins and harmful substances from the body, it is the leader in the amount of iodine among fruit and artisan plants. Red currant weakens the stomach, it is good to use with constipation, improves metabolism, has choleretic effect. Red currant with diabetes is a very desirable product.
White currant with diabetes mellitus
White currant in its chemical composition is similar to red, so it is also useful in diabetes. It cleans the blood of cholesterol, it is in excess of potassium and iron, so it is effective in combating atherosclerosis, hypertension. It makes the body more resistant to infections and bacteria, improves the motility of the digestive system, strengthens memory. It is also harvested for the winter: it is dried, frozen, and also it produces a fragrant bright red jelly, which in winter will not only benefit, but also pleasure.
Currant leaves with diabetes
In this fruitful culture all its parts, including leaves, possess medicinal properties. They are very fragrant, this property is claimed even in cooking - during the salting mistress put them in pickles, add to teas and drinks. Currant leaves are used for diabetes. They are brewed both fresh and dried and drink infusions, teas, and fresh young leaves are used as an ingredient in dietary sugar-burning salads. They contain many essential oils, ascorbic acid, carotene, phytoncides, which gives them a disinfectant, anti-inflammatory, rejuvenating effect.
[4], [5]
Benefits
Studies have shown that only 20 medium currant berries provide a daily human need for vitamin C. It increases the body's resistance, strengthens the heart muscle, blood vessels, improves eyesight, mental ability, has a good anti-inflammatory and disinfectant effect. Given all this beneficial effect on the body, it suits as well as possible for diabetics, but the most important factor is the ability to control blood sugar due to fructose. In addition, in 7 tablespoons of berries only 1 bread unit.
[6]
Contraindications
With a clear predominance of useful currant qualities for diabetics, she also has her own contraindications. It can not be eaten by people with a diagnosis of thrombophlebitis, stomach and duodenal ulcers, inflammatory liver diseases, hepatitis, gastritis with high acidity of the stomach. In the latter case, you can still afford a small amount of berries, not on an empty stomach, but after eating and observe the reaction.
Reviews
Patients with diabetes mellitus are forced to largely deny themselves, so the opportunity not only to regale, but also to strengthen health, saturate themselves with useful substances, help the flow of metabolic processes and cleanse the body of the products of decay, find only good reviews. Determination of glucose after consumption of currants has shown that a sharp jump in sugar levels does not occur and this convinces of the inability to harm yourself.