Medical expert of the article
New publications
Products that lower blood sugar

х
All iLive content is medically reviewed or fact checked to ensure as much factual accuracy as possible.
We have strict sourcing guidelines and only link to reputable media sites, academic research institutions and, whenever possible, medically peer reviewed studies. Note that the numbers in parentheses ([1], [2], etc.) are clickable links to these studies.
If you feel that any of our content is inaccurate, out-of-date, or otherwise questionable, please select it and press Ctrl + Enter.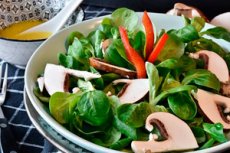 Effective treatment of diabetes is impossible without diet. In the diet of a diabetic, products that lower blood sugar are mandatory. Low-carbohydrate nutrition helps control indicators and prevent complications. What kind of food is useful, and what should be taboo?
Useful foods with elevated blood sugar
According to observations, when using healthy foods with elevated sugar in the blood, the indicators stabilize after 2-3 days. To prevent complications , you must constantly monitor food .
Among the products that lower blood sugar, there is no place enriched with high-speed carbohydrates. Diabetic diets are developed individually, however, everyone must adhere to the general rules.
Food should be taken regularly.
The content of carbohydrates and proteins should be unchanged.
Only need to feel hungry.
Sensation of easy satiety is a signal to stop eating.
Overeating is unacceptable.
When forced deferment of regular meals for an hour or more, a light snack is needed.
Diabetic menu is formed by combining cottage cheese, cereals, boiled eggs, low-fat soups, salads and stewed vegetables, boiled meat dishes and casseroles, decoctions, dried fruits. Preference is given to fruits and leaves with a minimum of carbohydrates (eggplant, cabbage of different species, cucumber, pumpkin, salad). Do not cause problems fresh tomatoes, garlic, mushrooms.
Restrictions apply to marinades and pickles, so-called sweet vegetables (potatoes, beets, carrots, processed tomatoes). Instead of mayonnaise, use vegetable oil. It is recommended to create a weekly menu of suitable products.
Prohibited foods with elevated blood sugar
There are groups of categorically prohibited foods with elevated blood sugar. An indicative list of such food:
fatty meat and fish dishes;
roast;
smoked;
home "twists";
baking;
ice cream;
sweets;
sauces and condiments;
caviar.
Restrictions are imposed on the so-called "sweet" vegetables. These include legumes, carrots, potatoes, beets, peppers, heat-exposed tomatoes. But diabetics should not be upset, because they have enough tasty and healthy vegetables with a minimum of sugar: from pumpkin to fresh tomatoes.
Exclude saturated with simple sugars fruit, fresh and dry - figs, pineapple, banana, dates, raisins.
Sharp cheeses, fatty sour cream are also prohibited.
Prohibited are cereals from corn, semolina, rice cereals. They are replaced with foods that lower blood sugar.
What foods lower blood sugar?
People at risk are vitally important to know which foods lower blood sugar. Because a special diet is an important component of therapy. With the use of products that lower blood sugar, the effect, that is, the stabilization of the indicators, occurs within 2-3 days.
With diabetes, experts recommend to make a diet immediately for a week.
Liquid dishes are prepared on low-fat meat, vegetables, mushrooms, fish. An excellent option - okroshka, borsch.
Garnish and vegetables are suitable for garnishing; an excellent addition to them - steam cutlet, meatballs, scrambled eggs - given that it is recommended not more than 1 egg a day.
Vegetable and fruit salads, stewed vegetables are always welcome on the diabetic table. Sauces and condiments with carbohydrates are replaced with vegetable oil or homemade low-carb mayonnaise.
Fresh fruits are not restricted for strawberries, apples, watermelons. They are consumed after eating.
Cheesecakes, casseroles and fresh cottage cheese are also included in the healthy menu.
When choosing spices, you need to focus on the composition. Salt, pepper - neutral in this sense, ingredients.
From drinks juices, kissels, compotes, tea, chicory coffee are recommended.
Bread is useful rye, from bran, up to 300 grams per day. Baking is completely excluded.
Any illness complicates life, diabetes is no exception. However, millions of people, following the recommendations of doctors, managed to establish a full-fledged labor and personal life. Moreover, the abundance of foods that lower blood sugar, allows you not to deny yourself a delicious and varied food.