Medical expert of the article
New publications
Kalina with type 1 and type 2 diabetes

х
All iLive content is medically reviewed or fact checked to ensure as much factual accuracy as possible.
We have strict sourcing guidelines and only link to reputable media sites, academic research institutions and, whenever possible, medically peer reviewed studies. Note that the numbers in parentheses ([1], [2], etc.) are clickable links to these studies.
If you feel that any of our content is inaccurate, out-of-date, or otherwise questionable, please select it and press Ctrl + Enter.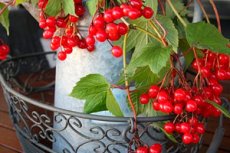 Kalina is a berry that according to various data has a glycemic index of 10-20 units, which is considered quite acceptable in diabetes. 
Kalina can be eaten fresh and frozen (though you have to do without sugar), add it to compotes, prepare tea from fresh berries. Useful and will be jam with the use of sugar substitutes, which is prepared in 2 sets of 5 minutes each.
Indications
It is a berry with a rich taste and a high content of organic acids. This property can be harmful for inflammatory-degenerative diseases of the joints (arthritis, gout), only aggravating the course of the inflammatory process. It does not benefit the high acidity level of gastric juice, since fresh berries can exert a stimulating effect on the secretion of bile and hydrochloric acid, thereby increasing the acidity of the stomach and further irritating its walls.
Kalina is an ardent fighter with high blood pressure, so diabetics suffering from hypotension (low blood pressure) can not eat berries and infusions of other parts of the plant, except that it is a couple of berries for pleasure.
Kalina in alternative medicine is also used as a hemostatic, because it is able to increase blood coagulability. This can be dangerous if the patient has an increased blood viscosity, which is fraught with the formation of blood clots. Needless to say, the use of compounds based on viburnum can be dangerous for people with thrombophlebitis and thrombosis of blood vessels.
Benefits
It contains predominantly slow carbohydrates that do not strain the pancreas. In addition, the berry is among the leaders in the content of vitamin C, improving the work of the endocrine glands, enhancing the immune system and strengthening the vessels, and also contains other vitamins useful in diabetes: A, E, K, R. Vegetables are also famous for their high content of iron, potassium, magnesium, and zinc.
The berry of viburnum has been used since the beginning as a restorative for various diseases. In diabetes, it prevents such dangerous complications as retinopathy and anemia, improves liver health, helps weight control, is considered a preventive measure of atherosclerosis, due to the ability to increase the sensitivity of tissues to insulin reduces the burden on the pancreas.
Contraindications
When pregnancy, the use of viburnum will have to be limited, because the window contains substances that increase the contractile capacity of the uterus. And this is an increased risk of miscarriage. It is clear that this is not about one or two berries that will not harm, but only feed the future mother's body with nutrients without causing an increase in blood sugar levels with previously diagnosed or gestational diabetes.