Medical expert of the article
New publications
Electromyography of the muscles of the pelvic floor and bladder

х
All iLive content is medically reviewed or fact checked to ensure as much factual accuracy as possible.
We have strict sourcing guidelines and only link to reputable media sites, academic research institutions and, whenever possible, medically peer reviewed studies. Note that the numbers in parentheses ([1], [2], etc.) are clickable links to these studies.
If you feel that any of our content is inaccurate, out-of-date, or otherwise questionable, please select it and press Ctrl + Enter.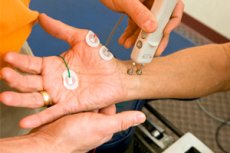 Electromyography - registration of the bioelectrical potential of the muscle.
In the urodynamic study, EMG is used to record the activity of striated pelvic floor muscles: pubic-coccygeal muscle (M. Pubococcygeus), anus lift muscle (m.levator ani), anal sphincter (rabdosphincter). The data of electromyography are necessary to create a complete picture of the urination cycle: during the accumulation of urine, muscles prevent it from flowing, and when emptied, they relax, providing adequate emptying. With a contraction of the bladder, the muscles should not only relax, but do it in a coordinated, non-delayed manner. Urodynamic studies, supplemented by EMG, allow to record the level of bioelectrical activity of the muscles of the pelvic floor during filling and emptying. To evaluate the function of smooth muscles (for example, the neck of the bladder), video dynamics can be used .
From a technical point of view, EMG is a study of electrical potentials generated by the depolarization of a striated muscle. This is the result of the work of motoneuron and muscle, which he innervates. Registration is carried out using dermal or needle electrodes. Urodynamic research is more convenient to combine with the use of skin electrodes that take information from a group of muscles directly below them. Needle electrode can be placed directly in the muscle and record a separate EMG potential. Needle electrodes are concentric, monopolar and bipolar. With their help more often carry out additional research, logically connected with urodynamic research, but separated from it in time. Interpretation of data is carried out jointly. Experts consider the following neurophysiological methods to urodynamic studies:
study of nerve conductivity n. Pudendus;
examination of bulbocavernous reflex;
somatosensory evoked potentials (spinal and cortical).
They are recorded using both stationary and portable equipment.
[1], [2], [3], [4], [5], [6], [7], [8], [9], [10], [11], [12]