List of Prohibited Foods for Gout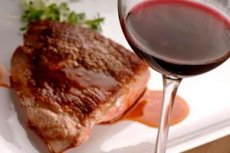 Gout is a common recurrent disease, which is accompanied by increased deposition of urate salts inside the joints and in the kidneys. During exacerbations of gout, along with drug treatment, the patient is required to prescribe a diet, as certain changes in diet can have a key effect on the course of the disease. For example, if you exclude from the diet products that are prohibited for gout, you can "translate" the disease into a stable period of remission, and also greatly alleviate its symptoms.
Even the restriction in the diet of foods prohibited for gout will positively affect the course of the disease. And if you completely exclude them, you can establish a stable control over the gout.
When preparing a diet for a patient with gout, it is necessary to "remove" those prohibited foods that:
contribute to the production and deposition of uric acid in the body;
contribute to the disruption of metabolic processes.
Diet during the exacerbation of gout and during the recession of symptoms is somewhat different. But the products forbidden for gout, the patient should not use throughout the rest of his life.
List of Prohibited Foods for Gout
Broths based on meat, offal, fish or mushrooms.
Canned and pickled products.
Sauces with the addition of hot pepper, garlic, vinegar.
Fatty species of fish, fish caviar.
A by-product (liver, kidneys, heart, lungs, etc.).
Fat types of meat.
Fat.
Sausages (dry, boiled sausage, sausages, sausages, etc.).
Smoked products (lard, meat, cheese, fish, etc.).
Spicy condiments (horseradish, mustard, vassabi, ketchup, chili, etc.).
Beans (beans, peas, lentils, peanuts).
Salt in large quantities, as well as salted snacks, chips, suhariki, salted fish (ram) and meat.
Processed cheeses, brynza, suluguni, cheeses with a high percentage of fat.
Chocolate, Nutella, Nesquic, cocoa, strong teas and coffee.
Flour products with butter cream.
Leaves of sorrel, rhubarb.
Radish.
Berries of grapes and raspberries.
Cauliflower.
In order to accelerate the excretion of urate salts from the body with gout, it is important to drink plenty of water:
in the acute period - 2,5-3 l;
in the period of symptoms subsiding - 1,5-2 liters.
It is impossible to tolerate dehydration of the body with gout, as well as unacceptable long dry fasting - this contributes to mass accumulation in the tissues of purines and uric acid salts, which can provoke the development of an attack of the disease.
In addition to the list of prohibited products, there are a number of other prohibitions for gout:
The use of protein should be limited to 0.9 g per 1 kg of the patient's weight.
Animal protein can be no more than 70% of the total daily amount of proteins.
Fish or meat can be consumed only in boiled form, since only this way one can get rid of a certain part of purines that "leave" in the broth.
The daily amount of salt is limited to 9 g.
About the use of alcoholic beverages for gout can not go and speeches - this is taboo. Even one glass of wine or other drink can cause a new gouty exacerbation.
You can not starve, nor can you overeat.
Tomatoes, butter, fresh milk, honey, cream, sour cream - these products are not included in the list of banned for gout, but their use must be limited in the period of exacerbation of the disease.
The use of prohibited foods for gout is the main cause of frequent attacks and complications of the disease, and this is claimed not only by health professionals, but also by the patients themselves.
If the patient continues to eat foods forbidden with gout, this speeds up the course of destructive processes inside the joints and cartilages. And, as a result, the frequency of seizures increases.
As you can see, products that are forbidden for gout are a pretty impressive list. But do not worry about the diet: the products that are allowed and even recommended for use with gout, too, quite a lot, and their list is very diverse.
Unfortunately, not all patients immediately exclude from their daily menu products prohibited for gout - after all, the habit of eating this way is developed over the years, and it is very difficult to refuse immediately from the usual diet. It does not matter: you can refuse such forbidden foods gradually: first - from fatty meat, fat, then - from fatty fish, etc. If you act according to this scheme, then soon all products prohibited for gout will be eliminated from the diet , and the disease will cease to progress steadily.
Other articles on the topic

The benefits of cherries for gout consist in the pectin substances contained in it (11%).

Being a full member of the Solanaceae family, tomatoes are among the popular vegetable products around which controversy does not subside.

Acetylsalicylic acid or Aspirin - is used in the treatment of mild to moderate pain.
The latest research relating List of Prohibited Foods for Gout

Cherry is a real find for people suffering from gout, American scientists advise. Thanks to the cherry you can reduce the risk of attacks by 75%.