Blackberry in case of diabetes mellitus type 1 and 2: benefit and harm

х
All iLive content is medically reviewed or fact checked to ensure as much factual accuracy as possible.
We have strict sourcing guidelines and only link to reputable media sites, academic research institutions and, whenever possible, medically peer reviewed studies. Note that the numbers in parentheses ([1], [2], etc.) are clickable links to these studies.
If you feel that any of our content is inaccurate, out-of-date, or otherwise questionable, please select it and press Ctrl + Enter.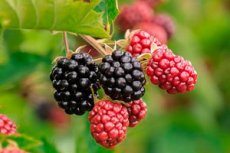 Benefits
The content of sugars (fructose and glucose) in the berry does not exceed the amount of fiber, so there is no need to worry about their rapid digestibility. 100 grams of blackberries contain only 10 g of carbohydrates, so nothing prevents the patient from consuming 150-200 g of dessert berry daily.
Blackberry berries contain vitamins A, C, Group B and vitamin D, which reduces the likelihood of complications in diabetes, because it is considered preventive for the development of atherosclerosis and hypertension. A rich berry and a microelement valuable to the heart, like potassium. But besides it, blackberries contain other equally important mineral substances: calcium and magnesium, sodium and iron, i.e. All those substances that can benefit diabetics, positively affecting the processes occurring in the body.
Fructose in berries is considered a natural sugar, which does not require the production of insulin, so its presence does not affect the pancreas. A glucose, although it poses some danger, but it is necessary for breathing, the work of the heart and muscles, and the provision of thermoregulation. In addition, its metabolism is controlled by the fiber contained in the blackberry.
Blackberry gives diabetics a feeling of saturation, not leading to weight gain, which is often observed in type 2 diabetes. The diuretic action of the dishes from the blackberry helps fight the swelling syndrome, which is also inherent in diabetes. By themselves, the berries do not greatly reduce the concentration of sugar in the blood, but they help to help remove harmful substances from the body, increase the functionality of the digestive system, strengthen the cardiovascular system and overall immunity.
During the ripening season, diabetics can eat fresh berries and prepare them for future use (dry or freeze). From blackberries you can cook a delicious jam (berries are covered with a sweetener for 7-8 hours, after which the resulting juice is brought to a boil and slightly cooled, add berries and cook for a few more minutes on low heat) or jelly, using instead of the usual sugar, its safe substitute.
In addition to berries in the diet of patients with diabetes, you can include infusions of plant leaves, as well as decoction of roots that do not contain simple carbohydrates, but have all the same beneficial properties as berries.
[9]
Contraindications
This is an incredibly useful and tasty dessert, allowed at an elevated level of sugar in the blood. But if in diabetics the acidity of gastric juice in a patient is increased, these rather acidic berries should not be consumed in fresh form. However, like undiluted juice. Diluted water with gastric and intestinal diseases can be consumed in small amounts (no more than 1 glass a day).
In people with individual intolerance of substances that make up berries and blackberry leaves, their use can cause allergic reactions, nausea, vomiting, and stool disorders. In this case, it is necessary to exclude even such products from their diet.
Blackberries can provoke exacerbations of kidney diseases, therefore, a preliminary consultation with a doctor is required.