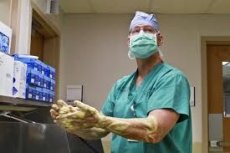 Oncologist-surgeon - a doctor who operates malignant tumors.
Who is an oncologist / surgeon?
The oncologist-surgeon investigates surgical methods of cancer treatment. Today, almost all types of cancer are treated. Oncology pays much attention to the radiation methods of detection of malignant tumors, as well as ultrasound.
The oncologist-surgeon is a very complicated medical specialty, because the cancer is multifaceted and resists therapy, it is really very difficult to cure, it quickly gives metastases. People continue to die from hard-to-treat forms of cancer, and some can not be saved only because they give up early.
Oncologist-surgeon can work a resolute man with golden hands, compassionate and sensitive. He conducts diagnostics, the operation itself and rehabilitation of cancer patients. Places of work of oncologists-surgeons - scientific institutes of oncology and private oncological centers. Oncologists-surgeons support their skills, introduce new technologies into practice, for example, radio-knife, laparoscopic operations, embolization of tumor vessels, perfusion of tumor vessels, hyperthermia.
The insidiousness of cancer - in its rapid spread. If you have found abnormal discharge from the lungs (for example, blood in sputum), vaginas, intestinal obstruction or not clear where the jaundice has come from, do not hesitate to seek advice from an oncologist. If you consult a doctor at the first stage of cancer, in 85% of cases you can live 15 more years. If you are a long time treating inflammation of the lungs or colitis, you need to ask the district doctor or a specialist to go to an oncologist. The disease is important to quickly diagnose and skillfully combine surgical methods of treatment with hormone therapy, chemotherapy and radiation therapy. Hormonotherapy is especially effective in breast cancer. Radiation therapy is performed when the cancer has only begun to develop.
Cancer development factors: 
Heredity. 
Lifestyle, smoking, alcoholism. 
Radioactive irradiation. 
Effects of drugs.
In the treatment of cancer, there are often complications associated with a fall in immunity. These include viral infections, fungus, and intoxication: nausea, vomiting, diarrhea, hair loss, depression. With all this, oncologists are fighting.
What tests should I take when I go to an oncologist / surgeon?
The oncologist-surgeon first conducts a primary examination of the patient, collects an anamnesis, clarifies complaints, palpates organs and surrounding lymph nodes. Further studies are assigned: X-ray, ultrasound, blood tests for oncomarkers, a general blood test. Even a general analysis of blood can already be suspected of something wrong. The number of leukocytes sharply increases, the reaction of erythrocyte sedimentation, and hemoglobin decreases. If the results alerted the doctor, he asks the patient to give a biochemical blood test.
About the stage of development and the size of the tumor can tell the blood test for oncomarkers - specific proteins, the level of which increases in cancer patients. These proteins are in a certain number for everyone. The value of the blood test for oncomarkers is in the dynamics of growth of these proteins.
What diagnostic methods does the oncologist-surgeon use?
The oncologist-surgeon can assign to you CT, MRI, ultrasound, tissue biopsy, mammography. Women with a certain genetic marker risk breast cancer more than those who do not have such a marker.
Two men out of seven experience lifelong prostate cancer. To diagnose this most common among the male population of cancer, transrectal biopsy is used under ultrasound control.
What does the oncologist-surgeon do?
The oncologist-surgeon deals with surgical methods of treating tumors, benign and malignant: leukemia, melanoma, myeloma, sarcoma, mediastinal tumors, central nervous system, female genital organs, mammary glands, digestive system, bones and other organs and parts of the body. He treats a patient in collaboration with a chemotherapist and a psychotherapist. Help the latter is needed during the illness, not only to the most cancer patient, but to his surroundings. The oncologist does not cure - he fights for every year of life with the patient. He tries to maintain the function of the organ affected by the tumor.
In addition to the surgical method of combating tumors, in the last 10-15 physicians around the world, and especially developed countries: USA, Israel, Germany, use alternative methods of cancer treatment. Please do not confuse them with healing and quackery. All these methods are based on the principles of evidence-based medicine. Here they are: 
Radio-knife - with the help of an electric current safe for the body frequency is excised tumor, metastases are destroyed. The knife works in welding, coagulation or cutting modes. The uniqueness of the method consists in the bloodlessness of the operation being performed. Stitches and staples are not used. The healing of wounds occurs very quickly, and the tumor can be removed by this method in less than an hour. The radio-knife is used in urology, ophthalmology, in operations on the stomach and intestines. Developed interested in the US and Russia. 
Successful attempts to use stem cells in the treatment of some types of cancer continue. They are capable of restoring the structure of damaged tissues. Stem cells are the ones from which all organs are formed in the womb in the future. 
Bone marrow transplantation. 
Burning the tumor with ultrasound.
In European clinics, of course, more advanced equipment and better service. Who can - is treated there. But in Ukraine at the Cancer Institute you can get an oncologist's advice, undergo chemotherapy, successfully remove the tumor and live after that for a couple of decades. We have good specialists. Private oncology clinics are also open.
First, the doctor conducts a clinical examination. He must have sensitive fingers in order to detect a tumor at the first examination. Then the oncologist takes a scraping or biopsy.
If you do not heal ulcers and cracks on the skin for a long time, there were spots on the skin that did not exist before, a mole has darkened, a cough for a long time does not pass, you can hardly swallow food, you have constipation or diarrhea, sudden weight loss, pain in the spine, visit an oncologist . To prevent cancer is not taken by surprise, go through regular examinations: mammography, ultrasound, gastroscopy.
The oncologist has a specialization: for example, there are doctors-oncogynecologists, oncourologists, oncodermatologists, oncoplophonologists, oncology proctologists, oncogastrologists.
Oncological diseases occupy a leading place among the causes of death of people. Every 4th person can develop cancer. Benign tumor is different from malignant slow growth, and it never gives metastases. With the growth of a benign tumor, surrounding healthy tissues are not destroyed. When the body affects the malignant process, everything happens vice versa. There are several hundred types of cancer! The most common is cancer of the lung, intestines and female genital organs.
What diseases does the oncologist-surgeon treat?
Oncologist-surgeon treats tumors by surgery. Modern life is full of harmful factors, which lead to the fact that cancer occurs a little less often than ARVI.
The oncologist-surgeon has knowledge of general medicine, knows the laws by which uncontrolled division of cells in the body occurs.
Why do tumors occur? Most often the cause is a permanent trauma to the body part, squeezing, or the effect of ionizing radiation. Benign tumors are not dangerous, they can be cured at any stage of development by simple removal. The most common among them - myoma of the uterus, adenoma and lipoma.
Malignant tumor, in contrast to benign, is always accompanied by mutational processes in cells. Mutations are known to be changes in DNA, leading to a violation of cell division. Cancer of the breast, testes and rectum can be detected by the patient himself. You should also pay attention to the "bad" birthmarks, which are most often exposed to light-skinned people with blue and gray eyes. In "suspicious" moles heterogeneous color. This birthmark bleeds and itches. Skin cancer in the structure of oncology accounts for 5% of cases. The mole can be easily removed with an electric coagulator, avoiding the development of formidable complications. Take care of yourself from a young age. Drops of water act like lenses, so take yourself for a rule - come out of the water - wipe dry. Avoid sunburn at noon. It is also harmful to visit the solarium.
Benign tumors exist for years, surrounded by a shell. Malignant tumors penetrate the bloodstream into other organs, which leads to death. They just stop working. It is at the stage of metastasis formation that the big one feels a strong weakness, loses weight. The tumor grows and eventually collapses, while toxic products of decomposition are thrown into the blood.
90% of cancer is the result of bad habits: smoking, malnutrition. Most tumors begin to develop by the age of 20. Slimming, fatigue, pain, yellowing of the skin, itching, chronic constipation, blood in the urine, bleeding from the genital tract, tightness in the chest, difficulty breathing, coughing - these are the main symptoms of cancer of the relevant organs.
Each woman faced with discomfort and swelling of the mammary glands on certain days of the menstrual cycle. Mastopathy affects 9 out of 10 women. It is a provoking factor for breast cancer.
Advices of a doctor oncologist-surgeon
The fundamentals of cancer prevention are very simple: do not abuse smoking, play sports, visit regularly for preventive examinations of a gynecologist and urologist. It is necessary to reduce the amount of fat consumed with food. Fresh vegetables and fruits contain anti-carcinogens. Eat them as much as possible, so as not to become a victim of an insidious disease. Give up alcohol. Better at all. From it there is no use. For an organism alcohol is a poison! Especially it increases the risk of cancer of the stomach and liver.
Vegetarians suffer less from cancer, as they do not fry meat (in fried foods, many carcinogens) and do not eat sausages, sausages and other smoked products.
Weakness, loss of appetite and weight indicates the need to urgently undergo a complete examination. If you have birthmarks with uneven edges, they itch and flake, hair does not grow on them, there is inflammation, or there is blood from them, then such birthmarks are subject to removal after examination by an oncologist.
Lack of appetite, nausea and pale skin are characteristic of stomach cancer. Bloody discharge during defecation and constipation occur with cancer of the rectum. Do not lose a single day, contact a specialist if you have found one or more of these symptoms. But do not give in to panic - 80% of tumors are benign. Yes, and malignant tumors today - far from a sentence. The oncologist-surgeon will help to identify the cancer at an early stage and choose the optimal method of treatment.
It is important to know!
The morphogenesis of tumors, or the mechanism of their development in morphological illumination, can be divided into a precancer and the stage of tumor formation and growth.
Read more..