Medical expert of the article
New publications
Blisters after cauterization of warts

х
All iLive content is medically reviewed or fact checked to ensure as much factual accuracy as possible.
We have strict sourcing guidelines and only link to reputable media sites, academic research institutions and, whenever possible, medically peer reviewed studies. Note that the numbers in parentheses ([1], [2], etc.) are clickable links to these studies.
If you feel that any of our content is inaccurate, out-of-date, or otherwise questionable, please select it and press Ctrl + Enter.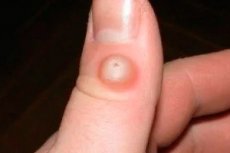 Warts are not life threatening, but they can cause unpleasant and sometimes painful sensations, especially if they are located on the soles of the feet. Women are worried about the growths on the face, because those spoil the appearance. People with warts on their hands feel uncomfortable, because they are of a viral nature, which means they are transmitted through shaking hands, touching the same objects. Sooner or later, the decision to remove them is brewing. Moxibustion with liquid nitrogen is one of the most effective and less traumatic methods, although it can leave a blister after the wart is removed.
Liquid nitrogen is used to freeze and destroy tissue. This quality allows for several sessions to "burn out" the cold warts. This procedure is called "cryodestruction". It is carried out in a beauty parlor. [1]
How does this happen? Special preparation is not required, the main thing is that there is no rash or damage to the skin around the formation. The area is wiped with alcohol, liquid nitrogen (nitrogen) is applied to the affected area. Under its action, the wart becomes pale and dense, and after a minute it turns red and swells. [2]
After cryodestruction of the wart, a bubble appears after a few hours, which can dissolve only after a week, leaving behind a crust, and after its disappearance - a pinkish spot. [3]
It is categorically impossible to pierce the bubble yourself, but if it happened that it burst itself, then several times a day you need to treat it with a solution of potassium permanganate, brilliant green or other disinfectants. To avoid infection in the wound, it is recommended to close it with bactericidal glue. [4]
Except for such insignificant consequences as a bladder from a nitrogen burn and the inability to do it at home, the procedure has a number of positive aspects: it does not take much time, is a little painful, does not cause bleeding, does not require special care after it is carried out, and does not leave scars. Has few contraindications (hypertension, pregnancy, viral and colds accompanied by fever).
It is important to know!
It does not matter which part of the body the wart has grown, it causes only one desire - to get rid of it as soon as possible. Among the treatments are the removal of warts by nitrogen, which is used for any type of wart. This method of exposure is suitable even for children.
Read more..