Rapid HIV test: accuracy, instruction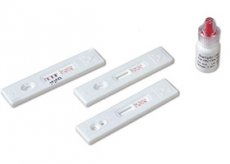 A quick (spot) or rapid HIV test can be conducted outside of specialized laboratories, does not require any equipment, and results become known within a maximum of 30 minutes. However, some experts are skeptical about this method of diagnosis, noting the questionable reliability and accuracy of the rapid HIV test.
Indications for rapid HIV testing and where to do it
First of all, indications for rapid HIV testing, which can detect an infection at home, include cases associated with an increased risk of infection:
after urgent (unplanned) blood transfusion;
with sexual violence or sexual contact with a possible carrier of the virus;
when the health worker contacts the blood of a patient with AIDS (during diagnostic manipulations or surgical interventions).
The need for this test occurs if the patient complains of a significant causeless weight loss or a long-lasting febrile condition (and the treating doctor discovers enlarged lymph nodes).
Important!

To pass tests, including rapid tests, probably not earlier than 3 months after the alleged infection. Repeated tests are performed every 3 months for 1 year.
Rapid rapid testing is resorted to when this analysis is not available due to the lack of specialized laboratories.
In addition, an HIV rapid test is used to screen for at-risk groups, in order to carry out surveillance among certain populations with an increased likelihood of infection with the virus. In this case, as well as when contacting any of the Centers for AIDS Prevention, an express HIV test is conducted for free.
Where can I take an express test for HIV? 
To pass the definition of the immunodeficiency virus and the antibody, there are specialized laboratories for diagnosing HIV infection that have the right to conduct these studies and appropriate accreditation.
Rapid HIV test in pharmacies
You can purchase an express test for HIV in pharmacies, which most often offer:
Cito test HIV 1/2 (Pharmaco), Vikia HIV 1/2 (BioMerieux) - rapid immunochromatographic analysis (ICA), which determines the presence of antibodies to HIV types 1 and 2 in blood, serum and blood plasma;
Rapid HIV test for saliva - OraQuick HIV-1/2 Rapid Antibody Test or OraQuick Advance rapid HIV test (sensitivity over 94%); producer - OraSure Technologies (USA). Many people call it a home rapid test for HIV because it does not need to take blood from the vein (as it is done in laboratories) or from a finger (piercing it with a scarifier - as in carrying out Cito test HIV 1/2), because the biomaterial To check the presence / absence of the virus, saliva serves;
Rapid Test for HIV Abon Biopharm - Abon HIV 1/2/0 Tri-Line Rapid Test (manufacturer - Abon Biopharm Hangzhou Co., China).
Special preparation for such rapid testing is not required, but how to use the HIV rapid test is explained in detail in the step-by-step instruction that accompanies the particular test set, which should be followed exactly.
An HIV rapid test for 4 generations - for example, OnSite HIV Ag / Ab Rapid Test (CTK Biotech Inc.) or HIV-1/2 Ag / Ab Combo Rapid Test - diagnostic kits for a combined serum, plasma or whole blood HIV-1 p24, as well as antibodies (IgG, IgM, IgA) to HIV of both types. To date, doctors' reviews of this type of rapid testing are contradictory, and, judging by everything, their results often differ from the data of laboratory studies.
Is it possible to believe express tests for HIV?
In this regard, a natural question arises as to the diagnostic value of the results of evaluation studies conducted with the help of diagnostic systems for rapid detection of the immunodeficiency virus.
According to the information of their manufacturers, the reliability and accuracy of the rapid HIV test is determined at the level of 99-99.5%. But according to research, this indicator can be much lower.
Currently, the most reliable results of the rapid HIV test are given by immunochromatographic tests. When one indicator is visualized on the indicator - the control one, the rapid test for HIV is negative. The reactive result, that is, the rapid test for HIV positive (when the two bands on the indicator - color and control), is considered by all specialists as preliminary, and it is necessary to undergo a second test - a study in the laboratory, where other, more precise techniques are used, in particular immunoblot .
If the testing was not performed correctly, the indicator can show only one band (without a control one), which can be considered an error. Then testing is recommended to be carried out a second time by a new set. One of the options for confirming reactive results is the immediate carrying out of a second rapid test of another manufacturer. If the second test is not reactive, it can be assumed that the person is not infected. But when the second test is also positive, infection is likely to occur.
It should be stressed again that all the positive results of the evaluation rapid tests - especially if an OraQuick rapid HIV test is used - should be confirmed (or refuted) by blood tests in a specialized laboratory.
It is important to know!
Intrauterine HIV infection can occur at any time of pregnancy: HIV was isolated from the tissues of 10-15-week-old abortions, amniotic fluid in the I and II trimesters of pregnancy, from placental tissue after timely delivery.
Read more..