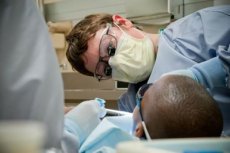 A dentist-surgeon is a doctor specializing in operations in the oral cavity.
Who is a dental surgeon?
A dentist-surgeon is a doctor specializing in jaw operations and persons associated with the treatment of injuries and congenital and acquired defects. Together with a craniofacial surgeon, the dentist-surgeon corrects congenital and acquired facial defects. Together with the surgeon-oncologist conducts removal of benign and malignant tumors of the jaw and oral cavity. He does the extraction of teeth only in extreme cases, when therapeutic methods of treatment are ineffective: with periodontitis, incorrect eruption of wisdom teeth, with pronounced fracture of the crown, when prosthetics are impossible (there are no supporting teeth for the prosthesis, there is no possibility to put a dental implant).
When should I go to a dental surgeon?
A dental surgeon can help you with deep caries complicated by pulpitis, with periodontal disease worsening, if the wisdom tooth traumatizes the cheek or if the tooth is strongly motivated with periodontitis. You can benefit from a small surgical operation in the oral cavity with partial eruption of wisdom teeth. If you have injured a tooth, jaw, or mouth mucosa, if you have a purulent complication of oral disease (abscess or phlegmon), you also need the help of a dental surgeon. Also, the dentist-surgeon implants in the jaw of the support for artificial teeth. Orthodontist can direct the dentist-surgeon , as in the dentition there may not be enough space for the normal arrangement of the teeth when correcting the occlusion.
What diagnostic methods does the dental surgeon use?
Before any operation, a general blood test is performed and for HIV, according to the testimony - allergic tests for local anesthetics and preparations for general anesthesia. Bacteriological sowing is mandatory, in order to avoid infection.
The dentist-surgeon in his work uses the visual examination, radiographic methods of the dentition, MRI, CT of teeth to correctly establish the diagnosis and conduct adequate treatment .
What diseases are treated by a dental surgeon?
The dentist-surgeon carries out tooth-preserving procedures, treats inflammatory processes of the oral cavity such as periostitis, osteomyelitis of the jaw, abscesses and phlegmon), benign and malignant tumoral formations of the oral cavity, conducts the extraction of teeth. Also, this specialist prepares the oral cavity for prosthetics, performs primary surgical treatment of the facial and neck wounds, reconstructive surgeries on the upper and lower jaws, periodontal tissues.
Councils of a dental surgeon
A dental surgeon at the reception will explain to you how to do so that you do not get to see him again. To avoid having to remove the teeth, you need to take care of their health from an early age. Periodontitis, if it has happened to you because of poor oral hygiene, can be cured in the early stages, you can avoid losing teeth if you contact the dentist on time for therapeutic help. After tooth extraction1 without subsequent implantation, problems with bite and gastrointestinal tract inevitably begin. Remember that your tooth is always better than a beautiful artificial tooth! So today the standard of dentistry is the struggle for every tooth to the last. In people with periodontal diseases, a toothbrush, toothpaste and other hygiene products are picked up by the periodontist, who needs to be observed all his life after revealing periodontitis and periodontitis. Thanks to his efforts, it is possible to stop the process of destruction of the gums and bones in these diseases and keep the teeth. Eat foods that contain calcium and phosphorus: river fish, cottage cheese, buckwheat, kiwi, drink milk. Apples, radishes and other solid vegetables and fruits stimulate salivation, helping to wash off the plaque from the teeth. Chewing gum does not replace the cleaning of teeth, but only restores acid-base balance in the mouth, which helps suppress the reproduction of bacteria. After eating, rinse your mouth with alkaline mineral water. The goal is the same - to prevent the destruction of tooth enamel acids. But remember that rinsing can never replace a tooth brushing.
For the health of teeth, alkaline foods, for example, cucumbers and watermelons are useful.
Teeth and gums need to be treated before pregnancy. Modern painkillers do not harm the child, if they had to be used during pregnancy.
The gums are negatively affected by smoking; nicotine leads to a spasm of the blood vessels of the gums.
Enamel cracks, periodontal disease and pregnancy are contraindications to the currently popular bleaching procedure.
Have you ever thought about how to properly store a toothbrush? Only in an open form and with bristles up, and not in a solution of soda or margangium and with a bristle down, as many do. It is not right. It is better to choose a toothbrush from synthetics than from natural bristles - this breeds bacteria faster.
A dental surgeon helps to cope with oral problems where therapeutic therapies no longer give the desired effect.
It is important to know!
A dentist is a specialist with a higher medical education who graduated from the Department of Dentistry in a higher medical school.
Read more..