 Microcrystalline cellulose in diet pills is a natural nutrient fiber obtained by processing cotton in the fabrication process. When creating cellulose for weight reduction, small parts of this substance obtained from cotton are thoroughly cleaned and also ground.
Indications of the cellulose in diet pills
Excess weight can arise due to various factors - for example, because of a mental state or physiology. That's why you need to follow the testimony on the use of MCC for weight loss. The drug is allowed to take in case of such diseases:
Obesity, diabetes;
Ischemic disease and atherosclerosis;
Poisoning (including heavy metals or food);
Gastroenterological diseases.
In addition, it can be used as a preventative against neoplasms.
Release form
Produced in the form of tablets in the amount of 0.5 g. One polyethylene bottle contains 100 or 300 tablets. Can be produced in blisters for 10 tab. In one plate.
Microcrystalline cellulose in tablets
MCC is an ideal tool for cleaning the body and normalizing intestinal activity. Also, this drug helps to naturally lose weight - basically a maximum of 10 kg.
The action of the drug is very simple - after ingestion, the tablets swell with increasing volume, so they fill the stomach. Thus, the feeling of hunger is suppressed, being replaced by saturation.
Along with this, cellulose, passing through the body, cleans it of cholesterol, undigested food residues, as well as a surplus of sugar. Thus, in the peeled stomach, the digestion process is established.
Among the effects of MCC:
Decreased appetite (the stomach is filled with non-calorie pulp instead of harmful food);
Normal work of the intestine and the process of metabolism;
As the stool becomes regular, the organism becomes intoxicated, resulting in skin and complexion becoming fresh and healthy.
In addition, it should be noted that the MCC fibers are excreted naturally, without digestion by the intestine. This method of weight loss removes excess kilograms in small amounts, but its plus is that it does not harm the body. In addition, retaining the newly acquired weight is much easier than with the use of chemical drugs for weight loss or various diets.
Food pulp in tablets
Food pulp is also called plant fiber - it is a film that protects seeds and basic plant tissues, being the main element of the wall of their cells. Since food cellulose is an indigestible polysaccharide, as well as lignin, it can not be digested with digestive enzymes.
Food cellulose in tablets has this effect:
Stabilizes the activity of the gastrointestinal tract and stimulates its emptying;
Increasing the volume of feces, it promotes stimulation of the peristalsis of the large intestine;
Absorbing water, cellulose softens the stool, thereby acting as a preventative against constipation;
Reduces glucose levels, thereby preventing diabetes mellitus or helping to treat it;
Oppression and slowing down the process of assimilation of carbohydrates;
Improves the resistance of the body to the carbohydrate load, so that the dosage of used diabetic drugs or insulin can be reduced;
Helps to normalize the diabetic state.
Take dietary cellulose should be in a dosage of 1-2 tablets / day. (adults) or 0.5-1 tablets / day. (children), drinking with water.
Pharmacodynamics
The drug is a dietary supplement that acts as a source of various dietary fiber. Among the main advantages of this drug - hygroscopicity and enhanced sorption effect.
Cellulose stabilizes the activity of the gastrointestinal tract and metabolic processes, reduces the feeling of hunger, and speeds up the process of food movement through the digestive tract. Together with this, it helps to eliminate toxic compounds, cholesterol, slags and radionuclides from the body.
Contraindications
Among the contraindications to the use of cellulose:
Bloating or constipation;
Use in combination with other drugs;
Bulimia or anorexia;
Lactation;
Imbalance of intestinal microflora;
Avitaminosis, because together with cellulose, individual vitamins can be excreted from the body;
Use in adolescents or the elderly.
Dosing and administration
From the beginning of treatment you need to use 1-2 tablets. Three times a day. Together with the reception of food (for the result to be more effective, you can take the medicine 30 minutes before meals). After 4 days you need to start using 4-5 tablets. Three times a day, and after 7 days to increase the number of tablets to 7 per reception. Further the number should continue to increase. Maximum of a day can take 50 pcs., But it is recommended not to bring to this. The average daily dosage is 25-30 tablets. (8-10 pieces per 1 reception). Having reached the maximum, then you need to gradually reduce the dosage, bringing it again to 1-2 tablets. For the reception.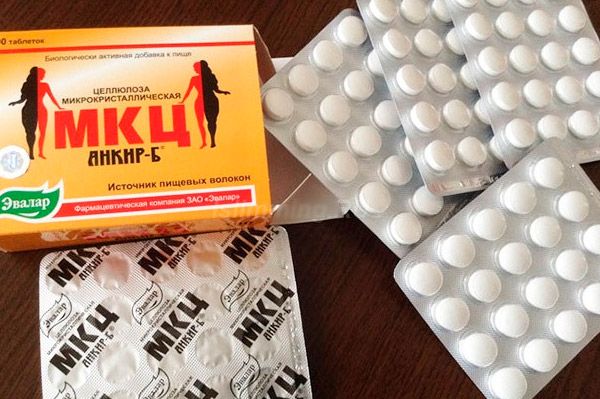 To better absorb the tablets, you can crush them into powder and mix with water. The resulting mixture should be drunk and washed with water. In this form, cellulose can be added to the test, salads, minced meat, raw eggs.
The treatment course lasts 1 month, but if there is a severe stage of obesity, you can extend it up to 3 months, but before that get a doctor's permission. At the end of the course, you need to take a break for at least 1 month.
It is also important to drink water daily (at least 2.5 liters) during the use of cellulose. This will help to dull the feeling of hunger.
Reviews thin
Among the reviews of girls who lost weight with the help of cellulose:
Marta, 25 years old: "at first I doubted if I should buy cellulose, because it is known that pills to remove excess weight can harm health. But after reading the instructions still decided. I note right away that the tablets can cause constipation, but I got rid of a few kilograms, so I was generally happy. "
Maria, 31: "A friend advised me this drug. Initially, I resisted, but still decided, because I could not get rid of excess weight myself. As a result, I dropped 7 kg in 2 months, so I'm going to take the ICC in the future. But before the reception, it is still advisable to consult a doctor. "
Doctor's comments
Most experts give positive feedback about this remedy, since dietary fiber will be useful to any organism. All doctors note that if all recommendations are followed, the use of MSC gives a quick result with positive dynamics. But at the same time, the reviews are rather restrained, which is quite easy to explain.
The first thing that physicians are asked to pay attention to is to lose weight only with the help of one cellulose, without physical activity and some restrictions in nutrition, it will not work - you need to make some efforts. The producers themselves indicate in the instruction that the calorific value of the daily ration should be gradually reduced, bringing to the figure of 1500 kcal. It is this limit that forces the body to use its own fat stores to gain strength and energy. Therefore, if you eat more than 1500 kilocalories per day, kilos will not go away even with tablets. We also need a constant physical load - for example, 2-3 rubles / week. Conduct lessons on the stationary bike (for 30 minutes), or perform some exercises using video lessons.
In addition, doctors warn that it is not allowed to replace cellulose with a full breakfast / lunch / dinner, because this can lead to stomach problems.
Cellulose in diet pills should be used in accordance with the indicated dosage - uncontrolled increase in the number of tablets eaten per day, usually also leads to disruption of the digestive system.