Medical expert of the article
New publications
Preparations
Succinic acid during pregnancy: can I drink, how to take?

х
All iLive content is medically reviewed or fact checked to ensure as much factual accuracy as possible.
We have strict sourcing guidelines and only link to reputable media sites, academic research institutions and, whenever possible, medically peer reviewed studies. Note that the numbers in parentheses ([1], [2], etc.) are clickable links to these studies.
If you feel that any of our content is inaccurate, out-of-date, or otherwise questionable, please select it and press Ctrl + Enter.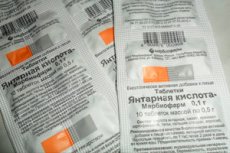 Succinic acid is a white, saltish-bitter crystals in taste. It found its application mainly in crop production, as promotes plant growth, increases their productivity. In addition, it is used in the chemical, food industry (on the packaging of goods is designated as additive E363). Succinic acid is inexpensive and approved by the FDA, which makes it an attractive therapeutic tool. [1],  [2], [3]
In drugs, succinic acid acts as a metabolic agent that improves metabolism, saturates tissues with oxygen. That is why it is recommended during pregnancy.
Indications Succinic acid during pregnancy
Succinic acid belongs to biologically active additives (BAA) and is intended to stimulate the human vital processes, to support his immune system. Indications for its use are:
tissue and organ cell regeneration;
anxiolytic effect; [4]
removal of toxins; [5]
increased blood supply in vessels and capillaries;
stimulation of the nervous system, has a protective effect in central and peripheral neuropathy; [6]
increase in hemoglobin in the blood; [7]
normalization of the genitourinary system;
elimination of intoxication with alcohol and other poisonings;
reduction of the harmful effects of antibiotics;
cancer prevention;
increase mental and physical capabilities;
pregnancy improvement;
stimulation of growth and development of the fetus.
Succinic acid is also recommended when planning pregnancy, as improves reproductive function, eliminates inflammatory processes, increases susceptibility to infections, reduces the risk of toxicosis.
Succinic acid is also beneficial for men at this stage. It increases potency, helps minimize stress, removes toxins and decay products of alcohol, increases overall tone, has a rejuvenating effect on organs and systems, which will positively affect the health of an unborn child.
Release form
Succinic acid is sold in tablets (from different manufacturers it is packaged and packaged in different ways) and powders (white).
Pharmacodynamics
The main pharmacological property of succinic acid is antioxidant, the ability to bind free radicals that  [8] adversely affect the body, slow down oxidative processes. In addition, it has a metabolic,  [9] antihypoxic,  [10] immunomodulating effect.
Succinic acid is effective in the treatment of endometrial cancer cell lines, which will provide new data for other areas of cancer research. [11]
It gives organ cells more energy, which makes them function better, promotes the transfer of oxygen from the blood to them, thus improving tissue respiration, and increases the body's resistance against psycho-emotional, physical stress and other negative endogenous and exogenous factors.
Pharmacokinetics
The effect of the drug begins 20-30 minutes after administration. With its decay, water and carbon dioxide are formed inside a person. It is excreted through the kidneys and stomach.
Contraindications
Succinic acid has some contraindications. The tool can harm with exacerbation of gastritis, stomach ulcer, increased acidity, individual intolerance. Do not resort to the drug for glaucoma, high blood pressure, kidney stones, angina pectoris, chronic insomnia.
Side effects Succinic acid during pregnancy
Succinic acid has practically no side effects, unless contraindications are ignored. Otherwise, there may be pain in the epigastric region, increased pressure and symptoms associated with existing diagnoses.
Dosing and administration
Before taking succinic acid, you need to consult a doctor. If the product is approved by a specialist, you must adhere to the instructions for the method of use and doses. Pregnant women in the first trimester (from the 12th to the 14th week) are recommended to take 2.5 g per day for 10 days, divided into 3-4 doses. The course is repeated in the second trimester (between the 24th - 26th weeks) and before the presumptive birth in 25-10 days. Tablets are drunk immediately before meals.
Overdose
Cases of overdose are not officially recorded. Hypothetically, it can cause an increase in side effects.
Interactions with other drugs
The combined use of succinic acid with sedatives and tranquilizers weakens the effect of the latter. In other cases, it enhances the therapeutic effect of drugs.
Storage conditions
In the storage location of succinic acid, there should be no moisture and bright light.
Shelf life
Supplements are stored for 4 years from the date of release, after which it must be disposed of.
Reviews
About succinic acid are mostly positive reviews. Young people share that it helps them cope with remembering a large amount of information, suffer sleep deprivation after night parties, and quickly return to normal after drinking.
In pregnant women, it helps in the first months of pregnancy to minimize the manifestations of hormonal changes, reduces the risk of toxicosis, and the risk of complications of labor.
Attention!
To simplify the perception of information, this instruction for use of the drug "Succinic acid during pregnancy: can I drink, how to take?" translated and presented in a special form on the basis of the official instructions for medical use of the drug. Before use read the annotation that came directly to medicines.
Description provided for informational purposes and is not a guide to self-healing. The need for this drug, the purpose of the treatment regimen, methods and dose of the drug is determined solely by the attending physician. Self-medication is dangerous for your health.