Medical expert of the article
Recipes of ginger-lemon drinks for weight loss

х
All iLive content is medically reviewed or fact checked to ensure as much factual accuracy as possible.
We have strict sourcing guidelines and only link to reputable media sites, academic research institutions and, whenever possible, medically peer reviewed studies. Note that the numbers in parentheses ([1], [2], etc.) are clickable links to these studies.
If you feel that any of our content is inaccurate, out-of-date, or otherwise questionable, please select it and press Ctrl + Enter. Lemon, like ginger, has a list of those properties that are necessary in order to lose weight. The lemon contains a rich vitamin-mineral complex. Most of this citrus is famous for the content of vitamin C. Lemon is rich in iron, copper, potassium and zinc. The combination of vitamins and minerals gives the lemon antioxidant qualities. And the amino acids contained in citrus contribute to the activation of metabolic processes in the body. Soluble and insoluble fiber, which is a lemon, helps to cleanse the body of toxins and toxins. The complex of essential oils also promotes the acceleration of metabolism and the strengthening of immunity.
Let us dwell on the variations of the use of lemon with ginger. Most often, it is recommended to use the ginger-lemon alliance as a drink. You can also think about the home harvest, which is eaten with a spoon.
Lemon recipes with ginger
Recipe № 1. Ginger-lemon-honey mixture.
It is necessary to take one lemon and one small root of ginger. Lemon is washed and cut into four parts. It is also desirable to get rid of pits. After that, the lemon is ground in a blender.
Ginger should be washed and cleaned, then rub on a coarse grater or grind in a blender.
Shredded ginger and lemon are combined with each other, and then honey is added to this mixture to taste. Stored in the refrigerator, and used three tablespoons a day for half an hour before meals. In parallel to the effect of losing weight, you can expect a different result - strengthening immunity and improving overall well-being.
Recipe № 2. A ginger-lemon drink.
A drink of ginger with lemon can be prepared once and for a day. And if necessary, store it in the refrigerator. The main thing is, after cooking, drain the drink, pour it into glassware and put it in a cool place. In winter, you can leave the ginger-lemon liquid at room temperature - during this time the drink just does not have time to spoil.
Now we need to decide on the ginger. There are several types of this root, which are great for making a drink. For example, fresh, dried or frozen ginger is suitable for our purposes. If for any reason you stopped on dry ginger, then its amount is taken half as much from the norm of fresh or frozen ginger. In this case, it is necessary to know that fat burning is ensured by ginger, the lemon only performs an auxiliary cleaning function. And if there is a desire to strengthen the "burning" effect, it is better to add a little more ginger to the drink.
Ginger-and-Lemon Drinks
The basic method of preparation.
Take a piece of ginger, which in volume resembles a small plum. We add one lemon to it. Lemon is washed and cut into two halves. One half is designed to squeeze juice from it. And the second part is cut into thin slices.
Ginger root is washed, cleaned and grinded with a grater, blender or knife. Then the ginger mass is laid out in a jar or teapot. Then ginger is poured with lemon juice. And then the remaining milled citrus is placed in the jar. The resulting mixture is poured with a liter of boiling water and left to stand. After ten to fifteen minutes, the drink is filtered to reduce the bitterness of ginger itself. Everything, the ginger-lemon "burner" of fat is ready, and it can be consumed as tea.
Recipe № 1. Ginger-lemon-mint drink with pepper.
It takes six teaspoons of grated ginger root, eight teaspoons of lemon juice, one pinch of black ground pepper, a few peppermint leaves. All ingredients are placed in a glass or porcelain dish and filled with one and a half liters of very hot water. Everything is insisted for ten to fifteen minutes. After that, the drink is ready for use.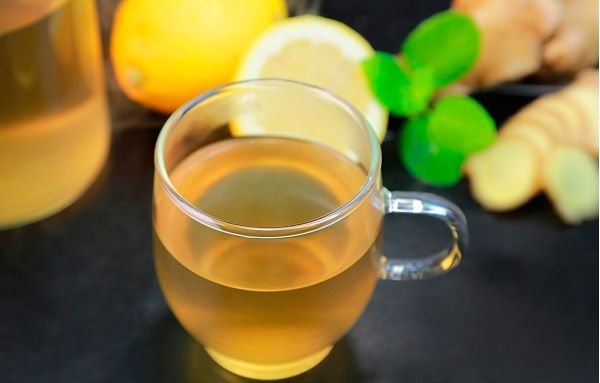 Recipe № 2. Drink from green tea, ginger and lemon.
It is necessary to take a pinch of ground powdered ground ginger and one teaspoon of green tea. All of the above is placed in a cup and brewed with a glass of boiling water. After several minutes, the already warm drink is supplemented with a slice of lemon.
Recipe № 3. Ginger drink with honey and lemon.
It is necessary to stock up with six teaspoons of chopped ginger, which are placed in enameled dishes, poured into 1.5 liters of clean water and put on fire. The liquid is brought to a boil, and then the fire is reduced to a small one and everything is languishing in a saucepan under the lid for ten minutes.
After turning off the fire, the drink is cooled to a warm state and filtered. It is added squeezed lemon juice and some honey to taste.
In general, ginger with lemon slimming is used in different variations. If desired, the lemon-ginger drink can be enriched with such spices as cloves, cardamom and red pepper.
Experts recommend not to "fly" on the ginger-lemon drink, but let the body get used to it. It is best to drink ginger liquid in small sips and in small amounts. This is best done before meals and several times a day.
Attention!
To simplify the perception of information, this instruction for use of the drug "Recipes of ginger-lemon drinks for weight loss" translated and presented in a special form on the basis of the official instructions for medical use of the drug. Before use read the annotation that came directly to medicines.
Description provided for informational purposes and is not a guide to self-healing. The need for this drug, the purpose of the treatment regimen, methods and dose of the drug is determined solely by the attending physician. Self-medication is dangerous for your health.