Analysis of D-dimer in pregnancy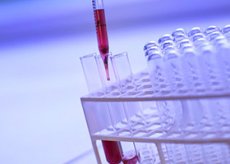 Analysis of D-dimer in pregnancy is recommended not to be ignored.
D-dimer refers to the products of lysis of fibrin, which is part of the thrombus. The analysis allows you to find out whether there is a risk of accelerated formation of thrombi in a future mother or not. Before taking blood, it is advisable not to drink liquid and food for at least 12 hours.
Increase in D-dimer in pregnancy
An increase in the level indicates an increased risk of blood clots, and a number of diseases can precede this:
Presence of diabetes mellitus.
The presence of diseases of the urinary system.
Confirmation of preeclampsia.
Confirmation of infectious diseases.
Presence of liver diseases.
Early detachment of the placenta and threat of miscarriage.
D-dimer is below the norm during pregnancy
If the D-dimer is significantly lower than the norm for pregnant women, this already indicates a decrease in blood coagulability of the risk of bleeding incompatible with life. In such cases, hospitalization, consultation of the hematologist, and a course of coagulants are required. It is especially important to carry out the analysis for D-dimer immediately before childbirth, when the fact of blood loss is irrefutable and in case of complications it will be necessary to quickly help.
It is important to know!
The laboratory assistant is quite a broad profession. We all had to take tests at least once in our life. Without them, they will not be able to deliver an accurate diagnosis, put in a hospital and prescribe the right adequate treatment.
Read more..