Medical expert of the article
New publications
Preparations
Whitening creams for pigment spots and freckles

х
All iLive content is medically reviewed or fact checked to ensure as much factual accuracy as possible.
We have strict sourcing guidelines and only link to reputable media sites, academic research institutions and, whenever possible, medically peer reviewed studies. Note that the numbers in parentheses ([1], [2], etc.) are clickable links to these studies.
If you feel that any of our content is inaccurate, out-of-date, or otherwise questionable, please select it and press Ctrl + Enter.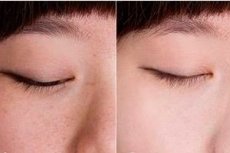 The skin color of a person is determined by the pigment cells - melanocytes. They are contained in the epidermal layers and, in addition to shade, protect the body from excessive sun exposure. This is normal. But there are violations or system failures when correction of the process is necessary. How to influence in the right direction, if the pigments are too much and they spoil the appearance of the skin? One of the options - whitening face creams.
Indications Whitening face creams
Whitening face creams are shown in the presence of the following defects:
freckles;
congenital pigmentation on the face and body;
pigment spots;
chloasma (zones of enhanced pigmentation);
lentigo;
excessive tanning;
puknut.
Indications for use occur most often in pregnancy, metabolic disorders, genetic pathologies, age-related changes, after strong ultraviolet irradiation. Under the influence of brightening creams, the cells die off, in their place a new, lighter tone is formed.
[1], [2]
Release form
In addition to bleaching creams for the face, cosmetic companies practice other forms of producing similar products: masks, gels, fluids, ointments, as well as create a whole series of lightening products.
The product is packaged in tubes, tubes, cans - plastic and glass, some of them are then placed in cardboard boxes. They sell products in stores and pharmacies freely, without prescriptions.
Titles
The names of protective and whitening face creams:
"Ahromin" Alen Mak;
Lakshma maxxi;
Higher Idealia;
Yinni Green Tea;
"The Shining White Pearl";
Mom comfort;
Helan mom line;
Cyntomycin ointment;
Sun Faberlic;
Biocon;
Lightening softening delia;
Prophylactic pigment spots Floslek;
Intensively whitening Verona;
Total plus REGE-WHITE;
Whitening with SPF 50 Biotrade;
Regenerating with SPF 30 Biotrade;
For intensive clarification Laura Beaumont;
Night lightening intensive Laura Beaumont;
Lightening night Dzintars Opera;
Intense Brightening Christina;
"Lemon" Phytodoc;
Lotion "Sweet Sun" ChistoTel;
Whitening and moisturizing "Parsley" Phytodoctor;
For the prevention of bioton;
With hibiscus and bearberry Belle Jardin;
With lemon and cucumber extract Belle Jardin;
Corrector Markell Cosmetics;
Whitening Achroactive Max;
"Snow White" Biokon;
Protective with whitening effect SPF.
[3],
Siberian Whitening Face Cream (natura siberica)
Natura Siberika produces several whitening face creams. The whitening series for all skin types includes not only creams, but also other cosmetics - exfoliant tonic and peeling. How do Siberite (natura siberica) whitening face creams differ from other products? We draw conclusions for yourself.
SPF 30 day cream does not contain synthetic substances, mineral oils, parabens. It is applied on the face every morning in a small amount. Bleaching components - arctic cloudberry, snow clade, ginseng. They stimulate metabolism, cell renewal, restore and protect the epidermis, maintain elasticity and tone, slow down wilting.
Another bleaching agent is turmeric root extract. Lightens spotting and overall tone, nourishes and improves elasticity, gives shine, evens out shade.
Mousse exfoliant has an airy consistency, it smells of sea buckthorn, and it is clear why: this plant is included in the recipe as a powerful source of vitamins, amino acids that affect the youth and beauty of the skin. Moisturizes, softens, brightens, eliminates defects. Helps to cope with the tasks of rejuvenation and improve the appearance of the Siberian Iris, evening primrose, which enhances protection, treats irritated and inflamed zones. ANA-substances gently remove the husks and activate collagen production, hide wrinkles and other imperfections. Enhances the clarification of vitamin PP.
Whitening cream Ahromin
Akhromin - widely known whitening face cream, primarily due to the popularity of the Bulgarian manufacturer Alen Mak. Belongs to pharmaceutical cosmetics, used to remove hyperpigmentation associated with pregnancy or age-related hormonal changes.
Akhromin whitening face cream also protects from harmful radiation and solar radiation. If to apply means in the morning and in the evening, the visible effect comes approximately in a month.
However, this drug and experts, and users evaluate ambiguously. The fact is that the whitening properties of the cream are due to the presence of hydroquinone - a substance that can provoke skin complications.
One he really helps to get rid of the problem, in others, on the contrary, irritation arises because of hydroquinone, and the spots appear even stronger. It is no coincidence that the substance is prohibited in the United States and in many countries of the European Union.
If you decide on the use of Akhromina, consult your doctor and strictly follow the instructions. In particular, apply a mass of at least two hours before the appearance in the sunlit places. And categorically refrain from this with hypersensitivity, pregnancy, breastfeeding.
Refuse whitening with Akhromin, if after the first application the face is swollen, reddened or covered with a rash. Itching also indicates an allergic reaction. To pre-empt this condition, it is recommended to conduct a trial application on a delicate area of the skin. The absence of a local reaction serves as a resolution for applying Akhromin on problem areas of the face.
Eveline
Eveline active cream contains several clarifying components - extracts of parsley and lemon, lactic acid. It has a versatile effect: eliminates pigmentation and dead epidermis scales, softens and saturates the cells with moisture, eliminates small folds. It has preventive properties: it regulates the formation of pigment and prevents its excess.
Whitening face cream of this brand is recommended to combat postpartum stains, freckles, solar hyperpigmentation. Apply the mass twice a day, accompanying the procedure by lightly tapping. The first results promise to be in two weeks, and superficial hyperpigmentation should disappear after a month of regular use.
The same Polish company produces Extra Soft Whitening for the face and body with moisturizing and nourishing effects. The product performs a dual task: removes existing pigmentation and prevents the appearance of new spots. Smoothes the tone, refreshes and heals the face and the rest of the skin.
Cucumber extract brightens dark areas that form due to age-related changes and photo-aging. Special ingredients soften, soothe, nourish, smooth wrinkles. The cream supports elasticity, elasticity, optimal hydration of the skin.
Miracle glow
Lovers of natural cosmetics will like Miracle glow. This rapidly becoming popular whitening face cream is actually a mask. Suitable for women of any age with any skin type. The network warns of possible fakes and advised to purchase the tool only on proven resources.
A unique product helps to get rid of spots of various origin: freckles, age-related, caused by pregnancy or hormonal preparations.
Eliminates traces of inflammation, excess tanning or improper tanning. Normalizes the production of melanin in skin cells, thereby forming protection against secondary pigmentation.
As part of - a unique substance Cordyceps sinensis, part of many oriental recipes. It is a mushroom that grows in the remote highlands of China, at an altitude of more than 3.5 km.
To get it is difficult, even risky, which makes the ingredient unique and very valuable. They say that Chinese women should thank the Cordyceps root for their smooth, porcelain skin.
Extracts of ginseng, saffron Daurian, atractilodis white, oils, amino acids, vitamins and other active ingredients enhance the action of the main. The minimum course of use is 4 weeks, with the procedure being performed three times a week. The mask is applied in a dense layer, aged for 15 minutes, washed off with warm water. Changes are noticeable from the first days.
Himalaya herbals
Himalaya herbals Indian cosmetics are natural products, created on the basis of Ayurvedic traditions in combination with modern innovations. The products created in this way, in particular, a whitening face cream, are effective, safe, and aimed at restoring the natural beauty of the skin and hair.
A key feature and difference from other natural brands is that medicinal raw materials are growing on the own, ecologically clean lands of the Himalaya enterprises. Another important feature - well-chosen ingredients that harmoniously enhance the action of each other. This provides maximum user benefit.
Cream for all skin types helps to get rid of blemishes and small defects, improves color, enriches with moisture and nourishing components. It is quickly absorbed and gives effect, without undesirable consequences.
Himalaya herbals produces a triple bleach matting agent. Ingredients - licorice, white gum, red lily, kalgan, Bombax, Indian rhubarb, which operate in the following areas:
Inhibit melanin synthesis.
Eliminate uneven pigmentation and black spots.
Protect from UV and darkening of the skin (Cinnablock TM complex).
The effect of clarification, as well as hydration, nutrition, recovery, elimination of defects, produce exclusively vegetable components: table rose, mandarin, aloe, walnut.
Vitex
Like other companies, Vitex has developed several formulas of products, united by the name "Whitening". They all include acids in one quantity or another. A series of whitening face creams include the following products:
Mask with the highest concentration of ANA-acids and BHA (salicylic acid).
Day - fights against freckles and blemishes. Contains a patented complex, fruit acids, lingonberry extract, mineral UV filter.
Night - contains the same active ingredients as the day. Evens tone and relief, improves the appearance and condition of the skin.
Peeling tonic - for soft clarification and clarification of dark skin.
Intensive pharmacy Vitex Pharmacos - with bearberry extract, safflower oil, UV filters.
Intensive proofreader serum with special ingredients.
Peeling with "smart" technology - a unique development of the company. Bearberry, lactic acid, Dermawhite complex brighten, exfoliate horniness, stimulate renewal.
Intensive mask - for local action on problem points. Removes excess, reduces melanin production.
Perfect whitening SPF 20 - levels, protects, makes the skin fresh and bright. Designed for active whitening during sleep.
Garnee
The catalog Garnier - an impressive list of a variety of whitening agents of a wide price range, as they say, for all occasions. Among the whitening face creams - night, day and universal, male and female, with and without filters, for the face, hands, body, expensive and inexpensive. The active ingredient in most foods is vitamin C.
Light lemon day cream with moisturizing properties and extra protection SPF 36. Lemon is rich in antioxidants, gently separates the flaky cells from the surface of the skin. The filter prevents the detrimental effect of ultraviolet radiation, making the skin look fresh and smooth.
Dark Spot Corrector effectively removes acne marks. At the same time it tones and flavors the skin.
Night cream of the same series affects how easy peeling, thus lightening, moisturizing, protecting the skin. The active ingredient, in addition to lemon extract, is fruit acids, which effectively "work" at night to improve the complexion.
Helps reduce melanin production. The non-greasy light texture is pleasantly felt on the face, without leaving a film or fat content. Pore reviews, it turns out a slight clarification of the shade, but very dark places, the same freckles, remain in place.
Lakshma maxхi
Lakshma maxi products contain kojic acid, a metabolic product of Aspergillus fungi. Its action is to inhibit the synthesis of melanin and prevent the emergence of new hyperpigmented sites. Lakshma maxi products are enriched with vitamins and natural bioactive ingredients, which meets the highest standards of cosmetic quality.
The brand produces not only a whitening face cream, but also for other parts of the body, including intimate areas.
The cream was created by American beauticians and causes rave reviews from those who put it into practice. Effective, safe, without side effects, the best in everything. Lightening agent can be used by representatives of all races known on our planet, of any age and of all skin types, including women in position.
The unique composition of this cosmetic miracle makes it possible to equally effectively correct the tone of the skin in various places: on the face, elbows, knees, under the arms, in the bikini area, in places damaged by injuries. The natural ingredients of the cream gently exfoliate aged skin cells and relieve inflammatory reactions.
For aesthetes who are concerned about dark areas in delicate places (and this is not only women, but also men), Lakshma maxхi will give a painless home-made way to eliminate the cause of dissatisfaction.
To complete the process, it will be necessary to additionally purchase disinfectant fluids and ointments for the periodic treatment of brightened and younger intimate places.
Green Pharmacy
The purpose of the cream "Whitening" brand "Green Pharmacy" - to resist the pigment spots that occur on the skin of a person for various reasons. Whitening face cream is created from natural ingredients, which make this Ukrainian brand cosmetics different from some others. The product returns a healthy shade, removes freckles, blemishes, and various types of hyperpigmentation. Improves the overall condition of the skin of the face.
To obtain such a result, the active ingredients of the corresponding action are included in the formulation: oils, lemon juice, parsley extract, vitamin E.
Shea butter protects against ultraviolet radiation, in collaboration with vitamin exhibits antioxidant qualities.
Lemon, parsley - natural sources of vitamin C, which eliminates pigmentation and other defects, relieves stress and fatigue.
After absorption, the skin is restored, it becomes more even and smooth, protected from UV rays.
The cream is classified as a mass market, its value really pleases. Recommended for women with normal skin, the time of application - "day-night." It is applied in the usual manner - with massaging movements on a dry, cleansed face and neck.
Oriflame
Oriflame has several creams in its arsenal: daily anti-pigmentation SPF 20, Active Whitening (night and day SPF 15), protective fluid against anti-pigmentation SPF 35.
Whitening face cream (daytime) Swedish-made dermatological test, which confirmed a clinically positive result. It is applied every morning, easily falls under the makeup, avoiding photoaging.
The patented whitening component LumiLight eliminates specks and uneven tones, making the face fresher and healthier. A special system protects cells from destruction caused by adverse external factors.
The protective fluid of the same brand is suitable for women with any type of skin, the application time is universal. Includes moisturizing and brightening ingredients created on the plant base. Forming a delicate film on the face, it retains moisture in the upper layer of the skin. Filter 35 reliably protects against harmful UV light.
Night Cream "Active Whitening", enriched with Skin Lightening Complex, reduces the intensity of pigmentation, moisturizes and protects and renews the cells. At night, the skin rests, so it is better to perceive the powerful components included in the formula means. For rejuvenation is recommended to apply after serum.
Daily remedy "Protection and Brightening" contains a filter 20. Reduces the intensity of melanosynthesis and the severity of pigment spots. Each drug contains antioxidant technology, as well as individual solutions for different age and skin type.
Whitening cream for age spots
"Before and after" - this is the name of the whitening cream for face from pigment spots with a rich composition. In the formula - extract of red algae, shea butter, corn and avocado, vitamins, licorice extract. Whitening face cream affects the biosynthesis of melanin, reduces the rate of formation of pigment cells. As a result, the intensity and area of dark areas decreases.
Means "Klirvin" warns an excess of pigment cells. Herbal extracts, vitamin E not only lighten stains, but also maintain elasticity, reduce scars and other defects.
Neoton Radiance Day Cream interferes with melanin production and protects from the sun. Contains active Lumiskin and B-White.
"Bark" on thermal water is designed for evening care and fight against pigmentation, resulting from hormonal changes.
"Amanita" - natural products to lighten the face. Approved for use in pregnancy and lactation.
The Nature of Siberik series protects against rapid aging, renews cells, gives skin glow.
Renew "Whitening" of Israeli production accelerates the update, provides maximum whitening, restores tissue.
Premier Shine White is a professional liposome cosmetics package. It inhibits melatonin production, moisturizes and smoothes wrinkles.
Whitening face cream for freckles
Freckles - one of the varieties of pigmentation, inherited. Characteristic for blondes and red-haired, people with skin that can not be tanned. Consist of clusters of melanin. They are round specks of uniform color, which become noticeable with the arrival of spring and turn pale in winter. Especially vividly manifested with intense solar irradiation.
The first "kisses of the sun" are formed in childhood, reach a maximum during adolescence, and in adults can disappear for good. For those who are not ready to wait for the disappearance, cosmetology offers a huge amount of whitening face creams from freckles.
Since freckles are formed due to ultraviolet irradiation, the main condition for prevention is high protection from sunlight. Now they produce whitening face creams, which also contain sunscreen ingredients. Packages should contain the following marks: "lightening", "against pigment spots", "against freckles", "whitening", "shine", "pigmentation".
Bleaching agents act in the same way: they reduce the amount of melanin and speed up cell renewal. Due to this, the skin, and freckles, including, are lightened. The effect is not instantaneous: for a noticeable sustainable result may take months.
For the prevention of freckles, it is recommended to apply year-round creams with an SPF of 30 to the face, not to get involved in sunbathing and to strengthen the immune system of the skin with antioxidants.
Pharmacy whitening face cream
The effect of whitening face creams goes in three directions:
Removal of horny contents containing coloring pigment.
Regulation of the production of pigment in order to prevent new spots.
Nutrition, softening, moisturizing the skin.
The composition of pharmaceutical whitening face creams include, in various combinations, hydroquinone, glycolic, citric, lactic, ascorbic acid, vitamin E, arbutin, mercury, melanozyme, glabridin, salicylic acid, tretinoin, plant extracts - the active ingredients with a brightening effect. Auxiliary ingredients provide mitigation, nutrition, hydration, saturation with minerals and vitamins.
Eliminating excess pigments, in parallel, protect your face from ultraviolet radiation.
If in the pharmacy cream there are no filters, you should use a cream of at least 30 SPF separately. When properly applied, a full course of bleaching is designed for 20-30 days. Then you need a break or, with the maximum result, a complete cessation of bleaching.
In addition to the finished products, pharmaceutical components are added to home lightening agents. These are vitamins, extracts of plants, chemical compounds. Among the popular and inexpensive clarifying pharmaceutical products are ointments used for therapeutic purposes: synthomycin, zinc, salicylic, sulfuric, achromic, retinoic.
Each of them is used for specific problems, the order of application is indicated in the instructions. In addition, they have brightening properties with an amazing effectiveness: if you apply the ointment daily for two weeks, you can get rid of unwanted pigmentation forever!
Pharmaceutical remedies for stains are as follows:
Melaniativ - for the treatment of skin pathologies and age pigmentation.
Skinoren - effective for acne, melasma, hyperpigmentation.
Belosalik - cleans the affected areas, whitens dark areas, including children's skin.
Clotrimazole - useful for hyperpigmentation caused by fungal pathologies.
"Badyag" - removes stains in an abrasive way, stimulating cell renewal.
Domashnik face creams whitening
Despite the huge selection of industrial whitening creams for the face, there are no fewer alternative recipes. For the manufacture of homemade creams for the face whitening use the following ingredients:
dairy products;
sour berries;
citrus fruit;
sauerkraut;
radish;
hydrogen peroxide;
parsley and dandelion juices;
cucumbers.
Mixtures with active ingredients are applied in the form of masks, incubated for 10–20 minutes and washed off with warm water. They are not suitable for long storage, so they are used freshly prepared. The application time is evening, before bedtime, so that the bleached skin can rest and not be exposed to the sun.
After the whitening procedure, the skin should be moistened and nourished with a cosmetic cream. The frequency depends on the type of skin: oily requires double application, dry only one procedure per week.
Plain cucumber is an alternative to expensive clarifying drugs. The simplest, but effective recipe is prepared as follows: cucumber gruel, lemon juice, borax in the proportion of 50: 5: 5 g. Cover the smeared face with a light cloth, rinse thoroughly after 20 minutes.
Cucumber is useful to mix with your favorite nourishing cream. In recipes, it can be replaced with fresh berries.
[4]
Cucumber face cream whitening
Specialists of most companies did not ignore the cosmetic properties of cucumber. So, moisturizing and whitening facial creams based on cucumber produce "Spring", "One hundred beauty recipes", "Iris", Ziaja, Viki, Laboratory of Nature, Doctor Sante, Floresan, Bioton, Nevskaya Cosmetics, Pollen, and Phytodoctor , "Modum", "Good traditions", Nual Anond Herbs, Galant cosmetics, other well-known and not very good companies.
Cucumber Garden Floresan whitening face cream attracts attention. Designed to whiten and restore skin cells of the face and décolleté.
In addition to cucumber, golden root, ANA-acids, filters possess the properties that suppress the synthesis of melanin. The same ingredients have an antioxidant, moisturizing, cleansing rejuvenating effect.
Vitamin components stimulate the renewal of the epidermis and the production of collagen, maintain elasticity and tone. Filters create a barrier to ultraviolet light, ensuring the prevention of freckles and blemishes.
Cucumber cream whitens skin, brightens the spotted areas, evens out the shade, prolongs the youth of the skin. Suitable for make-up.
Cucumber is actively used in the formulation of home cosmetics, in particular, as a bleaching ingredient. For dry skin, cucumber juice is mixed with a nourishing cream. When oily make a mask for the following recipe.
Finely grated vegetable mixed with heated lanolin 15 g and 2 tbsp. L sesame oil. Stand an hour in a water bath, filter and cool. Apply as standard.
Whitening cream face masks
In Ukraine, the natural seaweed whitening face mask is produced, suitable for any skin type. The developer of the formula is the new brand "White Mandarin", which creates exclusively natural products, including whitening face creams.
A high percentage of herbal ingredients promotes uniform distribution of melanocytes, leveling tone, gives freshness and rested appearance.
In the composition - kelp, spirulina, ficus, healing herbs.
The mask is applied twice a week. Apply at night - not only on the face, but also on the neck, neckline, peeled with a soft peeling (recommended means of the series "Sprouted Grains"). Avoid contact with eyes and lips. The final stage is the application of creams or tonics of the same series.
Many people prefer to make masks on their own. The best homemade bleaches are cottage cheese, lemon juice and pulp, cucumber, viburnum juice, melon pulp, hydrogen peroxide.
A good effect is given by the mask, which is called "Baby's skin". Ingredients - protein, half a cup of lemon juice and 3 spoons of baby food. The mixture is stirred until a homogeneous porridge, applied to the face and incubated for half an hour. Wash off with warm, rinsed with cool water. After the procedure, the skin becomes soft and soft, like a baby.
Chinese whitening face creams
The cosmetic market offers a set of Chinese Qian Li whitening face creams of two products - "day and night". The composition - a lot of active ingredients, including the placenta, arbutin, ginseng and other plant extracts. It affects freckles, blemishes, black spots, pimples and marks from them. Promises effective whitening in just 7 days. Rejuvenates and refreshes the skin, eliminates not only excessive pigmentation, but also yellowness.
Bleaching face creams of this brand are applied on the cleaned epidermis pointwise, only on problem areas. Day cream white, evening - yellow.
During bleaching it is necessary to limit spicy foods and enrich the diet with vegetable food. Before use, testing is recommended on the inner arm fold.
Another set from the eastern country is called "Chinese Herbs". Eliminates pigmentation of every kind and type, regardless of the age of the skin. Contains arbutin, bleaching extracts of herbs, pearl powder. Herbs nourish, restore, moisturize, prevent the formation of defects. It is recommended to gently massage the face while applying the product.
The next set from China for removing pigmentation contains aloe, wheat germ oil, licorice root extract, arbutin. The action and application is similar to the previous means.
Chinese and individual creams are offered, not in sets:
with horse fat BIOAQUA;
from elements of a sheep placenta (green);
night and day AOPEI with an innovative formula;
with rose extract "Wuzetian";
BB-cream "NCECO";
"Qian Li" for problem skin;
«Cordiceps».
[5]
Korean whitening face creams
Japanese and Korean whitening face creams are considered the best. And it is no coincidence, because in the East, contrary to nature, light-colored, milky skin is in fashion, and tan or yellowness is considered a bad tone. Practically in all, not only bleaching creams for the face, Korean production contains lightening ingredients in one or another quantity.
The most effective are arbutin, niacinamide, niacin, beta-carotene, glycolic acid, goat milk, extracts of lemon and tomato. The formulas include extracts of pearls, parsley, echinacea, tretinol, egg white.
Korean cosmetics are distinguished by interesting packages - they are made in the form of lemon, tomatoes, and funny pandas.
Baviphat's night mask Lemon whitens with lemon and arbutin.
White cream from Skin House cleans from pigmentation, has anti-aging effect.
The Panda`s Dreams series includes a mask, face and hand creams, and a stick. Effective due to vitamin PP.
The super effective whitening mask from Tony Moly has gained popularity not only in Asia, but also in European countries. The effect is evident already after 20 minutes after application, however, it is not cumulative, but short-term.
The Secret Key series provides persistent gorgeous brightening. Contains milk proteins, niacinamide.
Pharmacodynamics
Bleaching face creams contain active ingredients, the pharmacodynamics of which have been studied by oral administration, for example, in the composition of tablets. So, hydroquinone tablets is excreted from the body through the kidneys, stimulates urination, has an antimicrobial effect.
The local effect of creams containing these substances has not been studied.
Pharmacokinetics
Whitening face creams contain various ingredients, including unsafe health. The pharmacokinetics of creams are not described, but it is possible to get acquainted with the composition and action of the individual active ingredients included in the drugs. This will help not to expose themselves to undue risk, applying cosmetics with toxic ingredients.
Dosing and administration
Bleaching face creams are applied or rubbed into the skin, depending on the brand, in the morning or twice a day, in a thin even layer or locally. For better absorption apply light massage. The skin is pre-cleaned. The best season is autumn and winter. In all cases, you must follow the method of application and the doses indicated in the instructions.
A new tool is recommended to test on areas with delicate skin. In case of hypersensitivity, choose cosmetics without irritating components.
Apply the daily remedy no less than 2 hours before leaving the premises, from above it is covered with moisturizing with solar filters.
For oily skin, choose creams with drying ingredients, for dry skin - with glycerin, plant oils. After 40 years, use drugs with collagen, lanolin, peptides.
In some products mercury is included as bleach. Since it is toxic, it is not recommended for pregnant and lactating women, patients with liver and kidney problems.
Eyes, damaged or inflamed areas should be protected from any cosmetics, Ahromin is no exception. During the period of lightening procedures avoid the sun or tanning beds. The duration of the whitening course is up to 3 weeks.
Use Whitening face creams during pregnancy
It is not recommended to use during pregnancy any cosmetics containing harmful ingredients. Especially carefully you should choose whitening face creams, because they contain prohibited substances: arbunin, hydroquinone, vitamin C, bismuth salts, kojic acid. These substances are toxic for both the expectant mother and the fetus.
You can use creams, in the instructions of which their safety is indicated. There are special lines of cosmetics for pregnant women, created from natural ingredients, including those with a lightening effect. Mama Comfort, Chicco, Melanil - just a few options for safe cosmetics.
Contraindications
The use of whitening face creams is not recommended for patients with kidney problems, liver, expectant mothers. Contraindications to the use of such cosmetics applies to all children under 12 years of age. To avoid reactions related to intolerance to the active ingredients, a preliminary test is recommended on delicate skin areas.
Side effects Whitening face creams
Sometimes drugs provoke allergies, irritation, burning, discomfort, photosensitivity. Especially if they contain mercury, hydroquinone, tretinoin. If the whitening face cream does not cause any side effects or the desired effect, it should be replaced by another.
By applying a strong bleaching agent on a diseased or damaged surface, it is possible to aggravate its condition and promote the spread of infection.
[16]
Interactions with other drugs
Whitening agents do not enter into interaction with other drugs. They are easily combined with moisturizing creams, peels, sun care products, especially their series.
For better performance, a combination of creams and alternative bleaching agents is allowed. The simultaneous use of several bleaching creams for the face is not allowed, as this may lead to the accumulation of harmful and toxic compounds in the body.
Storage conditions
A warm, damp room is an ideal place for microorganisms that actively reproduce in a cosmetic environment. Therefore, the main storage condition is the absence of sunlight, the cool temperature is 5-25 degrees, without access for children and animals. Some whitening face creams are stored in the fridge (retinoic ointment). Products should not be heated or frozen.
The mass must be typed with a spatula, clean fingers or a dispenser if the package is equipped with such a device. The caps and caps must not be screwed on tightly; the gaskets should not be thrown away when opening the package: this is an additional barrier for harmful microorganisms.
Shelf life
Bleaching creams for face preserve the suitability depending on the composition. For example, Ahromin - 18 months. The maximum period of 5 years (zinc ointment). This is unopened packaging.
After the start of use, usually means are suitable for about 6 months. Cosmetics, the expiration date of which is coming to an end, can provoke undesirable consequences. Creams in tubes are better protected from external factors.
Reviews
Reading the reviews, it is difficult to form a real idea of the effectiveness of cosmetics. According to people, the same whitening face cream shows exactly the opposite qualities. Some admire using many exclamation marks in their messages, while others are no less emotionally indignant about inefficiency. The truth is, or advertising, anti-advertising, to understand is not always possible.
Excessive pigmentation is not a tragedy: it can always be removed in safe ways, including whitening face creams. Do it better in the fall or winter. It is enough to reduce the intensity and mask the rest with correcting preparations. The basic rule - to begin the fight against unwanted pigmentation should be only after a visit to the doctor.
Attention!
To simplify the perception of information, this instruction for use of the drug "Whitening creams for pigment spots and freckles" translated and presented in a special form on the basis of the official instructions for medical use of the drug. Before use read the annotation that came directly to medicines.
Description provided for informational purposes and is not a guide to self-healing. The need for this drug, the purpose of the treatment regimen, methods and dose of the drug is determined solely by the attending physician. Self-medication is dangerous for your health.