Tetracycline ointment for acne
Almost every home medicine cabinet has a set of proven means: iodine, hydrogen peroxide, analgin, aspirin, tetracycline ointment from sling. The last one should be told in more detail.
Does tetracycline ointment help with acne?
The answer to the question: tetracycline ointment helps with acne or not, it is necessary to begin with the fact that before its use, consultation with a doctor is necessary. Although this ointment is in the open sale: you can buy it in any pharmacy. It is produced in the form of tubes packed in aluminum with a weight of 30 and 50 g. The price is quite affordable. Nevertheless, for those who have an allergy to a number of medications, such a remedy can do much harm. If force majeure circumstances do not give an opportunity to get a consultation from a doctor, then read the instructions on the use of tetracycline ointment with a double attention. And independently test its impact. To do this simply: at night a small amount of tetracycline ointment is applied to the elbow from its inner part. In the morning, you can check the test result: there will be no reaction, so the ointment is suitable,
Indications of tetracycline ointment for acne
Tetracycline ointment is considered to be universal. Its main component - the antibiotic tetracycline hydrochloride. Ointment withstands not only acne, but acne in severe form. It removes a variety of inflammatory processes:
purulent lesions provoked by staphylococci and streptococci;
acne, even severe:
folliculitis;
infected eczema;
trophic ulcer.
The operating principle of tetracycline ointment - stimulation of the recovery of the wound surface by destroying pathogenic fire. Therefore appeared on the skin pimples - it is an indication for the use of tetracycline ointment.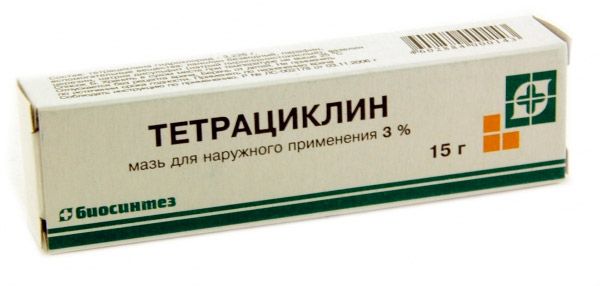 Pharmacodynamics
Tetracycline ointment has antibacterial and bacteriostatic effects against a large number of gram-positive (streptococci, except for beta-hemolytic streptococcus group A), gram-negative (bartonella, brucella, listeria, etc.) and others (actinomycetes, chlamydia, clostridia, mycoplasmas, fusobacteria, treponema ) of bacteria.
Use of tetracycline ointment for acne during pregnancy
A pregnant woman by definition gets a new physiological and psycho-moral status. Its main task is to give birth to a healthy child. Therefore, the way of life changes in principle. This applies to the taking of certain medications that are outside of pregnancy were effective and safe. Using tetracycline ointment against acne during pregnancy is an example of what should be ruled out when it comes to a future mother. Do not use ointment when the baby is breast-fed. It has been verified that tetracycline negatively affects the normal development of the embryo. There is convincing evidence that tetracycline easily penetrates into breast milk. Therefore, in the recommendations of the obstetrician-gynecologist, who is watching the pregnant woman, the ban on tetracycline ointment from acne will be mandatory.
Contraindications
In the first place, contraindications to the use - the allergic reaction, mentioned above, when the body does not tolerate the drug or one of its components. But there are a number of other factors that need to be considered. It:
impaired kidney function;
various kinds of fungal diseases, dosed, according to the medical recommendation, a course of treatment for children and adolescents. The ointment is unhealthy for the children's organism, too.
Dosing and administration
Detailed explanation that the ointment is intended for external use, there is no need. But to emphasize some nuances or indicate the most effective way to use and dose of tetracycline ointment from acne will not be superfluous. Remember this is simple:
first you need to cleanse the skin;
apply a thin layer of ointment;
not only limited to the problem area, but to the adjacent skin.
If the ointment is used after shaving, you must wait at least half an hour after its completion.
As for the result of the treatment of acne, instantly tetracycline ointment will not work. But if it is correctly applied, after a month you can forget about acne. And one more thing: tetracycline ointment and the usual makeup of a woman can not perform a tandem: the amount of cosmetics will have to be greatly reduced. For a while, until the pimples are gone.
There is another "plus": an overdose of tetracycline ointment from acne has not been confirmed.
Storage conditions
Although tetracycline ointment from acne is included in the mandatory minimum from a home medicine chest, the storage conditions for it are different: the ointment requires a sufficiently low temperature. Therefore, she has a place in the refrigerator. Then there is a guarantee that tetracycline ointment from acne will work effectively all the manufacturer's indicated shelf life. And at its expiration, and this ointment, and all expired medications can not be used. Experience shows that there is more risk than good.
Attention!
To simplify the perception of information, this instruction for use of the drug "Tetracycline ointment for acne" translated and presented in a special form on the basis of the official instructions for medical use of the drug. Before use read the annotation that came directly to medicines.
Description provided for informational purposes and is not a guide to self-healing. The need for this drug, the purpose of the treatment regimen, methods and dose of the drug is determined solely by the attending physician. Self-medication is dangerous for your health.