Medical expert of the article
Tetracycline ointment for acne

х
All iLive content is medically reviewed or fact checked to ensure as much factual accuracy as possible.
We have strict sourcing guidelines and only link to reputable media sites, academic research institutions and, whenever possible, medically peer reviewed studies. Note that the numbers in parentheses ([1], [2], etc.) are clickable links to these studies.
If you feel that any of our content is inaccurate, out-of-date, or otherwise questionable, please select it and press Ctrl + Enter. Almost every home medicine cabinet has a set of proven means: iodine, hydrogen peroxide, analgin, aspirin, tetracycline ointment from sling. The last one should be told in more detail.
Does tetracycline ointment help with acne?
The answer to the question: tetracycline ointment helps with acne or not, it is necessary to begin with the fact that before its use, consultation with a doctor is necessary. Although this ointment is in the open sale: you can buy it in any pharmacy. It is produced in the form of tubes packed in aluminum with a weight of 30 and 50 g. The price is quite affordable. Nevertheless, for those who have an allergy to a number of medications, such a remedy can do much harm. If force majeure circumstances do not give an opportunity to get a consultation from a doctor, then read the instructions on the use of tetracycline ointment with a double attention. And independently test its impact. To do this simply: at night a small amount of tetracycline ointment is applied to the elbow from its inner part. In the morning you can check the result of the test: there will be no reaction, so the ointment is suitable, it can lubricate acne.
Indications Tetracycline ointment for acne
Tetracycline ointment is considered universal. Its main component is the antibiotic tetracycline hydrochloride. Ointment successfully resists not only acne, but acne in severe form. It eliminates various inflammatory processes:
purulent foci, provoked by staphylococcus and streptococcus;
acne, even in severe form:
folliculitis;
infected eczema;
trophic ulcer.
The principle of action of tetracycline ointment is the stimulation of restoration of the wound surface by destroying the pathogenic focus. Therefore, the pimples that appear on the skin are an indication for the use of tetracycline ointment.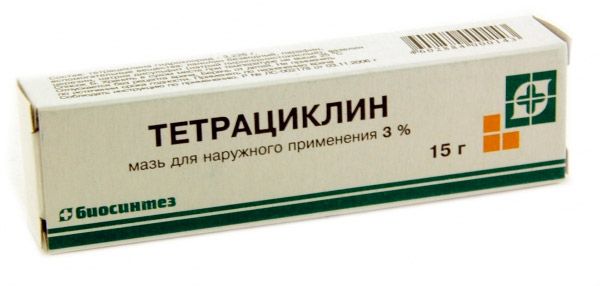 Pharmacodynamics
It is an antibiotic that belongs to the same group of tetracyclines. Produced in the form of tablets with a dosage of 100 mg. It is a broad-spectrum antibiotic that aims to inhibit the synthesis of proteins. Has a bacteriostatic effect, in some cases (when taking twice the dosage), can have a bactericidal effect.
It shows high activity against the main groups of microorganisms: these are Gram-positive, and Gram-negative microorganisms, and rickettsia. Alternatively, it can have an effect on viruses, by destroying it along with the affected cell. However, they should be used with caution, since this is a very strong drug, which, together with the therapeutic effect, can have a negative effect on the immune system, up to its complete destruction in case of an overdose.
Tetracycline ointment has antibacterial and bacteriostatic effects against a large number of gram-positive (streptococci, except for beta-hemolytic streptococcus group A), gram-negative (bartonella, brucella, listeria, etc.) and others (actinomycetes, chlamydia, clostridia, mycoplasmas, fusobacteria, treponema ) of bacteria.
Pharmacokinetics
The drug is well absorbed. Approximately 66% is absorbed into the blood during the first 1-2 hours. Up to 65% of the substance binds to the proteins of the plasma part of the blood. There is a selective accumulation of the active substance in the spleen, liver. Particles of matter are discharged outside with feces and urine. Also part of the substance can accumulate in the tumors, if any. Removed from the body in unchanged form. Therefore, with caution should be taken in patients suffering from liver, kidney and spleen diseases. Also not recommended for people with a tendency to allergic reactions, with tumors in the anamnesis. Ointment based on tetracycline has a low absorption capacity, that is, it is not practically absorbed through the skin into the systemic bloodstream.
Use Tetracycline ointment for acne during pregnancy
A pregnant woman by definition gets a new physiological and psycho-moral status. Its main task is to give birth to a healthy child. Therefore, the way of life changes in principle. This applies to the taking of certain medications that are outside of pregnancy were effective and safe. Using tetracycline ointment against acne during pregnancy is an example of what should be ruled out when it comes to a future mother. Do not use ointment when the baby is breast-fed. It has been verified that tetracycline negatively affects the normal development of the embryo. There is convincing evidence that tetracycline easily penetrates into breast milk. Therefore, in the recommendations of the obstetrician-gynecologist, who is watching the pregnant woman, the ban on tetracycline ointment from acne will be mandatory.
Contraindications
In the first place, contraindications to the use - the allergic reaction, mentioned above, when the body does not tolerate the drug or one of its components. But there are a number of other factors that need to be considered. It:
impaired kidney function;
various kinds of fungal diseases, dosed, according to the medical recommendation, a course of treatment for children and adolescents. The ointment is unhealthy for the children's organism, too.
Side effects Tetracycline ointment for acne
As side effects are signs such as itching, burning, redness. The instruction notes that the drug can not be combined with milk, and other dairy products, because the antibiotic is destroyed.
Usually the drug is well tolerated. However, in exceptional cases, there are minor side effects, manifested in the form of dyspeptic disorders, dysbiosis, dizziness, headache. In some cases, photophobia, increased photosensitivity, allergic reactions. In most cases, the appointment of antifungal drugs with tetracycline is required. 
Dosing and administration
Detailed explanation that the ointment is intended for external use, there is no need. But to emphasize some nuances or indicate the most effective way to use and dose of tetracycline ointment from acne will not be superfluous. Remember this is simple:
first you need to cleanse the skin;
apply a thin layer of ointment;
not just a problematic area, but an adjacent skin.
If the ointment is used after shaving, you must wait at least half an hour after its completion.
As for the result of the treatment of acne, instantly tetracycline ointment will not work. But if it is correctly applied, after a month you can forget about acne. And one more thing: tetracycline ointment and the usual makeup of a woman can not perform a tandem: the amount of cosmetics will have to be greatly reduced. For a while, until the pimples are gone.
There is another "plus": an overdose of tetracycline ointment from acne has not been confirmed.
Interactions with other drugs
Tetracycline is not prescribed for increased individual sensitivity, with intolerance to individual components of the drug. Caution should be taken in patients with blood diseases. It is not recommended to combine with preparations containing metals, in particular, iron. With simultaneous use with penicillin, the activity of tetracycline decreases, down to its complete inactivation. It is also important to consider that tetracycline reduces the activity of contraceptives, enhances the effectiveness of anticoagulants.
Storage conditions
Although tetracycline ointment from acne is included in the mandatory minimum from a home medicine chest, the storage conditions for it are different: the ointment requires a sufficiently low temperature. Therefore, she has a place in the refrigerator. Then there is a guarantee that tetracycline ointment from acne will work effectively all the manufacturer's indicated shelf life. And at its expiration, and this ointment, and all expired medications can not be used. Experience shows that there is more risk than good.
Attention!
To simplify the perception of information, this instruction for use of the drug "Tetracycline ointment for acne" translated and presented in a special form on the basis of the official instructions for medical use of the drug. Before use read the annotation that came directly to medicines.
Description provided for informational purposes and is not a guide to self-healing. The need for this drug, the purpose of the treatment regimen, methods and dose of the drug is determined solely by the attending physician. Self-medication is dangerous for your health.