Medical expert of the article
Treatment of acne with zinc ointment

х
All iLive content is medically reviewed or fact checked to ensure as much factual accuracy as possible.
We have strict sourcing guidelines and only link to reputable media sites, academic research institutions and, whenever possible, medically peer reviewed studies. Note that the numbers in parentheses ([1], [2], etc.) are clickable links to these studies.
If you feel that any of our content is inaccurate, out-of-date, or otherwise questionable, please select it and press Ctrl + Enter. Zinc ointment for acne is an external remedy with a local antiseptic, adsorbing, astringent, drying effect. When inflammation promotes denaturation of protein molecules and the formation of albumins, reduces the formation of secretions and absorbs them.
Indications of the zinc ointment for acne
Indications for the use of zinc ointment for acne are various skin diseases:
dermatitis;
pyoderma;
burns;
prickly heat;
ulcers, including trophic;
acute eczema;
herpes;
streptoderma;
pressure sores;
intertrigo;
scratches and cuts.
Analogues: zinc paste, diaderm, desithin, zinc oxide.
[1]
Release form
Ointment is intended for external use, contains zinc oxide and paraffin or petroleum jelly. 10% of the drug is released in tubes and cans with different dosages (indicated in grams or milliliters).
Pasta for external use 25% is packaged in dark glass or polymer jars of 15, 25 and 40 g; aluminum tubes for 30, 40 grams - in individual or group cartons with instructions. Contains zinc oxide, starch, petroleum jelly.
Combined ointments based on zinc: salicylic-zinc (Lassar paste), sulfur-zinc, salicylic-sulfuric-zinc, zinc-ichthyol, boron-sulfur are also produced in various packages.
In pharmacies, zinc drugs are dispensed without a prescription.
Salicylic-zinc ointment
Salicylic-zinc ointment, as the name implies, consists of salicylic acid and zinc oxide: the preparation effectively combines the qualities of both components.
The form of release - a paste of 25 grams, packed in jars of dark glass. It is used externally and shows the maximum effect in the treatment of various skin diseases. In favor of the drug testify: long-term practice of its use, positive reviews, as well as over-the-counter sales and low price.
Salicylic acid performs anti-inflammatory, antiseptic, keratolytic functions; Zinc oxide perfectly dries problem areas. Lubricated with the drug the skin gets rid of excess secretions, keratinized cells, pathogenic microorganisms and begins to recover faster.
If the dosage and method of applying undesirable manifestations after the ointment are observed, there should not be. But from individual intolerance of ingredients, no one is immune, and this should be borne in mind in case of allergy. Usually, uncomfortable symptoms quickly disappear when the remnants of the ointment are removed from the affected area.
During pregnancy, the ointment is used, but with caution and with the permission of the doctor. In the first trimester, when the developing fetus is particularly vulnerable, it is best not to use the ointment. The same restriction applies to children under 12 years of age.
In the treatment of individual acne ointment is applied to problem points without rubbing, with complex problems - under the bandage; after changing it, the skin should be treated with an antiseptic. The length of the course of treatment depends on the intensity of the disease and the characteristics of the organism.
[2], [3]
Serno-zinc ointment
Serno-zinc ointment is a dermatological veterinary drug that belongs to the group of antimicrobial and antiparasitic drugs. The ointment contains pure sulfur and zinc oxide; they are stirred to a homogeneous consistence with petroleum jelly. Active components provide such actions:
astringent;
drying;
anti-inflammatory;
Absorbent;
antimicrobial;
healing;
fungicidal;
Acaricidal.
Ointment is used for various, rather complex skin diseases of agricultural and domestic animals (damp wounds, purulent eczema, seborrhea, scabies, fungal lesions, pressure sores).
However, the remedy intended, it would seem, for other purposes, proved to be very useful in the treatment of acne, acne. By the way, as well as other preparations containing sulfur.
Such a tool, combining the useful properties of sulfur and zinc, can be prepared independently, but it is much better to propose a specialist for the proportions and the regimen of treatment with sulfuric zinc ointment from acne. Can you advise to carry out procedures on the day off, because the ointment has an unpleasant odor and leaves indelible marks on clothes and underwear.
Pharmacodynamics
The main component of zinc ointment from acne has anti-inflammatory, softening, protective effects, eliminates signs of dermatitis and other inflammatory processes. Dries out exudate, softens the skin, stimulates regenerative processes.
Salicylic acid eliminates itching, pain, foci of inflammation.
Serosoderzhashchie drugs destroy demodex mites, have antimicrobial and anti-inflammatory effects.
Use of the zinc ointment for acne during pregnancy
Some believe that the use of zinc ointment from acne during pregnancy and breastfeeding is permitted only if urgently needed, as prescribed by the doctor. Other manufacturers call their product completely safe and do not harm neither the mother nor the child. The choice is left to the patient and his physician.
Newborns showed the use of ointment for diaper inflamation of the dermis, diaper rash.
Contraindications
Contraindications to the use of zinc ointment from acne:
hypersensitivity to the drug;
acute purulent inflammation of the skin and adjacent tissues.
Sulfur-containing ointments are not recommended for pregnancy, breastfeeding and children under three years of age.
Side effects of the zinc ointment for acne
Side effects of zinc ointment from acne are insignificant. With prolonged treatment, local manifestations of irritation, itching, and other associated symptoms of allergy are possible.
During the procedure, you need to ensure that the ointment accidentally does not hit the eyes, and after it - wash your hands thoroughly.
[27]
Dosing and administration
Zinc ointment from acne is applied a thin layer on the cleaned (washed and drained) face up to six times a day. The duration of treatment is determined by specific indications. During therapy, all cosmetics should be discarded, and if this is not possible, then apply the ointment only for the night. To avoid overdrying the skin, experts advise mixing it in half with a moisturizer.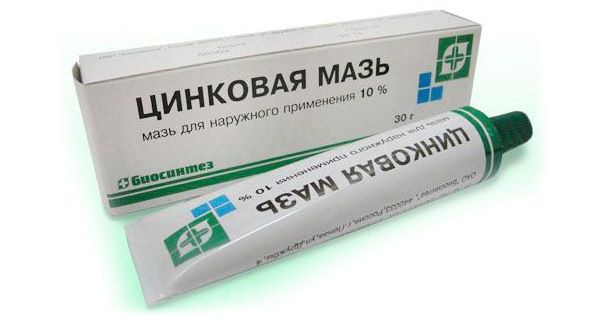 Zinc ointment for the night eliminates not only acne, but wrinkles, as well as smooths the shade of the skin.
Overdose
The facts of overdose with external application of zinc ointment from acne are not described. Ingestion in a large dose is fraught with poisoning: it can cause vomiting, diarrhea, even convulsions.
[35]
Simple and affordable drugstores quite effectively eliminate acne, blackheads, rashes on the face. However, such symptoms are not only a cosmetic problem: sometimes they indicate abnormalities in the body, malnutrition or lifestyle, and therefore require an integrated approach. For complete cleansing of the face, elimination of inflammation and defects, it is necessary not only to be treated, including zinc ointment for acne, but also to regulate the diet, combine work with healthy leisure and rest - preferably in ecologically clean places.
Attention!
To simplify the perception of information, this instruction for use of the drug "Treatment of acne with zinc ointment" translated and presented in a special form on the basis of the official instructions for medical use of the drug. Before use read the annotation that came directly to medicines.
Description provided for informational purposes and is not a guide to self-healing. The need for this drug, the purpose of the treatment regimen, methods and dose of the drug is determined solely by the attending physician. Self-medication is dangerous for your health.