Medical expert of the article
Ointments from scars after acne

х
All iLive content is medically reviewed or fact checked to ensure as much factual accuracy as possible.
We have strict sourcing guidelines and only link to reputable media sites, academic research institutions and, whenever possible, medically peer reviewed studies. Note that the numbers in parentheses ([1], [2], etc.) are clickable links to these studies.
If you feel that any of our content is inaccurate, out-of-date, or otherwise questionable, please select it and press Ctrl + Enter. Worse than acne can only be the scars left by them. If the pimples are treated correctly and in a timely manner, the scars do not have time to form; for the prevention of such effects, there are many cosmetic and pharmacy products. But if the skin has undergone a complicated inflammation and damage, then the tissues do not have time to update, and on the spot of acne there are flaws of different intensity. They can be reduced or completely removed by various methods, including the simplest - by applying to the problem areas special creams, gels or ointments.
Indications of the ointments from scars after acne
Indications for the use of ointments from scars after acne - the presence of visible, but not too deep traces after acne:
normotrophic (pale scars at the level of a healthy surface);
atrophic (depressions);
hypertrophic and keloid (convex).
Hypertrophic protuberances occur at the site of injury; keloid grow beyond it. Preparations should reduce the size of scars, make them invisible, soften and dissolve. Ointments applied to fresh wounds prevent the growth of scar tissue.
Ointments are a relatively inexpensive and affordable way of getting rid of scar defects; in addition, they can be used at home, without additional travel costs and maintenance in the salons and clinics. With profound defects, more radical methods of treatment are used.
[4]
Release form
The main purpose of ointments from scars after acne is to prevent or eliminate "post-spike" defects: to destroy bacteria that lead to inflammation, to dissolve scars, to stimulate the regeneration of epidermal cells.
Names of ointments from scars after acne:
Kontratubeks - renews the skin, softens the scars and protects from the appearance of new defects.
Sledocyte - reduces inflammation, stimulates regeneration and the process of eliminating old scars, prevents the formation of new ones.
Dermatrix - helps to get rid of old defects; softens and resolves scar tissue.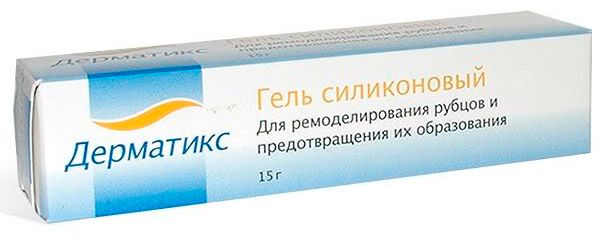 Liquid Scarquard cream, applied with a special brush, dries and forms a protective film on the face.
Clevrin - based on herbs. Components penetrate deep layers of the skin, saturated with moisture, oxygen, vitamins and antioxidants.
Kelo-cat (gel or spray) - provides resorption of scars and smoothing of the skin under the film, does not allow the growth of scar tissue.
Kelofibraza - promotes the prevention and resorption of scars.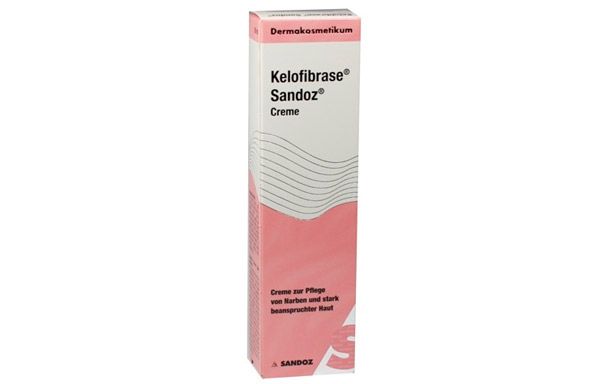 Zeraderm ultra - forms a water-repellent film, improves the flow of oxygen into the problem zone, protects from sunlight.

Fermenkol - effective and with fresh, and with chronic scars.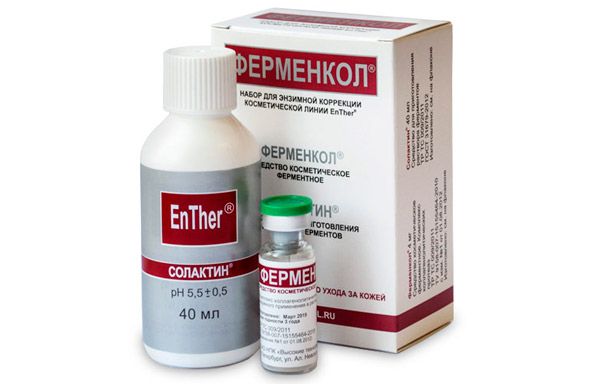 Mederma is an especially useful remedy for atrophic scars.
Heparin ointment with a wide spectrum of action.
Heparin ointment
Heparin ointment has antithrombotic and analgesic properties, it helps to eliminate hematomas, heal wounds, get rid of acne and other defects of the skin.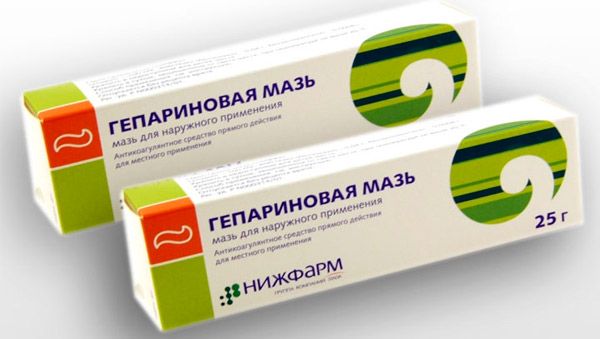 Heparin ointment from scars after acne is also very useful, because:
destroys harmful microorganisms in the subcutaneous zone,
relieves pain,
disinfects wounds.
Expanding blood vessels, the drug prevents the formation of acne, and the lack of odor makes its use more comfortable, in comparison with some other ointments. Apply a medical ointment is recommended several times a day, about a week. You can buy an over-the-counter product in all pharmacies.
Vishnevsky ointment
Well-known in everyday life Ointment Vishnevsky has a slightly different official name: liniment balsamic Vishnevsky. It is an external medicine with a wide spectrum of action: antiseptic, drying, regenerating, anti-inflammatory, softening, decongestant, disinfectant. Promptly removes purulent layers, after which the healing process is activated.

Therapeutic properties provide a combination of active components:
birch tar,
xeroform,
castor oil.
Ointment is used to treat purulent lesions of the skin of various etiologies, necrosis, inflammation of the lymph nodes with the formation of pus, trophic ulcers, vascular diseases of the lower extremities. It is applied in a thin layer or on a sterile napkin, under a bandage, twice a day: morning and evening.
One of the indisputable merits of the medicine is the minimum of side effects that can occur only with prolonged use. You should know that tar makes the skin particularly sensitive to ultraviolet light; Because of this, ointment-treated face areas must be protected from sunlight.
Due to the high efficiency of the ointment, they "forgive" a specific, not too pleasant smell.
Ointments from acne scars on the face
In a voluminous list of ointments from scars from acne on the face, a special place is occupied by the means, which include a fresh-water sponge-dried and powdered sponge freshwater sponge. This is a proven remedy for bruising, scars after surgical procedures, wounds, acne and other such blemishes. And the colonies of sponges and powder have a greenish color and not quite pleasant smell, but in the asset of badyaga - the age-old history of use in alternative recipes, including cosmetic ointments from scars after acne.
Why are pharmacists and cosmetologists interested in unsightly water colonies, whether plants, or immobile animals? The main ingredient of the badyaga is silicon, which has many positive qualities for the skin. Thus, silicon in the cosmetic composition:
cleans the surface of dead epidermis;
improves blood circulation;
powerfully stimulates the production of elastin;
promotes saturation of new cells with oxygen;
resolves stains, scars and scars, including old ones.
Apply badyag for cosmetic purposes in the form of powder alone, at home, but certainly after consulting a specialist. The procedure is not easy, from the beginning to the appearance of the result takes some time, so you need to be patient and ready for consistent action.
To eliminate flaws, it is easier to use a ready-made remedy, for example, the gel "Badyaga forte", previously tested for allergy. Normally plastered on the elbow fold "Badyaga" gives a slight burning or tingling, but not a strong itch.
On the problem areas of the face, the gel ointment is rubbed with the help of massage movements and left for 10 to 15 minutes. The procedure is recommended to be carried out twice a week, excluding the use of other drugs for the period of treatment.
Badyaga is effective and to eliminate skin problems of a different nature. In such cases, the number of recommended procedures may be different.
Like any other disease, defects from acne are easier to prevent than cure. For the prevention of scar formation, it is necessary:
Do not ignore the problem;
Do not squeeze pimples, to avoid spread of infection;
not engage in self-medication.
If the post-acne, for some reason, can not be treated immediately with ointments from the scars after acne, then the facial defects can be temporarily hidden under a layer of foundation. This can not be done only if the process of acne formation continues. Contraindicated application of tonalnikov and during the heat (preferably dry powder), and in winter, for masking should be selected cream with a moisturizing effect.
Good results are obtained by the use of home remedies made from natural ingredients: scrubs and clay masks, lotions and rubbing with essential oils and decoctions of herbs, apple cider vinegar, aloe and cucumber juice (especially with oily skin), ice from the fragrance of fragrant walnut, parsley, calendula. It is better for the skin if these procedures are performed during the cold period of the year, when it is less sensitive to external factors.
Among the best ready ointments from the scars on the face after the pimples are the gel "Kontratubeks", which many put on the first place.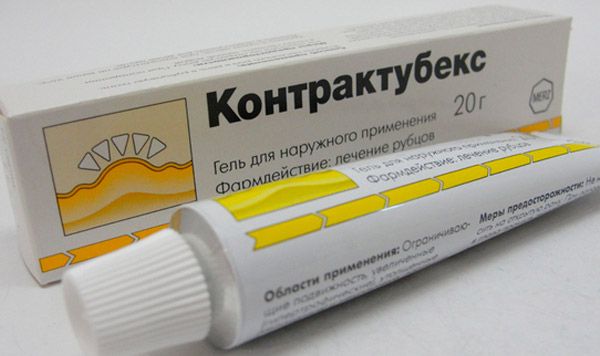 It combines three active substances that effectively complement each other:
heparin,
allantoin,
Extraction of a sharp onion.
As a result, the damaged skin is restored, smoothed out, becomes softer, more elastic; inflammatory process slows down, itching and redness disappear, scar tissue softens and stops the formation of new cells.
Another drug effective against scarring, red spots, chronic scars, is released in Germany under the name "Kelofibraze". The ointment contains urea, which controls the water balance, gives the face softness and smoothness. Fresh scars ointment removes in six weeks (with twice regular rubbing with a five-minute massage); Have time to grow defect will have to be treated from several months to six months. Recommended ointment packs at night.
Pharmacodynamics
Pharmacodynamics of Vishnevsky ointment:
Tar has antiseptic effect, irritates receptors and causes blood flow to activate exudate removal;
xeroform disastrously affects microorganisms, dries and knits the skin in the foci of inflammation;
Castor oil helps the active ingredients to penetrate deeper and soften the skin.
As an auxiliary component, instead of the last ingredient, fish oil with similar properties is also used.
Pharmacodynamics ointment "Kontratubeks":
Extraction of onion prevents the development of connective tissue in problem areas;
other components provide fibrinolytic, anti-inflammatory effects, soften scars and remove horny epidermis.
Components of ointments from the scars act at the place of application and do not affect the entire body.
Contraindications
Contraindications to the use of Vishnevsky ointment:
hypersensitivity;
large affected area;
purulent cysts of sebaceous glands;
renal insufficiency.
And this and other ointments from scars after acne is forbidden to apply for necrosis, oncology, purulent skin processes. It is risky to apply them simultaneously with other pharmaceutical products.
Side effects of the ointments from scars after acne
Since the agents act locally and practically do not penetrate into the total blood flow, the side effects of ointments from scars after acne are rare.
In some cases, local reactions are possible: nettle depletion, irritation, itching, swelling - but only if the drug is misused or sensitive to it.
Dosing and administration
The way of application and the dose of ointments from scars after acne depends on the depth of the problem. For greater effect, use compresses, tampons, bandages. Sometimes ointments from scars after acne are rubbed directly into the problem points, after cleaning the skin. The usual multiplicity is twice a day, however, in each specific case the number of procedures can vary.
After the procedure, be sure to wash your hands properly. If they get into the mucous membranes, they should be rinsed with plenty of water.
Storage conditions
Balsamic liniment does not like light, so it is released in dark jars or tubes; stored in a cabinet at 10 - 15 degrees. The formulation of other ointments allows storage at 20 degrees.
The conditions for storing ointments from scars after acne provide for mandatory protection against children's access.
Deficiencies after acne on the face cause severe discomfort, dissatisfaction with one's own appearance and even psychological trauma. To regain the former beauty and purity of the skin, people are ready for much, although often it is sufficient to use inexpensive means, for example, ointments from scars after acne. If they do not have the desired effect, or the problem itself is triggered and can not be cured quickly, then it is necessary to contact a specialist to choose a more effective treatment.
Attention!
To simplify the perception of information, this instruction for use of the drug "Ointments from scars after acne" translated and presented in a special form on the basis of the official instructions for medical use of the drug. Before use read the annotation that came directly to medicines.
Description provided for informational purposes and is not a guide to self-healing. The need for this drug, the purpose of the treatment regimen, methods and dose of the drug is determined solely by the attending physician. Self-medication is dangerous for your health.