Medical expert of the article

х
All iLive content is medically reviewed or fact checked to ensure as much factual accuracy as possible.
We have strict sourcing guidelines and only link to reputable media sites, academic research institutions and, whenever possible, medically peer reviewed studies. Note that the numbers in parentheses ([1], [2], etc.) are clickable links to these studies.
If you feel that any of our content is inaccurate, out-of-date, or otherwise questionable, please select it and press Ctrl + Enter.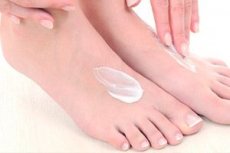 It is generally accepted that all the hardships lie on our shoulders. In fact, it is the feet, in the literal sense, carry, in addition to the body weight, all the physical loads and burdens, suffer pedestrian crossings and uncomfortable shoes, cold and heat. Therefore, at the end of the day, we are expected to receive our response and care.
Simple washing and rubbing tired legs is not enough. Skin on the feet often requires the use of funds designed for its saturation with useful substances, moisturizing, softening.
Indications of the nutritious foot creams
Indications for the use of foot nourishing creams:
coarse skin,
the formation of calluses and corns,
the tendency to roughness and cracks,
itching and irritation,
increased allocation of sweat,
the appearance of an unpleasant odor,
the presence of fungal diseases,
ichthyosis,
neurodermatitis,
dryness with diabetes mellitus.
Creams for the feet can also be used to apply on the dry skin of the knees and elbows.
Nutritional creams with pharmacological components are used to treat skin diseases, increased diabetic nutrition and some other diseases.
[1]
Release form
The main properties of nutritious creams for legs - softening, restoration of the skin. Active substances exfoliate horny epidermis, heal wounds and prevent their formation. Pharmacy products have antibacterial and antifungal properties, reduce sweating and relieve skin inflammation.
The necessary action is provided by useful ingredients: salicylic acid, urea, vegetable oils (jojoba, myrrh, lemon, karite, sea buckthorn, cocoa, Siberian cedar, wheat germ), extracts and juices of fruits, herbs (pineapple, celandine, chamomile, aloe) essential oils (peppermint, thyme, rosemary, fir), vitamins, camphor and other useful ingredients.
Names of foot nourishing creams:
"Golden pumpkin and corn oil";
Doctor Biocon balm for feet;
Intensively smoothing balm for the feet (Paloma Poland);
Moisturizing lotion "Pineapple sorbet" Witex;
"Razirka for feet" Home Doctor Ukraine;
"Perfect heels" SPA cream Ukraine;
"Tender legs" Sante Ukraine;
Sea-buckthorn;
Fruit-nut complex action;
Nichidi skin cream snail.
Nourishing foot cream at home
Women who love to experiment, offer alternative formulas for nutritious foot creams. They are effective, available, always fresh, pleasant to use.
Prepare nourishing foot cream at home can be based on such recipes:
For nutrition and mitigation
Spoon of broth chamomile, 2 tablespoons. L. Camphor alcohol and melted butter, 4 tsp. Olive oil, half a l. Glycerin, 2 yolks. Mix and melt in a water bath. Rub into the skin.
For nutrition and healing of abrasions and cracks
Ointment on the basis of calendula is combined with vitamin A in a proportion of 2: 1. The cream has disinfectant properties.
For nutrition and prevention of peeling
St. John's Wort oil 1 tbsp. Spoon, badger fat 1 tsp, half teaspoon of natural wax, two drops of vitamins E and A - mixed and rubbed into the skin.
For nutrition and humidification
On a tablespoon of sunflower oil and vinegar mix with yolk and a teaspoon of turpentine. Apply on feet.
Nourishing Clarins Foot Cream
Features of Clarins cosmetics - is the use of natural ingredients, an individual approach to the type of skin, caring for women, men and children. Products are offered to customers only after passing the dermatological control.
The company introduces innovative formulas not only in decorative, but also in cosmetics for skin care. Among them - a series of special nourishing creams creams for the feet with a predominance of different properties. These means, both in quality and price, are classified as elite.
Universal cream "Youth of the feet" for women - tones, softens, removes dryness, strengthens the nails. Relieves fatigue, gives the feet a feeling of comfort.
In the formulation of the cream are shea butter, cashew, myrrh, pumyan, arnica. These substances gently act on the epidermis, soften and moisturize the skin. The cream has a slight aroma of powder.
Regenerating and rejuvenating foot cream - according to the annotation, not only soothes dry skin and gives comfort to tired legs, but has the effect of preserving youth.
Such properties are provided by the composition: essential and fatty oils, laponite powder, useful ingredients of medicinal plants.
Milk for tired legs - quickly relieves fatigue, returns lightness, refreshes and softens the skin.
In its composition - extracts and essential oils of useful plants, relieving tension, possessing astringent and tonic properties, as well as a complex of emollients. Milk can be used at any convenient time, rubbing from the ankles to the middle of the thighs. It is interesting that the product can be applied even on pantyhose: it does not stick and does not contaminate clothing.
Use of the nutritious foot creams during pregnancy
The legs of a pregnant woman quickly get tired, so they need support and increased care. They need to be washed daily with soap, poured with cool water, carefully wipe and apply the cream. Useful baths with essential oils or aromatic salts, foot massage, moisturizing and nourishing the skin.
Recommended procedures for softening the skin: twice a week you need to rub the foot with castor oil or a nourishing cream for the feet, and then put on natural socks. Rub from fingers, stretching the entire foot.
Features of the use during pregnancy of foot creams - intensive nutrition and hydration. This is provided by creams containing avocado and carite oils. They are saturated with lipids, increase the protective barrier of the skin.
Special creams with a cooling effect containing menthol are also useful. They should be applied in a circular motion from the arch of the foot to the hips.
On the forums publish positive reviews about the nutritious cream Horsepower "Burenka" with phyto-flora - for hands, body and heels.
Dosing and administration
Caring for the feet, to ensure the desired result, it is necessary regularly.
Dosing and Administration:
apply a sufficient amount on clean dry feet,
rub in circular motions, until absorbed,
Do the procedures daily at night, sometimes twice a day,
pay special attention to rough areas.
Some nourishing creams for the feet have special features, as indicated on the package. For example, rub after steaming the feet with hot water, in dry feet and heels.
Cream "Healing Cracks" is used after applying a softening foam for the feet of the series "Green Pharmacy".
Preparations of the "Home Doctor", which possess not only nutritious and moisturizing, but also therapeutic and prophylactic properties, it is recommended to use only on the advice of a dermatologist.
Cream "Milgamma" is recommended for people suffering from diabetes mellitus, neurodermatitis, ichthyosis. To achieve the effect, it should be applied 2 to 3 times a day.
Shelf life
The shelf life of the foot creams is indicated on the tube's spike. Usually it is two years from the date of manufacture.
Cream "Milgamma" remains valid for 4 years.
Apply overdue funds is not recommended.
[43]
Best Nourishing Foot Cream
Cosmetic products for the feet are on sale very much. To determine the best of them we propose on separate indicators.
The best nutritious cream for the feet:
By price
"Perfect heels" SPA,
"Arnica" softening,
Anti-aging with flax seeds and D-panthenol,
Ginkgo biloba and sophora,
"Cedar Balm",
"Prevention of cracks on the heels" with bark of oak and extract of walnuts,
"The heels are in order",
"For prevention of cracks" with a golden mustache,
"Horse chestnut and mint."
By Elite:
"Humidification and Gommage"
For dry, coarse skin,
For keratinized skin areas Farmona Podologic Lipid System,
Cream-foam regenerative Allpresan,
Phytomer Beautiful legs mish Eraser Cream.
By popularity:
Garnier "Intensive care and nutrition,
Labcare,
Nature Kamchatka "Cedar Unts",
Phytopathologist "With cracks"
Planet Organic "Cream for the feet,
"Tender legs" Santa.
Shops and pharmacies offer a huge selection of cosmetics for foot care, including nourishing foot creams. When choosing a cream, look not only at the price, but on the composition and quality of the ingredients.
Attention!
To simplify the perception of information, this instruction for use of the drug "Nourishing Foot Creams" translated and presented in a special form on the basis of the official instructions for medical use of the drug. Before use read the annotation that came directly to medicines.
Description provided for informational purposes and is not a guide to self-healing. The need for this drug, the purpose of the treatment regimen, methods and dose of the drug is determined solely by the attending physician. Self-medication is dangerous for your health.