Ichthyol ointment from acne
Does ichthyol ointment help with acne? It helps, because it is an effective bactericidal, antiseptic and anti-inflammatory agent of topical application, and acne is a manifestation of local inflammations in the ducts of the sebaceous glands.
Pharmacodynamics
Ichthyol - ammonium bituminous sulfonate - is a sulfonated shale tar with a high content of sulfur compounds in the form of ammonium salts of organic sulfonic acids.
These compounds provide the pharmacodynamics of the complex effect, which is exerted by 10% ichthyol ointment against acne on the face and ichthyol ointment from subcutaneous acne, as well as 20% ichthyol ointment from the internal pimple ripening in the deeper layers of the skin.
Ammonium salts of sulphonic acids included in the ichthyol are able to penetrate intact skin and, oxidizing, absorb oxygen and liquid, "pulling" purulent exudate accumulating in inflamed tissues, including in the ducts of the sebaceous glands (with subcutaneous and internal pimples). The sulfur compounds act bactericidally, coagulating the membrane proteins of the microbes that cause inflammation. Antibacterial properties of ichthyol ointment are manifested, mainly, in relation to gram-positive microorganisms, the invasion of which is the cause of the appearance of acne.
In addition, ichthyol ointment relieves inflammation not only by local irritation and improving interstitial metabolism, but also by releasing calcium ions, inhibiting the formation of reactive oxygen species, and blocking leukotriene B4 (a lipid neurotransmitter of inflammation) in neutrophils.
Contraindications
Ichthyol ointment against acne is contraindicated in case of hypersensitivity, with infected burns, inflammatory processes with exudation, under 12 years of age.
The use of ichthyol ointment against acne during pregnancy is permitted by the prescription of a dermatologist, if ichthyol ointment is applied from acne on the face.
Dosing and administration
It is recommended to apply the ointment two or three times a day with a thin layer (without rubbing) to the lesions; when treating acne - on their surface. Do not let the ointment get on the mucous membranes.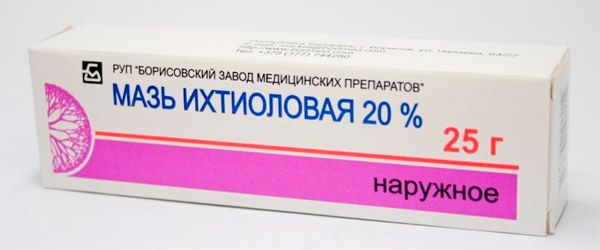 Overdose of this drug in the instructions is not described, but with its continued use, a skin allergic reaction is possible.
Attention!
To simplify the perception of information, this instruction for use of the drug "Ichthyol ointment from acne" translated and presented in a special form on the basis of the official instructions for medical use of the drug. Before use read the annotation that came directly to medicines.
Description provided for informational purposes and is not a guide to self-healing. The need for this drug, the purpose of the treatment regimen, methods and dose of the drug is determined solely by the attending physician. Self-medication is dangerous for your health.