Medical expert of the article
New publications
Preparations

х
All iLive content is medically reviewed or fact checked to ensure as much factual accuracy as possible.
We have strict sourcing guidelines and only link to reputable media sites, academic research institutions and, whenever possible, medically peer reviewed studies. Note that the numbers in parentheses ([1], [2], etc.) are clickable links to these studies.
If you feel that any of our content is inaccurate, out-of-date, or otherwise questionable, please select it and press Ctrl + Enter.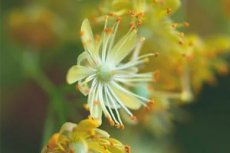 It is more customary to use linden flowers for colds, because it is a powerful antipyretic, anti-inflammatory, antiviral and antibacterial agent. Nevertheless, its biologically active substances have a beneficial effect on the condition of the hair. With an abundance of purchased hair care products, additional attention in the form of rinsing with linden broths will make them livelier, shinier, and give an interesting shade.
Benefit
The linden blossom is difficult to miss as it is accompanied by a strong scent, an abundance of bees above the tree and bright yellow flowers. This happens in June-July. If the tree does not grow along the road, then you can safely pluck and dry the flowers from it, they will be in demand more than once and will be beneficial, including for hair. It lies in the biologically active components of the plant:
flavonoids - afzelin, tiliroside, herbacetin, quercetin, etc.;
vitamins - ascorbic acid, carotene;
essential oil;
saponins;
tannins;
plant mucus;
polysaccharides;
phenolcarboxylic acids;
minerals. [1]
In alternative recipes, linden is widely used and is used internally for colds, for rinsing the throat, mouth, as a diuretic, analgesic, sedative, anticonvulsant. Linden teas are used in case of stomach diseases, flatulence, diarrhea. [2]
Its external use also plays an equally positive role: with its help, wounds, burns, eczema are healed, and they fight the fungus.
Thanks to rinsing the hair with decoctions of linden flowers, they get rid of peeling, nourish them and hair follicles, eliminate and prevent dryness, restore structure, promote their growth, strengthen, get volume, good tone, healthy shine.
Indications Linden for hair
Linden can be applied without waiting for negative signs from your hair, because it gives silkiness, obedience, softness and shine to your hair. But if they have such problems as fragility, split, dandruff, loss, gray hair, then this is a direct indication for its use.
Linden for hair rinsing will help eliminate the negative consequences of using shampoos with chemical components, drying with a hairdryer, ironing, as well as physiological disorders associated with a malfunction of the sebaceous glands, skin infection with fungi, etc. [3]
In addition, linden is used for dyeing hair, since it contains a natural dye that gives them a shade from golden to chestnut, depending on the concentration.
Contraindications
External use of linden has no contraindications, its effect on the skin and hair is delicate and soothing. [4]
Dosing and administration
How to prepare linden decoction for hair? Raw materials bought in a pharmacy or prepared by ourselves are poured with water, brought to a boil and kept on low heat or in a water bath for another 15 minutes. For short hair, two tablespoons of dried linden flowers are enough for half a liter of water. Depending on the length of the strands, the dose of the compound must be proportionally increased.
After the main wash, the curls are rinsed with a cooled to a warm state and strained broth. The concentration of the tinting composition depends on the desired shade. Darker is obtained with a high concentration of linden. For this purpose, you can use not only flowers, but also leaves, tree twigs. About 10 g of dry raw materials are poured into 500 ml of water and evaporated over low heat until a quarter of the volume is obtained. Using a brush, they paint the strands, rub them into the roots, put on a cellophane cap and hold for one hour, after which they are washed off.
Hair masks are also effective. Decoctions for them are prepared from herbal preparations, which, in addition to linden, include other useful plant components: chamomile, sage, nettle. Base oils (burdock, olive, castor, mustard), suitable for your type, are added to the resulting solution, as well as everything that will heal them (egg, cognac, honey, glycerin and other ingredients).
Linden extract for hair is present in many commercial hair care products (shampoos, balms, hair sprays) of various brands.
Reviews
According to reviews, many women liked linden decoctions. After their regular use, they noted real results in improving the condition of their hair: they can be easily combed and styled, have a pleasant shade, shine, fall out less, do not split.
Attention!
To simplify the perception of information, this instruction for use of the drug "Linden for hair" translated and presented in a special form on the basis of the official instructions for medical use of the drug. Before use read the annotation that came directly to medicines.
Description provided for informational purposes and is not a guide to self-healing. The need for this drug, the purpose of the treatment regimen, methods and dose of the drug is determined solely by the attending physician. Self-medication is dangerous for your health.