Exercise for the shoulders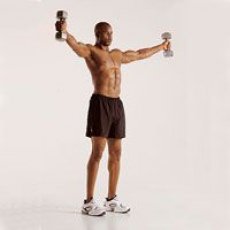 How to achieve results without pain
Start doing shoulder exercises and get rid of the pain.
According to a Dutch study, 50 percent of people who suffer from shoulder pain and regularly go to the doctor, still complain of pain after the end of the year. Solving the problem: go to a physiotherapist who specializes in sports medicine, and add the following corrections to your exercises.
GOD'S LIES
If you lower your hands below the shoulder level, you can overstretch the shoulder joints, so put a curled towel on your chest to limit the lowering of the neck.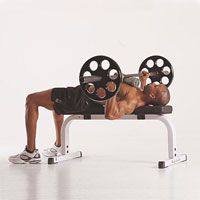 TOP BLOCK TO BREAST
In doing this exercise, grab the neck with a grip from below, arms less than the width of the shoulders. Slightly lean back and, holding your back straight, pull the bar to your chest. Let your arms straighten and return to its original position.
CONVENTION WITH THE STEAM
If you keep the bar parallel to the line of the back, this will create a load on the shoulder muscles. Instead, try frontal squats. Hold the bar with your fingers bent and put it on the front of your shoulders, keep your shoulders high.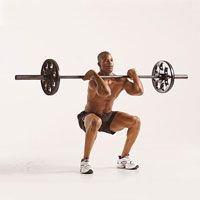 HAND DISTRIBUTION TO THE PARTIES
Take in hand dumbbells, thumbs look up, hands slightly ahead of the body. Thus, you remove the load from the rotator cuff of the shoulder.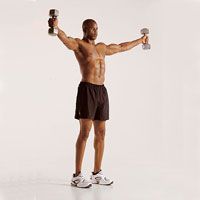 It is important to know!
The superficial fascia of the upper limb is part of the superficial fascia that covers the entire body.
Read more..