Complex exercises for the muscles of the shoulders and back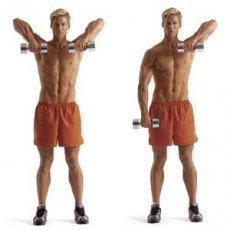 Get the best result from your exercise program without raising additional burdens. This workout on the upper body simply adds a few new movements to the classic exercises, which will help you achieve stunning results. This is an excellent training for your pectoral muscles, muscles of the shoulders, back and hands. For even better results, perform the exercises 3 days a week with a break at least one day.
Lie down with your stomach on a bench set at an angle of 45 degrees. Keep dumbbells at arm's length, palms facing each other. Lift the weights upwards so that the elbows are higher than the body. Raise your elbows to the sides and lower the dumbbells, palms facing back. Return your hands to their original position and perform 8-10 repetitions.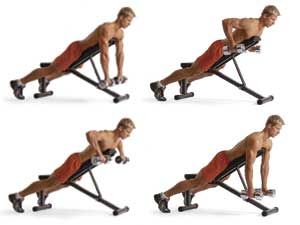 Dumbbell bench press lying on the bench 
Lie down on a bench, keep dumbbells on each side of the chest, palms look at each other. Squeeze dumbbells up and turn your wrists, so that at the top of the movement bring together the thumbs. Stop, then reverse in the reverse order. Do 8-10 repetitions.
Thrust from below with variable position of hands
Keep dumbbells at arm's length in front of the hips, palms facing you. Pick up the dumbbells to your chest. Hold one hand by the chest, and lower the other hand until the arm is fully straightened and lift it up again. Repeat with the other hand. This is one repetition; do 6-8 repetitions.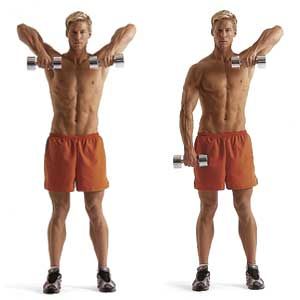 Variable extension for triceps over the head / Biceps arm bendings
Take the dumbbells in your hands. Hold one hand in front of the hips (palm facing forward), and hold the second behind the head. Raise the lower dumbbell to the shoulder, with the force of the triceps lift the second dumbbell above your head. Fix in this position, lower the dumbbells and perform 6-8 repetitions.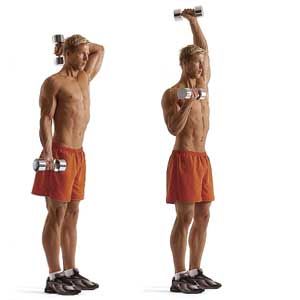 It is important to know!
The brachial muscle (m.brachialis) begins on the lower two thirds of the humerus body between the deltoid tuberosity and the joint joint capsule of the elbow joint, on the medial and lateral intermuscular septum of the shoulder.
Read more..