Ingrown hair in the bikini zone: causes and remedies

х
All iLive content is medically reviewed or fact checked to ensure as much factual accuracy as possible.
We have strict sourcing guidelines and only link to reputable media sites, academic research institutions and, whenever possible, medically peer reviewed studies. Note that the numbers in parentheses ([1], [2], etc.) are clickable links to these studies.
If you feel that any of our content is inaccurate, out-of-date, or otherwise questionable, please select it and press Ctrl + Enter.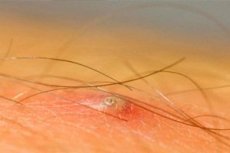 Pseudofolliculitis (dermatitis, provoked by ingrown hair into the skin) is a common inflammatory pathology, characteristic for skin areas, on which hair is regularly mechanically removed.
Most of the fair sex are ready for many sacrifices for the sake of an ideal appearance. In all places! Each of them independently makes a choice among methods of eliminating useless, in her opinion, hair, including, in the intimate zone. Any way to remove has its advantages and disadvantages. Not one of them can not guarantee that instead of a perfectly smooth and delicate skin, expected as a result of a very painful procedure, there will not be problems of ingrown hairs.
[1], [2]
Causes of the ingrown hair in the bikini zone
Not all women face this problem. Risk factors in this case are the genetically determined speed of hair growth, the density and sensitivity of the skin. More chances to face this problem are owners of dense skin, which quickly grow hair.
The main factor that provokes hair ingrowth is the thinning of hair under the influence of depilation and hair follicle trauma with careless procedure. When depilation (mechanical removal of hair), only the outer part of the hair is removed, the bulb remains in the skin. Depilation includes all types of hair removal, except for the destruction of hair follicles using a laser or an electric current. The pathogenesis of hair ingrowth is as follows: the hair from procedure to procedure is thinned, the follicle remains in place, and during the procedure it is touched or rotated, which changes the direction of hair growth. Now it is still growing, but at an angle or in a horizontal direction, under the skin, often twisting from the impossibility to break out. The result can be an inflammation of the hair bulb, the formation of an abscess, the attachment of an infection to which can provoke the development of dermatitis.
Master's unprofessionalism or own negligence often leads to trauma to the hair follicles, and the depilation made several times with a violation of the technology is very likely to be puzzled by the struggle with the ingrowth of hair for the rest of life.
The owners of dense skin often see a narrowing of the follicular estuaries or their complete overgrowth with keratinized particles of the surface layer of the skin, which complicates the very procedure of hair depilation and their subsequent growth.
Skin irritation, appearing at depilation sites as a result of rubbing against clothes, predisposes to ingrown hair, and subsequently - to inflammation of the follicle. Narrow pulling clothes and synthetic underwear are risk factors for pathological changes in the direction of hair growth.
Many women first encounter the problem of hair ingrowth during pregnancy. In women prone to ingrown hair, during this period, the amount of ingrown hair increases. This is how the female body reacts to hormonal changes in the background.
Shugaring (hair removal by applying a thick sugar mass on them) as a method of depilation appeared much later than wax or instrumental, and was positioned as safe in terms of hair ingrowth. However, time has shown that ingrown hair after shugaring in the bikini zone also occurs, albeit somewhat less frequently, than after the application of other techniques.
Yet pseudofolliculitis is more common in depilation at home. In addition to negligent attitude, there are other reasons, in particular, the bikini zone is poorly seen and it is quite difficult to remove hair in the right direction, especially in the depths. If the removal is made in the cabin by an experienced specialist, it is much easier for him to carefully observe all the moments, ensuring both the direction and angle of removal of the hairs. However, not all women are ready to entrust the intimate zone into the wrong hands. This is also a risk factor for ingrown hairs.
The epidemiology of pseudofolliculitis is considered as a whole, regardless of gender. And the leaders are of course the men who have to shave their bristles every morning. This disease is much more common in men - immigrants from the African continent (approximately 50%). Pseudofolliculitis develops simultaneously with the beginning of daily shaving. The provoking factor of hair ingrowth is their removal from any part of the body. It can occur on skin of any color, but in light-skinned representatives of the European race the course of the disease is easier. In the female part of the population, this pathology is most often localized in the pubic and axillary zone.
Symptoms of the ingrown hair in the bikini zone
The first signs of ingrown hairs are the appearance of a slight irritation in the form of a red inflamed pimple that itches and hurts. If you ignore it, irritation from ingrown hair in the bikini zone can spread to the surrounding skin, and pimples will turn into very painful abscesses . In addition to the non-aesthetic appearance, it causes significant inconvenience - the surface of the skin, in contact with clothing, itches and sates.
Complications and consequences
Consequences and complications of inattention to the first signs of pseudofolliculitis - abscesses are formed, accompanied by intense pain, pigmentation occurs - dark spots from ingrown hairs in the bikini zone, which will long adorn the skin even after removal of ingrown hair.
On the place of ingrown hairs can begin to form buds. Hopefully, they will not go by themselves, when the ingrown hair in the bikini zone became a bump - it's time to consult a surgeon. Otherwise, the process will drag on, the bumps will then decrease in size (causing hope for recovery), then increase. This process can be repeated long enough and spread to surrounding tissues. With secondary infection, which is difficult to avoid under such conditions, an abscess can begin. The activation of its development can be self-extrusion or perforation of the cone.
Of course, it is possible that the abscesses themselves will open up, with the pus come out hairs, but even with such a happy situation in the zone of bikini will remain ugly scars, and they will also have to do something.
Diagnostics of the ingrown hair in the bikini zone
Diagnosis of pseudofolliculitis, as a rule, consists in external examination. Sometimes, to confirm the diagnosis, a biopsy is performed, in cases of infection, bacterial samples are made to identify the pathogen. Symptoms of some dermatitis outwardly resemble the signs of hair ingrowth, so differential diagnostics with other infectious and inflammatory processes of the hair follicle departments (ostiofolliculitis, folliculitis, follicular keratosis, acne, pyoderma) is required. This takes into account a characteristic feature - the appearance of symptoms of hair ingrowth associated with the beginning of regular depilation, and the disappearance or decrease - with a change in the method of removal or temporary cessation of depilation.
[3], [4]
Treatment of the ingrown hair in the bikini zone
At the first signs of ingrown hair, the question arises: how to remove ingrown hairs in the bikini zone? It is necessary to start working with more simple methods (non-invasive), gradually moving to more traumatic ones.
First, you can replace the habitual method of getting rid of hair in the bikini zone to an alternative, for example, stop using an electro-epilator and learn another method, for example, wax depilation, carefully following the rules of preparation and post-procedure care. If this trick works, after a certain time, you can try to act again in the usual way.
Often, when the process of ingrowth is not delayed, to facilitate the germination of the hairs outward enough to steam the skin to soften it.
To do this, you can wet a terry or waffle towel in clean warm water, or add sea salt, herbal medicines, lightly squeeze it and apply it to the area with ingrown hairs. Repeat until the pores are opened, and the surface of the skin will not become loose enough. You can steam out the skin by taking a fifteen-minute bath, adding sea salt, essential oils or herbal extracts to it.
You can use ready-made cosmetics from ingrown hairs in the bikini zone, slowing their growth and preventing the development of inflammation.
Canadian Spray (cream lotion) Kalo Hair Inhibitor (Nisim International) of vegetable origin does not damage the surface of the skin and does not cause her irritation. Affects the hair bulb, depriving it of the ingredients that stimulate hair growth. Regularly used after depilation, reduces the intensity of hair growth, has a preventive effect against irritation and dry skin.
The spray is simply applied to the skin after depilation, it can be applied daily. When used every day on a site with ingrown hairs, the visual effect of slowing growth is noticeable after half a month, after half a year, the hair will be thinned by 50%.
Apply as follows:
After depilation, the spray is applied to the skin three times with interruptions for a quarter of an hour and is slightly rubbed, the next day - the procedure is repeated (no need to apply until the next depilation);
when shaving - it is recommended to treat the skin every time.
Tend Skin lotion is suitable for sensitive skin. Eliminates the manifestation of irritation, prevents the ingrowth of hair and inflammation of the skin in these areas, has an anti-inflammatory, deodorizing and disinfecting effect, tones up the skin, removes pigmentation, in addition - is active against the herpes virus, can remove the effects of insect bites, has a hemostatic and absorbable effect.
It is used as follows:
Dry skin is treated and left to dry completely;
at a sensitive skin - processing to spend for the night, and having woken up, to put or render a humidifying cream;
process the bikini area before the procedure - to facilitate depilation, and after - to prevent irritation.
Between treatments, regularly apply lotion to the skin to prevent hair ingrowth.
The preparation contains antiseptics - isopropanol and acetylsalicylic acid (the main active component of the cosmetic preparation). It has a keratolytic effect, but can cause allergies.
As a nutritious, emollient, fluid-retaining and skin-leveling components, cyclomethicone, glycerin and propylene glycol are used.
Very expensive, but according to the reviews a good remedy for ingrown hair is Skin Doctors Ingrow Go lotion . Producer promises to remove the inflammatory and pigment phenomena for a day, this, of course, bust. Especially if these phenomena are not one day, but with regular use, the symptoms go away quickly, depending on the stage of neglect, there is a good result in two weeks.
The main active ingredients are:
isopropanol - antiseptic;
propylene glycol - water-holding component;
Acetylsalicylic acid - exfoliating, decongestant, antibacterial and relieving inflammation;
glycolic acid - provides a soft peeling, improves blood circulation, supplements the action of acetylsalicylic acid.
It is used as follows: apply twice a day with a cotton disc on the pimples over ingrown hairs, it is not necessary to drip. After shaving or depilation, it is applied as a preventive agent in order to avoid a problem with ingrown hair. After shaving - immediately, and after waxing or depilation cream - after 24 hours.
It is much cheaper to use the active ingredient of the above-described lotions - salicylic acid, bought in a pharmacy. It is handled problem areas. Approximately five days, or maybe earlier, the hairs should be released. The drug will remove signs of inflammation and prevent the appearance of spots and scars. To avoid overdrying, you need to moisturize the skin in the bikini zone, only not with greasy oils and creams, but with light moisturizers.
You can make yourself a lotion: two crushed aspirin tablets dissolve in ¼ cup of boiled water and mix with a teaspoon of glycerin. Treat the places of ingrown hair daily several times - in the end, the hairs must break through to the surface.
The use of scrubs can help. They can be used no earlier than three days after depilation. The peeling procedure should be carried out with an interval of at least two days. After peeling, it is essential to treat the skin with a moisturizing cream.
Biomineral scrub for the body Anna Lotan Body Care with minerals of the dead sea can be used on any part of the body, including in the bikini zone. It is suitable for any type of skin, has a delicate exfoliating effect. The scrub contains: salt of the dead sea, almond and thyme oil, extracts of pepper, aloe, grapefruit and other medicinal plants.
Gel "Badyaga Forte" - has anti-inflammatory, bactericidal and disinfectant, cleansing and restoring effect, promotes resorption of scars and pigmented spots, heals and tones. Gel the problem area of the skin and leave it there for half an hour, rinse with warm water. Contraindicated in case of sensitization to gel ingredients.
Scrub from ingrown hairs in the bikini area can be prepared by hand. Its advantage is its cost, and it certainly will contain natural ingredients. They use home scrubs as usual - twice a week.
Scrubs with sea salt:
mix three tablespoons of sea salt with a tablespoon of olive oil or other vegetable oil;
to the previous composition add a teaspoon of lemon juice and a dining room - coffee grounds;
mix three tablespoons of sea salt, one - crushed in a blender of orange peel, as much vegetable oil and two drops of essential oils of lemon and grapefruit;
mix three tablespoons of sea salt, one - grinded in a blender, grapefruit with a peel and a teaspoon of vegetable oil;
Mix the coffee grounds with a tablespoon of olive oil and a teaspoonful of shower gel.
Exfoliating effect is lotion from acne or enzyme for peeling, gently cleansing the skin and slowing the growth of new hair. Peeling after each depilation prevents the ingrowth of hairs. If there is a suppuration, peeling is contraindicated!
You can try to apply this technique, especially if there were suppuration: the problem area is applied antibacterial ointment to relieve inflammatory symptoms, a couple of days steaming the skin and doing a peeling.
If a salicylic ointment is used as an antibacterial agent , it itself has keratolytic properties and will relieve at the same time inflammation and a stratified skin layer. Soon some of the hairs will begin to germinate upward, they can be removed with tweezers. Also, salicylic ointment has bleaching properties and will help remove stains from ingrown hairs in the bikini zone.
Coping with suppuration, pushing together with pus and hairs, an inflammatory process and dark spots can ichthyol ointment. It is dotted on inflamed places, wraps the skin with food film. The treatment is carried out overnight for two days, then, after removal of the inflammation, a peeling is done to remove dark spots.
You can use ointments with antibiotics that will remove inflammation and cope with infection.
Erythromycin ointment has a bacteriostatic effect, relieves inflammation. It is prescribed for pustular rashes on the skin. Treat treated areas with suppuration once or twice a day. Simultaneous use with scrubs can cause severe irritation or drying out of the skin. Before using any other anti-acne medication for external use, at least one hour must pass.
Ointment can cause allergies.
Dalacin gel 1% (active ingredient - clindamycin phosphate), is prescribed for acne. It is not recommended for persons sensitized to clindamycin and lincomycin. An antagonist of erythromycin. It is undesirable to apply to patients undergoing therapy with drugs that relax the muscles.
The surface of the skin is treated with dalacin twice a day.
Effectively removes suppuration Tretinoin cream (lotion), which is used in the treatment of acne. Promotes the maturation and dissection of acne, transforming them into sexless formations, healing without consequences, prevents recurrence. Helps reduce the cornified layer of the epidermis and sprouting the hairs outward.
The treatment is carried out once a day after taking the bath, leaving the remedy on the skin for no more than six hours. Owners of light and dry skin for the first time is not recommended to leave the remedy on the skin for more than half an hour, the next day the time can be increased.
In severe inflammatory processes and suppuration, complex therapy is prescribed, including oral antibiotic treatment. It can be Cephalexinum. Bactericidal preparation with a wide spectrum of microorganisms sensitive to it, is effective at abscesses, boils, phlegmon. Dosage up to four grams per day is divided into six receptions, the duration of treatment is one to two weeks, the treatment plan is prescribed by a doctor. May cause side effects: dyspeptic disorders, increased eosinophil count, decrease in leukocytes, hypotension, allergy.
Tetracycline. Has a bactericidal effect against many pathogens of bacterial infections, disrupts the production of proteins in bacterial cells. It is prescribed for 100-200 mg in six hours, the doctor determines the schedule and duration of treatment. Contraindicated with allergies to tetracycline drugs, individuals with severe impairment of liver function. Not compatible with alcohol, can cause side reactions.
Non-invasive methods did not help, but the problem remained - how to pull the ingrown hair in the bikini zone?
It is best to seek help from a cosmetologist, but not all are ready for this, and then you will have to act on your own.
Before the beginning of the procedure, it is necessary to conduct preparatory measures. Steam the skin with a warm compress or bath.
Then - peeling, with its help, the skin is cleaned from the deadened layer, so that the hairs are easier to appear on the surface.
Dry the skin with a towel.
Treat the hands, needle, tweezers and removal site with an antiseptic (alcohol, chlorhexidine, tincture of calendula), hook the problem hair with a needle and pull it out with tweezers. To treat wound with antiseptic, it is possible with ointment with antibiotic. Remove yourself can only surface hair without signs of suppuration and in any case do not forget about disinfection.
If the hairs grow massively, it is necessary to stop removing them and consult a doctor. In the presence of only redness, anti-inflammatory drugs are prescribed, with suppuration - antibiotic therapy is performed.
Can benefit physiotherapy treatment - hydrodermabrasion with diamond grinding, photodynamic therapy, ELOS-therapy.
Radical relief from the periodically arising task of combating ingrown hair will bring an appeal to professionals. The most effective methods are laser hair removal, ELOS-epilation and photoepilation. These techniques exclude direct contact of the hands of the master with the skin of the client, minimize the risk of injury and act destructively on the hair bulbs, which leads to their loss and the cessation of the appearance of new ones. They rule out the possibility of ingrown hairs. In addition, beneficial effect on the general condition of the skin.
Alternative treatment of ingrown hair
Prescriptions for alternative medicine (some already mentioned above) are more likely to be used for preparatory procedures or for fighting small inflammatory processes.
The simplest recipe: before removing ingrown hairs, put a compress on the problem area from ordinary table salt or sea salt. Wet a terry towel in a warm salt solution (two tablespoons per liter of water) and apply to the skin for ten minutes. This procedure will soften the skin, open the pores and remove a small inflammation.
Badyaga from ingrown hairs in the bikini zone - add sponge of hydrogen to the powder of the sponge, stir to the state of thick sour cream, apply to the bikini zone and leave there for a quarter of an hour. Wash off with warm water and apply a cream or oil to the skin. Repeat for five days. Kashitsa from peroxide with badyaga, perhaps, the most effective home remedy, relieves not only of ingrown hair, but also from microdamages on the surface of the skin, as well as - pigmentation.
Phytotherapeutic agents can stretch suppuration and relieve inflammation at the site of ingrown hair. For example, a baked bulb - attach it with a cut to the inflamed patch and fix, after 3.5 hours, update the cut and attach again. Repeat until the abscess opens and inflammation passes.
You can make ointment from a baked onion, a teaspoon of honey and flour, which is applied to pustules 4-5 times a day.
Compress from two parts of onions and one - grated household soap, apply to scrapers and fasten.
Similarly, you can use a mixture of equal parts of aloe, oils from almonds and olives, decoction of flax seed. In this chato you dipped a piece of gauze, put on an inflamed place and fixed.
For the treatment of herbs, ingrown hair suitable for any herbs - chamomile, calendula, celandine, they are made with compresses and lotions to soften the skin before the procedures and relieve inflammation.
With compresses and lotions you can not go far, they can be done at home when you are not in a hurry. Few of modern women can boast of a measured and unhurried way of life. In this case, the therapeutic powder is irreplaceable: to crush dried pink petals, aloe leaves and incense into dust. This powder to powder the inflamed skin at least five times a day.
You can wipe the skin with natural apple cider vinegar (not diluted).
Homeopathy
Homeopathic preparations, in principle, should prescribe a homeopathic doctor, then the treatment will be effective. However, there are homeopathic universal ointments and broad-spectrum creams on sale.
Cream Natur 2 GUNA is quite expensive, delicate and, judging by the reviews, very effective. Addressed for the treatment of the skin and mucous membranes of the intimate zone. It nourishes, retains the necessary humidity, stimulates blood circulation, improves trophism, restores epithelium health at the site of application. Refers to cosmetics.
Homeopathic cream Arnica has good healing and anti-inflammatory properties, with damage to the integrity of the skin before using the cream, the skin is decontaminated. The cream has good resorbability, eliminates the scar and stain. The only contraindication to its use is allergy to components.
Ointment (gel) Traumeel C is prescribed for purulent-inflammatory processes, successfully removing infection, inflammation, itching, tenderness and swelling. Treatment is carried out two or three times, in an acute period - up to five times a day. It is combined with other medicinal preparations, with caution to apply to people sensitized to plants from the family of Compositae.
Operative treatment
To resort to the help of a surgeon is recommended in the case when subcutaneous cones formed at the site of ingrown hairs can not be treated with alternative agents and local anti-inflammatory drugs. If the subcutaneous bumps then increase, then decrease, but do not pass. In such cases it is not recommended to open them independently, it is better to seek medical help in order to avoid more serious suppuration and spread of inflammation.
If surgical intervention is necessary, it will be carried out professionally and the consequences will be minimized.
Prevention
To remove unwanted hair, especially at home, you need to approach with all responsibility and be sure to follow all the rules for carrying out this procedure. Salon execution also does not always guarantee getting rid of the problem of ingrown hair - there is a lot that depends on the qualification and conscientiousness of the master, it is desirable to make inquiries about him beforehand.
To protect yourself from the emergence of the problem of ingrown hair will help simple rules.
Always after depilation (salon or home) you need to use special drugs to slow down hair growth. They are sold in pharmacies. The procedure itself should not be conducted more than once a fortnight.
Inflamed hair bulbs should never be opened or squeezed out, you can infect the wound and find a bunch of problems that will be much harder to get rid of.
3-5 days after depilation, you can start using scrubs, however, only with non-inflamed skin!
If a shaving method is the preferred method of getting rid of unwanted hair, then each time you need to take a new razor, addressed to women, because its design takes into account the purpose of the instrument.
Before depilation, it is recommended to treat the skin with creams (gels) containing aloe, allantoin, d-panthenol, which remove irritation and prevent hair growth.
After depilation, it is necessary to moisturize the skin with ingredients that inhibit the process of hair growth.
Immediately after depilation, wear natural underwear, free enough to cut. At least a day not to wear synthetic tights, a few days do not wear tight jeans (trousers).
Immediately after the procedure, do not go to the beach, pool or bath, take a bath; after taking a shower, apply a decontamination solution or a cream with an antiseptic to the place of depilation.
Until hyperemia descends, it is desirable to limit sexual contact, the use of scrubs and other cosmetic products.
Forecast
Hair growth in the bikini zone does not pose a threat to life, but can cause significant discomfort, and also requires treatment.
Inflamed, ingrown hair, become a source of infection, after that there are ugly spots and scars.
Methods for eliminating undesirable vegetation are chosen by everyone, however, one must follow the technological process or find a master who can be entrusted with his body.
[5]