Medical expert of the article
New publications
The first week on the "Maggi" diet

х
All iLive content is medically reviewed or fact checked to ensure as much factual accuracy as possible.
We have strict sourcing guidelines and only link to reputable media sites, academic research institutions and, whenever possible, medically peer reviewed studies. Note that the numbers in parentheses ([1], [2], etc.) are clickable links to these studies.
If you feel that any of our content is inaccurate, out-of-date, or otherwise questionable, please select it and press Ctrl + Enter.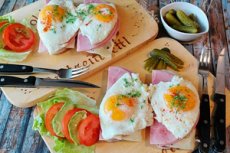 The Maggi diet is based on the principle of excluding fat and carbohydrates from the diet. The main emphasis is on the consumption of proteins contained either in eggs or in cottage cheese. In an unlimited number of it there are certain vegetables, fresh fruits and frozen, low-fat varieties of fish and meat, no sauces, dressings for salads, sugar, preserves, alcohol.
During the diet, you need to drink a lot of water, there must be three basic meals and easy snacks between them, the last one - 3 hours before bedtime, you can not replace some foods with others, the word "vegetables" means any of the allowed, and "citrus" - grapeprut, orange or pomelo. Dishes are prepared in a dietary way: by boiling, steaming or baking. "Maggi" is designed for a month - the optimal time to achieve good results for weight loss, but it is very important the first week, because despite the large list of products, you can not call it full.
Detailed menu for the first week of the Maggi diet
To present the detailed menu of the first week of the Maggi diet, it is necessary to dwell on the products that will appear in it. The main ones are eggs and cottage cheese. Of vegetables, zucchini, zucchini, broccoli, cauliflower, asparagus beans, cucumbers, tomatoes are preferable. Potatoes under strict prohibition. Meat is used low-fat, pork and lamb are absent. From baked goods allowed dried rye bread, bread. There is a place in the diet of low-fat fish, a small amount of hard cheese, coffee and tea without sugar, greens from the garden, seasonings, as well as an extensive list of fruits, except bananas, dates, grapes, mangoes. Every morning begins with a breakfast of two eggs or 200g of cottage cheese (depending on the selected main product) and one citrus fruit. And here is the menu itself for other meals:
| | | |
| --- | --- | --- |
| Day of the week | Dinner | Dinner |
| Monday | Apples | Boiled chicken, arugula |
| Tuesday | Chicken fillet | 2 eggs (cottage cheese), cucumber salad, tomato, slice of bread, grapefruit |
| Wednesday | A piece of low-fat cheese, boiled green beans, bread | Baked low-fat pork, lettuce leaves |
| Thursday | Pears | Beef, salad, other greens |
| Friday | Dietary omelet from 2 eggs (cottage cheese), cauliflower | Orange, steamed fish fillet, salad |
| Saturday | Cherries | Meat of turkey, arugula, basil |
| Sunday | Piece of chicken with skin removed, broccoli, boiled asparagus | Vegetable stew of pepper, zucchini, cabbage, tomatoes, onions, a little carrots |
[1]
Dish recipes
All dishes from meat, fish, vegetables are cooked the same way, no matter what is the main ingredient of the diet:
meat salt, pepper, put in a saucepan, cut the tomato, onions, carrots, add a small amount of water, stew;
from the thigh of the chicken, remove the skin, season with spices, pour kefir, wrap in foil and bake in the oven;
peppers and aubergines bake in the oven, peel off, cut, combine with cucumbers and tomatoes, pour with dressings from chopped greens, soy sauce, lemon juice, a little honey;
file fish sprinkle with lemon juice, put on it rings of onion and tomato, cover with foil, bake.
With the egg version (with a full course of the diet boiled eggs can get bored), you can resort to culinary improvisations with them:
break 2pc., cut dill, parsley, tomato with small cubes, pour the package into zip, shake well, close and put into boiling water for 7 minutes:
boiled eggs cut in half, take out the yolk, grind it with herbs, salt, add a little kefir, mass return to the squirrels;
In the curd version, various inventions are also possible:
cut apricots, kiwi, pears, add to grinded cottage cheese, pour on low-fat yogurt;
Cottage cheese, combine with whipped egg whites, cut small pieces of pear, apple, mix. Put it in the cake molds, bake.