Dill with cystitis: seeds, decoctions, infusions

х
All iLive content is medically reviewed or fact checked to ensure as much factual accuracy as possible.
We have strict sourcing guidelines and only link to reputable media sites, academic research institutions and, whenever possible, medically peer reviewed studies. Note that the numbers in parentheses ([1], [2], etc.) are clickable links to these studies.
If you feel that any of our content is inaccurate, out-of-date, or otherwise questionable, please select it and press Ctrl + Enter.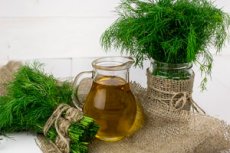 One of the most common alternative means is dill. It is used simply for rejuvenation, cleansing and healing the body, as well as for the treatment of diseases of the respiratory, digestive and genitourinary system. 
Dill is a plant from the Apiaceae family, characterized by a hollow straight, branched stalk 40-120 cm long with a fragrant odor. Dill is used as a remedy for indigestion  [1]and flatulence, and is also reported to be a stimulant of milk secretion and a means of lowering glucose  [2]and cholesterol levels. [3]In addition, it is used as an anticonvulsant, antiemetic, anticonvulsant (in children) remedy. Dill seeds increase appetite. [4]
Very often dill is used for cystitis. In mild cases, herbs are used as an independent treatment, and in the acute course of the disease, dill is used as an effective complement to the main treatment.
Dill goes well with almost any medication, but before you start therapy, you should definitely consult your doctor.
Can I drink dill with cystitis?
Dill was used to treat cystitis even several centuries ago. They use it today, since the effectiveness of this simple tool has been tested by more than one generation.
Cystitis is an inflammatory lesion of the inner walls of the bladder, which is most often of bacterial or fungal origin. Direct development of inflammation is associated with a weakening of the immune system, and sometimes with the direct entry of pathogenic microorganisms into the urinary system.
Few people know that a fragrant dill plant is not just an addition to soups and salads. This is a real storehouse of mineral salts and acids, flavonoids, vitamins: such a composition makes the usual seasoning invaluable in terms of treatment and prevention of many diseases.
Dill greens and seeds have long been used in alternative medicine:
to stimulate lactation in women;
for the treatment of intestinal diseases;
to normalize blood pressure;
with bronchitis;
with colic and flatulence;
to stimulate immunity, improve metabolism;
with cystitis and kidney disease.
Dill has strong diuretic, antibacterial (broad spectrum against S. Aureus, E. Coli, P. Aeruginosa, S. Typhimurium, Shigella flexneri and Salmonella typhii),  [5]choleretic, expectorant, soothing, antioxidant properties, it improves appetite and prevents the appearance of smooth muscle cramping. The study showed that the water-alcohol extract of dill seeds causes a significant reduction in inflammation and pain. [6]The use of dill for cystitis is quite justified, and those who have tried to be treated with this plant recommend using it at the first sign of a disease.
The main part (90%) of dill fruits consists of d-carvone, d-limonene (has chemoprophylactic and chemotherapeutic effects)  [7] and α-fellandrene. The rest include: dillanoside, kempferol and a 3-glucuronide compound, vikenin, myristicin and other flavonoids, phenolic acids, proteins and fats. [8]
Treatment of cystitis with dill
Dill helps alleviate the manifestations of cystitis caused by such factors:
hypothermia;
allergic processes;
weakened immunity due to viral, fungal and bacterial infections;
sexually transmitted infections;
medical manipulations (e.g. Catheterization);
insufficient genital hygiene;
diseases of the endocrine system and metabolism;
general intoxications, injuries.
Treatment of cystitis with dill is not recommended if the patient suffers from hypersensitivity to this plant. In addition, it is undesirable to exceed the dosage indicated in the recipes, as this can cause negative reactions from the body.
It is important to understand this point: dill is a fairly powerful and useful tool that cleanses the urinary ducts and helps inhibition of the inflammatory process. But "alone" greens are unlikely to cope with acute cystitis, so it is necessary to introduce dill into the complex treatment.
Dill seeds for cystitis
Dill seeds positively and multilaterally affect the body:
stop the development of an inflammatory reaction;
relieve painful spasm of the bladder, which allows you to quickly get rid of frequent urges;
restore the mucous tissues of the urinary system;
improve the course of metabolic processes;
increase the regenerative properties of cells;
eliminate puffiness;
have a diuretic effect, accelerate the elimination of toxic substances from the body.
Dill seeds - a strong, but at the same time a mild remedy for cystitis. Usually it is used as an additional tool in combination with complex drug treatment. Dill is not used for cystitis on its own, except for the prevention of the disease.
How to make dill with cystitis?
The classic recipe using dill for cystitis involves the use of one tablespoon of the seeds of the plant and 250 ml of boiling water. These ingredients are mixed and kept on low heat for no more than ten minutes. Next, the broth is left to cool completely, filtered. The resulting medicine is drunk in the same volumes throughout the day. So the treatment is repeated until the painful signs disappear completely, plus another 2-3 days.
This is a classic version of the recipe, however, other methods of preparing a medicinal drink are not excluded, including in the form of infusions.
Cystitis Dill Recipes
Dill is part of a whole arsenal of alternative drugs for cystitis. We bring to your attention some of them:
Prepare dill tincture based on 300 g of whole seeds and 500 ml of vodka. Dill seeds are poured into a glass dish, poured with vodka, insisted for a week, periodically mixed. At the end of the process, the drug is filtered. Tincture with cystitis drink 1 tbsp. L half an hour before meals, three times a day, washed down with a glass of water. The duration of the treatment course is 10 days.
Prepare a herbal collection: all ingredients are taken in equal parts, and the potion is prepared at the rate of 1 tbsp. L mixes on 1 l of water. The composition of the ingredients is: milk thistle seed, chamomile flowers, elecampane rhizome, dill seed. The raw material is poured with boiling water, simmered for 20 minutes in a water bath, removed from the heat and insisted for another 1.5-2 hours. Filtered. Take 500 ml of the drug per day, dividing them into 3-5 receptions. The duration of treatment is 10 days. A decoction of dill with cystitis is also used externally, for washing the genitals.
Dill with cystitis helps a lot if you prepare sitz baths from it. For the procedure, you can use a decoction or infusion made according to any of the recipes specified in the article. For a bath use 3-5 liters of fresh warm remedy, which is poured into a basin and sit in it for about 20-25 minutes. Then they get up, wipe themselves with a towel, put on dry linen and rest for about an hour. It is optimal to carry out treatment in the evening, so that after the procedure go to bed.
Dill broth with cystitis
A decoction can be prepared in many ways, and one of the most popular recipes is considered this:
Dill seeds are ground in a mortar or coffee grinder (enough 30 g of seeds).
Pour hot water in an amount of 250 ml.
Bring to a boil and incubated on low heat for about 20 minutes.
Remove from heat, cover and leave to cool.
Filtered.
The medicine with dill is taken in equal portions every 8 hours.
Cystitis is a serious disease that must be treated in a timely and competent manner to exclude the development of complications. Since the use of dill, in fact, is self-medication, it is important to consult a doctor first in the acute course of the disease: it may be necessary to conduct complex therapy.
Dill infusion with cystitis
Preparation of infusion can be divided into several stages:
Washed greens or dill seeds, dried with a napkin. If you use seeds, then take them in an amount of 5 g, and if greens or umbrellas - then in an amount of 10 g.
Pour cooked raw materials with 250 ml of boiling water.
Insist the drug under the lid until it cools (about 1 hour).
I filter the infusion.
Take the received amount of the drug in equal portions three times a day, between meals.
How to drink dill with cystitis?
As we have said, dill has a lot of useful properties. How to competently drink a healing potion? First of all, you need to pay attention to the following rules.
To prepare the infusion or broth, you need to take at least 1 tsp. Raw materials per 200-250 ml of water, but not more than 2-3 tsp. On a glass. For the treatment of children, a smaller dosage option should be followed.
Insist the remedy at least an hour.
It is necessary to filter the product, especially if the seeds or umbrellas of the plant were brewed.
With a long treatment course, dill greens should be brewed daily, drinking fresh medicine every day.
The total duration of treatment averages 1-2 weeks. If a longer course is required, then after 2 weeks of admission, you need to take a short break - from 15 to 30 days. Only after this treatment can be resumed.
If dill is used for preventive purposes, then it is drunk according to this scheme: take two weeks, 3-4 weeks break.
Dill for cystitis in women
Alternative dill-based products are recommended for women. With regular use, brain activity improves, insomnia is eradicated, the monthly cycle is normalized. Some patients claim that this plant helped them get rid of infertility.
As for cystitis, many women are quite successful in drinking dill infusions to prevent the disease. You can start taking it both during remission and during exacerbation: however, in the latter case, you must additionally take other drugs with antibacterial and anti-inflammatory activity.
For the treatment and prevention of inflammation of the bladder, seeds, greens, and even plant umbrellas are suitable. You can use dry or freshly picked raw materials, or even its frozen version.
Dill with cystitis during pregnancy
Most experts point to the possibility of treating cystitis with dill during pregnancy, but they insist that it is not necessary to abuse such a remedy. In general, dill does not belong to the category of abortive or toxic plants, or those that affect the hormonal balance of a woman. Dill, rather, refers to herbs that improve digestion and facilitate renal function. However, pregnant women should consume such herbs with caution. [9], [10]
Excessive consumption - more than 100 g of fresh dill per day - can provoke a number of negative signs:
nausea and dizziness;
sharp weakness;
a feeling of fog before the eyes;
contractions of the uterine muscles up to premature birth.
To avoid adverse effects, treatment of cystitis with dill is not recommended:
with the threat of a miscarriage;
with increased uterine tone;
with hypotension;
with kidney disease;
with iron deficiency anemia.
Since the likely side effects of dill during pregnancy are quite serious, it is probably best not to risk it and choose other suitable remedies for treatment. Of course, such a choice should be made after consulting with your doctor in advance.
Dill for cystitis in children
Dill begins to be added to the children's diet, starting from eight months of age. Such an introduction is an excellent prevention of diseases of both the urinary system and other systems and organs. At first, the child is offered quite a bit of chopped greens, because dill oil can cause allergies. If everything is fine, then the amount of dill in children's dishes can gradually be adjusted to 5-10 g.
With cystitis in children, it is allowed to use both fresh herbs and dried or frozen. Even in this form, the plant exerts its healing effect.
To prepare a medicinal dill for a child at home, you need to take 1 tbsp. L greens, or 1 tsp. Grated seeds, pour 200 ml of boiling water (optimally - in a thermos), close the lid and let stand for an hour. Next, filter the drug.
The taste of the resulting infusion is specific: if the baby refuses to drink it, then it can be slightly sweetened with honey (sugar and jam with cystitis are undesirable). The dosage of the drug is this: 1 tablespoon three times a day. It will gradually become noticeable that dill with cystitis really helps: pains during urination will gradually begin to be released.