Medical expert of the article
New publications
7 greatest surprises after birth

х
All iLive content is medically reviewed or fact checked to ensure as much factual accuracy as possible.
We have strict sourcing guidelines and only link to reputable media sites, academic research institutions and, whenever possible, medically peer reviewed studies. Note that the numbers in parentheses ([1], [2], etc.) are clickable links to these studies.
If you feel that any of our content is inaccurate, out-of-date, or otherwise questionable, please select it and press Ctrl + Enter.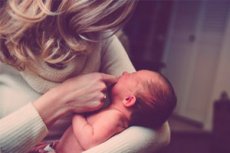 Regardless of how many books about newborns you read or how much you feel prepared, after giving birth, you will still get surprises from your child. These surprises will be presented in the range from lack of milk for breastfeeding to postpartum bleeding incomprehensible crying baby. We will help to understand the incomprehensible moments that can wait for the mother after the birth of the child.
[1]
Surprise number 1. Breastfeeding is not always easy
Moms complain that no one has prepared them for breastfeeding, and they often experience pain in their nipples.
There are a lot of potential disappointments for young mothers - and they are all perfectly normal. But before you become frustrated and upset, make sure that you have read about all the possible solutions to your problems with breastfeeding. Then you may find that small changes in the mode of the day are real salvation. It is also important to understand that you are not alone. You can always consult a doctor and talk with other moms. The main thing - do not catch colds, drink plenty of liquid, in time to express the milk left in the breast and protect yourself from stress.
Surprise №2. Clothing for most babies soon turns out to be useless
"The biggest surprise for me was that my son quickly grew up in the first couple of months. Unfortunately, we had a lot of children's clothing, which was practically not used, "- says one of the young mothers.
Yes, indeed, children in the first months grow quite quickly and gain weight. Their growth every month increases by about 1.5 - 2 cm, and weight - by 450-600 grams. Therefore, most of the clothes that were bought in advance and for future use, is useless. Here's a good tip: no matter how charming the outfits for newborns, do not buy a lot. For a child you need a lot of diapers and diapers - they perfectly justify themselves, because they will need your mother at least in the first six months.
Surprise №3. It turns out that newborns often get diapers dirty
A child can get diapers and diapers dirty at any time: when you go to visit, when you are at your birthday, when you did not plan to change them at all.
Be prepared for the fact that the child can spoil all your plans and stain your clothes (and at the same time, and my mother) at any time. In this case, the baby can constantly cry, as soon as his diapers are soiled. And this is also not the most pleasant moment. Therefore, always carry spare clothes, spare diapers and spare pills "from the head" when it starts to hurt you.
Surprise №4. After birth, it is very difficult to do all the homework
When a woman was pregnant, she coped with all domestic duties: to wash dishes, cook dinner, clean, wash. Now that the baby was born, moms discover that they do not have time. What to do?
It is important to delegate authority: at night, mom and dad stand up to the child in turn, so that my mother even sleeps a little. In addition, if the family has older children, let them help the mother wash dishes, clean up the house. At least a small contribution to the hard domestic work of each family member will significantly relieve Mom's responsibilities and leave her time for rest and sleep.
Surprise №5. A stronger love for the child manifests itself in 2-3 months
"I did not have a strong love for the child in the first couple of months," many young mothers write. "And now, eight months later, I'm amazed at how much love I have for him."
This is perfectly normal, if the mother's love for the child does not manifest immediately after childbirth, but matures gradually. This process - the growth of maternal love - occurs naturally, it takes time. The same goes for understanding what the child needs. Give yourself a small break, and remember, your body after birth passes through many hormonal changes, which, in the final analysis, will necessarily pass.
Surprise №6. No bleeding after delivery
"I was shocked by the size of the gasket that needs to be worn for a couple of weeks after delivery, as if mom and baby are wearing diapers," write young moms
Yes, gaskets the size of a lifebuoy are not very pleasant. But the physiology of a woman is such that bloody discharge can not pass through her for a week or even two after delivery. For normal, healthy births, this is not a good situation. A woman after birth can observe a maximum of several days. If the bleeding lasts longer, you need to see a gynecologist.
Surprise №7. A young mother does not always know what to do if the baby cries.
Sometimes a young mother feels completely helpless when she hears a child crying. She does not know what to do, especially if the reason for crying a baby is not wet diapers, but something else.
This is a great disappointment and sometimes even an emotional breakdown when you feel that you have tried everything to calm the child - but nothing helps. Pay attention to how he cries. A low cry often means that he is hungry, and a high crying sound can indicate that the baby has something to hurt. If the cry of the baby is not very intense, weak, it can mean that he is tired. And if the child is simply bored, his cry sounds like a whine.
Mom may not immediately after the birth begin to understand your child. But do not worry - it will soon pass. The more time mom will spend with the baby, the more understanding and affection will be between them.
It is important to know!
In the UK, uterine rupture is a rare complication (1: 1,500 births), especially compared to other countries (1: 100 in some regions of Africa). Maternal mortality at the same time is 5%, fetal mortality - 30%.
Read more..