Medical expert of the article
New publications

х
All iLive content is medically reviewed or fact checked to ensure as much factual accuracy as possible.
We have strict sourcing guidelines and only link to reputable media sites, academic research institutions and, whenever possible, medically peer reviewed studies. Note that the numbers in parentheses ([1], [2], etc.) are clickable links to these studies.
If you feel that any of our content is inaccurate, out-of-date, or otherwise questionable, please select it and press Ctrl + Enter.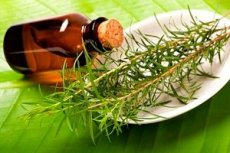 Tea tree oil for the face is effective for oily skin in order to eliminate the shine of the skin, as well as the presence of barley or after shaving.
For the treatment of barley, steam baths are used, for which it is necessary to prepare a solution of 2-3 drops of essential oil added to hot water. Steam bath should be up to 5 minutes, holding your face above the steam.
Due to the presence of soothing and anti-inflammatory effects, oil can be used after shaving. In addition, due to the antiseptic property in the process of shaving, infection does not occur in the presence of violations of the integrity of the skin. To prepare a shaving cream, you must add oil to the shaving aid used in a ratio of 1: 4.
Tea tree oil for eyelashes
Tea tree oil for eyelashes in order to lengthen and strengthen them. Regular use of essential oil will emphasize the expressiveness of the look with the help of long eyelashes.
There are many reasons why eyelashes fall out. This may be due to insufficient levels of vitamin and microelements in the body. In addition, eyelashes can become rare due to improper care for them, when girls often paint them with special paint to create a clear outline of the eyes or with regularly used mascara, preventing the eyelashes from "resting."
Applying tea tree oil for eyelashes can achieve a good result, that even without the application of mascara, the eyes will look very beautiful. To make a mask, you will need tea tree oil with a volume of 2 drops and olive oil - 5 ml. After mixing, the product will be ready for use. It should be applied to the eyelashes and held for up to 10 minutes, then thoroughly rinse with water with a comfortable temperature so that the product does not get into the eyes.
Of great importance is vitamin E, which stimulates growth and strengthens the eyelashes. As a result, it can be added as a component in the mask. It will be enough 2-3 drops to the prepared volume of oils.
Masks with tea tree oil
Masks with tea tree oil can cleanse the skin, soothe it and bring it into tone. The mask is prepared by mixing 30 grams of clay of any color with a small amount of low-fat kefir. In the resulting homogeneous mass, you should drip a couple of drops of oil and lubricate the skin of the face with a duration of up to 15 minutes. It is washed off with warm water.
Another recipe is based on using 10 g of blue clay, 10 g of sour cream (0% fat) and 2 drops of oil. After mixing, the product will be ready to be applied to the skin for 15 minutes.
Masks with tea tree oil with a tonic effect are prepared with the help of infusion of green tea, 15 grams of oat flakes and 5 ml of lemon juice. In the resulting mixture, add 2 drops of oil and apply a thin layer on the skin of the face. In addition to increasing tone, this mask helps exfoliate dead cells from the skin surface.
For oily skin, you can prepare a mask of 15 ml of grape seed oil and thistle oil, 5 ml of black cumin oil and 3 drops of essential oil. After mixing, it is necessary to add a similar volume of flour from potato to obtaining a homogeneous product. Then apply to the skin and wait 20 minutes.
Tea Tree Oil from Acne
Thanks to antiseptic and immunomodulating abilities, tea tree oil from acne is no less effective than expensive cream. The simplest method in the fight against eruptions is to apply this drug to each element of the rash with a cotton swab.
Double this procedure per day contributes to drying of acne, preventing the appearance of new podsypany, as well as reduces irritation and flushing of the skin, which directly activates regenerative processes for early healing.
In addition, it is possible to use tea tree oil in combination with lavender oil. The ratio of components is 3: 1, and the solution is applied as a lotion for application to the elements of the rash.
Tea tree oil from acne is also used in face lotions with the addition of rose water (a quarter of a glass), sage tincture (30 ml) and 10 drops of the oil itself. After mixing, the product will be ready to wipe the problem areas of the skin several times a day, each time pre-shaking.
Tea tree oil from wrinkles
The appearance of wrinkles is due to lack of nutrition and oxygen to the skin of the face. In addition, its negative effect is produced by oxidation products, lack of collagen, and facial expressions. Because of this, wrinkles are formed under the eyes, on the forehead, at the corners of the eyes or mouth.
Tea tree oil from wrinkles due to its antiseptic effect prevents the contamination of the skin, resulting in the skin can fully breathe.
Tea tree oil from wrinkles in combination with other essential oils can restore elasticity to the skin and fill it with health, while smoothing wrinkles.
A mask recipe that allows you to restore the structure of the skin and make it more elastic, is as follows. The mask requires clay and essential oils. So, to 30 grams of clay it is necessary to drip on a drop of tea tree, lavender, marigold, carrot seeds, rosemary and incense. In order for clay to be applied more easily to the skin, it is necessary to dilute it with water a little.
This mask is suitable for the skin of the face and neck. Its duration is half an hour, after which it is necessary to crush the clay with water of a comfortable temperature. Applying this mask twice a week can achieve a noticeable result in a month.
Tea tree oil from jam
Seizures appear as a result of several adverse factors simultaneously. Firstly, they are the centers of inflammatory genesis in the chronic form, which are localized on the gums, tonsils, nasopharynx and even the upper respiratory tract.
In addition, not the least role in the formation of seizures is the traumatization of the lips in combination with an insufficient level of immune defense and vitamins. As a result, angulitis is observed.
Tea tree oil from zaedov helps the inflammatory process to cope with bacteria, fungi or viruses that will certainly accompany it.
With the therapeutic purpose, the following method can be used. Tea tree oil from jam can be used as lotions. So, by diluting a few drops of oil in a glass of water, then moisten the solution with a cotton swab or a small piece of gauze and apply to the corners of the mouth.
Repeat the procedure several times a day until recovery. Thus, the oil will ensure the death of pathogens, and have an anti-inflammatory effect.
Tea tree oil with demodex
Demodex is a permanent resident of the skin and refers to the conditionally pathogenic flora. This means that these microorganisms will not become pathogenic, and will not contribute to the development of pathology unless they are affected by a provoking factor, external or internal. People with a fat type of face are most susceptible to activation of negative demodex abilities.
As soon as demodex starts provoking the development of pathology, acne on the skin of the face begins to appear, which in time can leave scars.
Tea tree oil with demodex is rational to apply simultaneously in several ways. It can be a ready-made shampoo with butter or prepared independently by adding an oil drop to the shampoo volume for one use.
Tea tree oil with demodex should be applied in a lotion or cream for the skin of the face, as well as daily use of soap for washing, which includes oil. Thus, it is necessary to act comprehensively to achieve therapeutic results.
Tea tree oil for the face with increased secretion of the sebaceous secretion is used to narrow the pores and reduce the "shine" on the skin. To prepare, you need 50 ml of water at a comfortable temperature and 10 drops of oil. After dissolution, it is necessary to wipe your face twice a day after cleansing the skin with other means.