Medical expert of the article
New publications

х
All iLive content is medically reviewed or fact checked to ensure as much factual accuracy as possible.
We have strict sourcing guidelines and only link to reputable media sites, academic research institutions and, whenever possible, medically peer reviewed studies. Note that the numbers in parentheses ([1], [2], etc.) are clickable links to these studies.
If you feel that any of our content is inaccurate, out-of-date, or otherwise questionable, please select it and press Ctrl + Enter.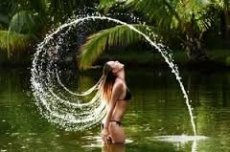 Tea tree oil for hair is forbidden to be used undiluted, as it is possible to burn or peel the scalp with the appearance of dandruff. To strengthen hair, you can use a special shampoo, which includes essential oil.
For cooking, just add 5 drops of oil to the usual disposable volume of shampoo for washing your hair. During the procedure, you need to do a head massage to soak the hair with this remedy. At the end of the usual washing procedure, you can also use the hair conditioner to increase the effect.
To strengthen the hair in the combing process, it is recommended to moisten the pre-comb in a special solution. To make it, you should drip a few drops of this in a 60-degree water volume around the glass.
Such a "compress" should be kept for no more than an hour, after which it should be washed off with shampoo. This remedy also effectively removes dandruff by adding 2 drops of lavender oil, rosemary and bergamot to it. After infusion for 5 minutes, it is necessary to apply to the hair and hold for 30 minutes.
Technique
Tea tree oil against dandruff
Tea tree oil from dandruff is used as a mixture with other ingredients. Since dandruff is a fungal disease, therefore, essential oil can effectively rid it of its healing properties.
The first symptoms of the appearance of dandruff is the peeling of the scalp, itching and, of course, the same dandruff on the shoulders, especially in black clothes. The only nuance when using this oil is caution for dry hair, because in the absence of dandruff and overdrying the scalp may appear peeling and itching.
The oil of tea tree from dandruff is used in combination with shampoo or conditioner. It is enough to add an oil of 1 drop to 30 ml of the drug and rub it into the radical zone of the hair. After 5 minutes, wash the hair.
In addition, this oil of 10 drops can be mixed with another oil of different origin - almond, olive, and massage soak the roots of hair with this remedy. To fully absorb it takes 30 minutes, after which the hair must be washed.
Tea tree oil from lice
Lice are parasites, the eggs of which are attached in the basal forehead of hair. Often they affect children, but cases of adult hair damage are not excluded. With the purpose of prevention and prevention of infection with lice, it is necessary to regularly inspect the hair of the baby, and comb it with a comb, preliminarily moistened with water diluted with water.
Tea tree oil from lice was used even in ancient times, but the recipes have survived to our time. If, after all, lice eggs appeared on the hair, then it is necessary to prepare a special disastrous mixture for them.
It is necessary to combine a quarter of a glass of alcohol with 30 drops of oil, and then dilute a quarter of a glass of water. Every day before going to bed, you should rub this product into the root zone of the hair and skin.
If the baby is infected with head lice, then the appearance of clothing and pubic. A clinical manifestation that will help to suspect infection with clothing lice is a strong itch on the back, and pubic - in the genital area on the scalp.
Tea tree oil from lice is allowed to be used as a shampoo or as a means for washing clothes and bed linen. For cooking, enough to drip 10 drops of oil in 15 ml of shampoo.
Tea tree oil for hair can give them shine and beauty with the help of a prepared spray of 25 drops of oil and a quarter of a glass of olive or burdock oil. After rubbing this mixture into the roots and along the entire length of the hair, it is necessary to cover the head with polyethylene and a warm kerchief.