Medical expert of the article
New publications
Examination before sports

х
All iLive content is medically reviewed or fact checked to ensure as much factual accuracy as possible.
We have strict sourcing guidelines and only link to reputable media sites, academic research institutions and, whenever possible, medically peer reviewed studies. Note that the numbers in parentheses ([1], [2], etc.) are clickable links to these studies.
If you feel that any of our content is inaccurate, out-of-date, or otherwise questionable, please select it and press Ctrl + Enter.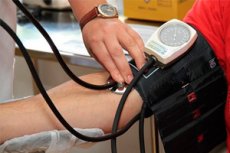 Examination of children and adults should include a history and clinical examination (including blood pressure, auscultation of the heart in lying and standing). These measures are designed to identify a small number of young patients who look healthy, but they have a high risk of heart disease, life-threatening (eg, hypertrophic cardiomyopathy or other structural changes in the heart). It is possible to determine more objectively whether a person can go in for sports or not, using existing injuries and disorders, optimizing treatment, and eliminating unnecessary restrictions.
Usually two groups of risk are considered. Boys with late physical maturation have a higher risk of sports trauma in contact with older and stronger children, as well as in people who are overweight or obese, who are involved in activities that require fast movements, as they may suffer from sudden stops and onset of movements because of their excessive body weight.
It should be interviewed adolescents and young people about the use of banned and stimulant drugs. In women, a menarche and a triad of symptoms characteristic of female athletes (eating disorders, amenorrhea, or other menstrual dysfunction, reduced bone mineral density), which occurs more frequently, are becoming more common in women, as more girls and young women are exercising excessive physical exertion and a fanatical decrease in body weight.
Older people starting to exercise need to be asked about previous diagnoses or symptoms suggesting coronary artery disease or arrhythmia, and joint disorders, especially those joints that are heavily stressed (for example, the knee, hip, ankle joints). It is also necessary to be wary of increased plasma cholesterol, obesity, hypertension and a family history of coronary artery disease.
Absolute contraindications for playing sports almost does not exist. Exceptions in children are myocarditis, which increases the risk of sudden cardiac death; acute spleen enlargement, increasing the risk of its rupture; fever, lowering the load tolerance and increasing the risk of thermal imbalance, which increases the risk of heart disease; Diarrhea with a risk of dehydration. Exceptions in adults are angina and a recent (for 6 weeks) acute myocardial infarction. Contraindications are usually relative and cause recommendations to observe precautions or participate in some more preferred sports. For example, people with numerous concussions of the brain should practice sports that exclude another concussion; men with one testicle should wear a protective bandage in certain sports; people who do not tolerate heat and dehydration (for example, patients with diabetes mellitus or patients with cystic fibrosis) should drink fluid more often during physical activity; and those who have seizures should avoid swimming, lifting weights and sports such as archery and rifles, as this is dangerous for others.