Products that color urine in red: beet, cranberries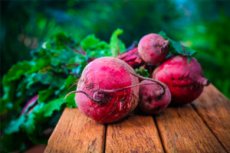 Change in the shade of urine can occur for quite commonplace reasons, not related to disease. Products that color urine in red, are present in almost everyone's diet. The list of food products is as follows:
Red beetroot.
Black chokeberry (aronia). Chokeberry juice (Succus Aroniae melanocarpae recens).
Dark varieties of grapes.
Blackberry.
Blueberry.
Cherry.
Red cabbage (red).
Roots of rhubarb.
The currant is black.
Garnet.
Some varieties of basil.
Red-leaved salad (Lactuca sativa).
Juices, nectars, fruit drinks, smoothies containing anthocyanins.
Products that color urine in red, are rich in a specific pigment - anthocyanin. Anthocyanins are vegetable glycosides, natural pigments that freely move in the cell sap and are soluble in any aqueous medium. For industrial purposes, they are extracted from grape skin, others, brightly colored fruits and fruits, denoting as E-163. Unlike the notorious harmful components with the E badge, the anthocyanins in the products are completely harmless, moreover, they are able to benefit, working as antioxidants.
It is the anthocyan that gives a dark red, pink or burgundy shade not only to inflorescences, leaves or fruits, but also to the excretory fluid that removes the waste products from the body. Each person has his own level of acid-base medium. From the balance of acidity and the level of alkaline activity depends the intensity of the color of urine. The more acidity, the more vivid becomes the color of urine. If the acidity is low, the shade of urine will be a pinkish hue.
Urine red after beet 
Beetroot is not just a useful product, a storehouse of microelements, but also a root crop, capable of coloring urine in red shades. After beet, urine of red color is due to a specific pigment - betalain. The main healing property of beets is given by these compounds, which are divided into two subspecies - betaxanthines (yellow pigments) and betacyanins (imparting a burgundy hue, pigments). Betalaines are excellent antioxidants, these substances oxidize well and dissolve in a liquid medium, that's why they color urine in red shades, the color saturation depends on the acidity of urine.
More about betacyanins, who are responsible for information about why after the beets urine is red:
Until 1960, the plant pigments of this category chemists and did not guess. Only in the 70s of the last century the betalaines aroused the curiosity of chemists and began to be studied as a separate kind of phytopigments.
Betacyanins are included in the group of glycosides (organic carbohydrate-containing substances).
Beanidine, betatsianin also belong to the group of alkaloids, phenolic amino acids, which "pick up" the process of biosynthesis in tyrosine and proline.
Betalaines are found in all the plants of the cactus family, they can be found in fungi, there are quite a few subspecies of the betalin group (betanidine and betacyanin) in red beets.
Betacyanins are excreted in urine and poorly soluble in organic media.
It is remarkable that betalaines are synthesized only in plants, no creature of the animal world is capable of producing these pigments.
In addition to betanidine (betanin) in beets, there is an inventor, isobethanidine, probetanin.
From the red beet extract extract for staining food, it is designated as E162.
Betacyanin works as a bactericidal, antifungal agent, and also activates many biologically important processes in the human body.
Changing the color of urine after eating beets is a temporary phenomenon. Urine usually returns to normal color within 24 hours. This sign is not a symptom of pathology and does not require treatment.
Does the cranberry color the urine red?
Cranberry is considered a plant antibacterial agent due to its unique composition. Before answering the question - whether the cranberry stains urine in red, it is necessary to study the useful properties of this berry.
Composition:
Vitamin C.
Vitamins of group B.
Phylloquinone (vitamin K1).
Vitamin E.
Lemon acid.
Oleanolic acid.
Benzoic acid.
Apple acid.
Quinic acid.
Chlorogenic acid.
Succinic acid.
Ketoglutaric acid.
Fructose.
Phenolcarboxylic acids.
Calcium.
Iron.
Bioflavonoids are anthocyanins, leucoanthocyanins, betaine, catechins.
Pectins.
Manganese.
Potassium.
Phosphorus.
Copper.
Iodine.
Zinc.
Does the cranberry color the urine red? The answer is positive, since the composition contains a plant, active pigment - anthocyanin. These are specific glycosides that provide cranberries, and other plants containing them, the color of the red spectrum. Most anthocyanins in blueberries, black currants and cranberries are slightly inferior to the leader in color - cherry, grapes, raspberries. Useful components of cranberry, anthocyanins, have the following properties:
Adaptagenic.
Diuretic.
Spasmolytic.
Antioxidant.
Bactericidal.
Hemostatic.
Cholagogue.
Estrugenokompensiruyuschee.
Antiviral.
Anthocyanins in cranberries are a powerful source of a useful substance that can not be produced by the body itself. The norm of external glycoside - up to 200 mg, an increased dose of anthocyanins is needed for diseases of bacterial or viral etiology (up to 300 mg per day).
The color of urine when eating cranberries, cranberry juice may vary from normal, light yellow, light pink to red, depending on the acidity of urine. The higher the level of acidity of urine, the more intense it is stained in red shades when entering the gastrointestinal tract products containing anthocyanins. If urine is prone to alkaline indices, its color is often not amenable to changes - glycosides do not find the acid medium they need.
It is important to know!
Microscopic examination of the urine sediment (sediment microscopy) is an integral and most important part of the general clinical study. There are elements of organized and unorganized precipitation of urine
Read more..