Medical expert of the article
New publications
Diet for weight loss 40 kg for 1 month

х
All iLive content is medically reviewed or fact checked to ensure as much factual accuracy as possible.
We have strict sourcing guidelines and only link to reputable media sites, academic research institutions and, whenever possible, medically peer reviewed studies. Note that the numbers in parentheses ([1], [2], etc.) are clickable links to these studies.
If you feel that any of our content is inaccurate, out-of-date, or otherwise questionable, please select it and press Ctrl + Enter.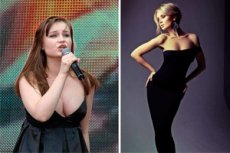 Lose 40 kg per month - this is a real gamble for which you have to pay with health, if not life. The benefits of such a diet have nothing to say. A safe loss is 5% of the total weight in a short period. To get rid of 40 kg will take more than one month, although it is quite achievable. An example would be the diet of Polina Gagarina, who from a bbw formed after childbirth, turned into a slender and beautiful "swan".
The essence of the diet Polina Gagarina
The singer managed to lose 40 kg and triumphantly return to the stage. As a basis for losing weight, she took a strict diet alternating mono-diet. Its essence is that every day only 1 type of authorized products is used.
What can you eat? On the first day, the meal consists only of boiled rice, the second - nutritionally cooked chicken meat without pelt, the third - raw and steam non-starchy vegetables or vegetable soups. Then the cycle repeats again. The last meal ends at 18 00. Food restrictions must be combined with physical activity.
What can not eat? Under the complete prohibition of fast food, sweet soda, pastries, sausages, smoked meats, mayonnaise, coffee, tea with additives.
For half a year it took to get rid of 30kg, and then simply, adhering to a healthy diet and intensive training, 10 more disappeared.
Detailed menu for every day
One product dominates in mono diets, but others are also present. The main advantage of rice is that this grain crop is an excellent enterosorbent. It absorbs the contents of the stomach and intestines, thereby cleansing them.
On the shelves we see many different varieties of it, differing in shape, color and price. What to choose for a diet? White polished is the least useful for this purpose, because it is freed from the scaly, in which the most valuable substances are concentrated, there is a lot of starch in it.
It is best to use unrefined grains. You can supplement the rice day with vegetables or fish, differentiating them in time: rice for breakfast, fish for dinner, or vice versa.
Sometimes you can arrange a hard unloading rice days, consisting of a cup of cooked grain, distributed in 5 receptions.
The second day of the diet is more "fun" - meat. Protein will satisfy hunger. It will take up to 300g of boiled dietary meat distributed throughout the day. The presence of a side dish of vegetables, such as white cabbage, boiled green peas, is allowed.
Vegetable day can be started from a glass of freshly squeezed carrot juice and an apple half diluted with water. At the second breakfast, prepare a salad of sweet pepper, tomato and cucumber, lightly sprinkle with olive oil. Lunch will be a soup of vegetables, afternoon tea - boiled cauliflower, dinner - vegetable stew without adding vegetable fat.
And so walk in a circle, until enough willpower or there is no negative response from the health.
Throughout the entire diet, a sufficient drinking regime of 2-2.5 liters of water is required, including dogrose broth, herbal teas.
Dish recipes
With an eye on the proposed diet, you can prepare dishes using the following recipes:
on the eve of the "rice" day a glass of grains is soaked overnight with water. In the morning it merges and rice is poured with boiling water in the amount of 1.5 cups, cooked on the fire for a quarter of an hour. This amount is distributed throughout the day. Once you can put a spoonful of honey in a serving;
You can diversify vegetable dishes with beet caviar: onions are lightly sauteed on a small amount of sunflower oil, beets are grated on a large grater, stewed under a lid on a low heat, tomato juice or a minced tomato is added 10 minutes before the readiness;
mushrooms boil, stuffed with a mass of low-fat cottage cheese, chopped greens and shabby hard cheese, baked in the oven;
boiled asparagus beans, cut into 2-3 pieces, sprinkled with hard cheese, put in a microwave until softened;
cauliflower inflorescences boil, cut into cubes, add the same chopped boiled egg, finely chopped onion, fill with lean cream with a spoon of mustard;
in order not to be tired of boiled or baked meat, we sometimes recommend replacing it with chopped cutlets. For this, chicken fillet is cut into cubes, onions, a little salt, a raw egg, a spoonful of sour cream are added, and they are kneaded. Cutlets are formed from the resulting mass, laid out on baking paper and baked;
It is good to cook fish with vegetables: chopped fillet slices are put into the pan with onion rings, eggplant, tomatoes, and beets. It is filled with a small amount of water and languishes until ready;
You can afford this kind of dessert: boil a concentrated compote of various dried fruits, strain, combine with Ogar dissolved in water, pour into molds and let stand in a refrigerator.
[10]
Contraindications
Any diet - stress for the body, especially so tough. Therefore, anyone who is not young, has various chronic diseases, diabetes, neoplasms, pregnant, feeds a child, whose body is still growing, it is contraindicated.
Ignoring these contraindications is fraught with serious risks
With the condition of the kidneys, liver, cardiovascular system. Perhaps the deterioration of the digestive tract, a complication of hidden and undetected until now pathologies.
Reviews
Not everyone can withstand such diets. According to reviews, hunger is felt all the time, not enough strength for exercise. Too sharp weight loss often entails a deterioration in health. After leaving it, it is difficult to keep oneself in the weight achieved.
[16]
Results
Diet gives tangible results, but this is not 40kg per month, you can really count on 10. After some breathing time on a healthy diet with the "right" products, you can return to it.
[17], [18]