Medical expert of the article
New publications
Diet "The Seven Petals": recipes of dishes, testimonials and results

х
All iLive content is medically reviewed or fact checked to ensure as much factual accuracy as possible.
We have strict sourcing guidelines and only link to reputable media sites, academic research institutions and, whenever possible, medically peer reviewed studies. Note that the numbers in parentheses ([1], [2], etc.) are clickable links to these studies.
If you feel that any of our content is inaccurate, out-of-date, or otherwise questionable, please select it and press Ctrl + Enter.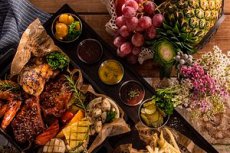 The problem of excess weight is more urgent than ever. Some seek to achieve model standards, others are forced to do so. That is why various feeding systems designed for fat burning have been developed. One of them is the "Seven petals" diet, developed by the Swedish dietician Anna Johansson. Initially, it provided for a special six-day meal, then it was transformed into a seven-day meal. Its purpose is a rather sharp weight loss or preparation for a prolonged diet.
General information of the diet "Seven petals"
"Seven petals" is a mono-diet with alternation of protein and carbohydrate days. In fact, this is a method of separate nutrition, based on the fact that one type of low-calorie product is better absorbed, without switching to fat stores, simultaneously there is no acute need for glucose. The start of the diet begins with protein food, changing carbohydrate, and so on in a circle. Other features include:
a clear sequence of the list of products: fish day, vegetable, chicken, cereal, curd, fruit;
five meals a day;
large volume of liquid (2l or more), tea and coffee without sugar are allowed;
exclusion of alcohol and sugar;
physical activity is desirable, sports.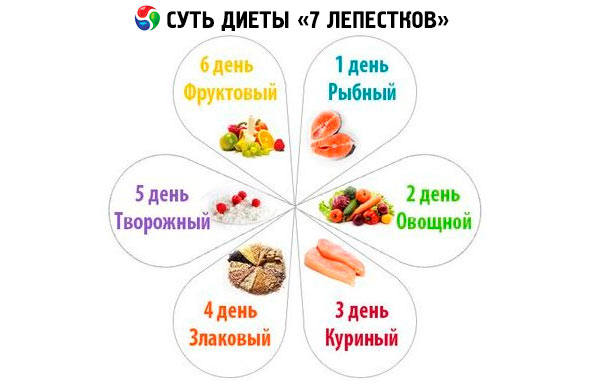 Detailed menu for every day
Each day of nutrition consists of three main meals and snacks between them, and on fish and meat days it is tea and drink from herbs, in curd - milk and kefir, in vegetable - cucumber and any other vegetable, in fruit - apple and A glass of tomato juice. For psychological support, the nutritionist recommended drawing a flower of seven petals of different colors, each of which symbolizes a dietary day, attach it to the refrigerator and tear it off as it is overcome. The menu for the week looks like this:
Days (petals)

Breakfast

Dinner

Dinner

The first, fish (500g)

Steam fillet of fish (150g), greens

Fish soup puree (200g)

Boiled fish, greens

The second, vegetable (1,5 kg)

Salad from cucumbers, pepper, tomato (200g)

Broccoli cream soup

Stew of zucchini, carrots, onions, peppers

The third, chicken (500g)

2 chicken cutlets with steamed chicken, salad

Chicken non-ferrous soup

A piece (150g) of chicken breast

The fourth, cereal (200 g of dry cereals)

Oatmeal on water

Buckwheat pre-steamed

Boiled rice

Fifth, cottage cheese (0,5 kg)

Cheesecake cookies

Curd (200g)

Cottage cheese with yogurt

The sixth, fruit-toast (1.5kg)

Salad from various fruits

Same

Smoothies of fruit

The seventh, drinking

The whole day to drink non-carbonated mineral water, teas, herbal decoctions
It is necessary to leave the diet carefully, without immediately attacking the food. Another week to use the same food, but in different combinations: rice combine with fish, buckwheat and chicken, etc. Portions should be small, meals are frequent. Still a lot to drink.
Dish recipes
Even with a limited set of products, you can come up with something delicious. Here are recipes for individual dishes:
in a small amount of water boil an onion, celery root, carrots, zucchini, pieces of fish. The latter is extracted from the soup, everything else is ground in a blender, before serving, to return there the same fish, divided into small fragments;
chicken fillet podlit, pepper, sprinkle with your favorite seasonings, such as Provencal herbs, sprinkle with caraway seeds, grease with yogurt and bake;
Fish fillet pour with soy sauce dressing, lemon juice, wrap in foil and send it to the oven for half an hour;
A vegetable stew can be prepared from any vegetables present in the refrigerator. The optimal set is onion, broccoli, zucchini, a little carrot, tomato, sweet pepper, asparagus beans. Everything is cut into pieces, lightly sprinkled with sunflower oil, salt and over low heat brought to readiness;
cucumber, tomato, parsley, dill crushed with a blender, vegetable smoothie is ready;
from evening to wash buckwheat groats, put in a thermos, pour boiling water, leave for the night.
Benefits
This Swedish diet allows you to lose 3-5 kilograms of weight in a week, without harming the body, because it is short-term, contains a variety of products, although it is built on strict limitations. This is its main benefit. You can return to it after a certain time, preferably not earlier than a week. And how many circles can be done depends on the purposefulness and willpower of the person, ideally, until the necessary weight is achieved.
What can and what can not?
Which foods should be present in the diet these days:
meat: chicken fillet;
fish: any low-fat varieties (pollock, hake, pollock, pike, cod);
low-fat cottage cheese;
milk and dairy products of low fat content;
vegetables: zucchini, cauliflower, broccoli, zucchini, cucumber, tomato, bell pepper;
fruits: apple, pears, kiwi, apricots, cherries;
cereals: wild rice, oatmeal, buckwheat;
greens: dill, parsley, basil, arugula, salad;
bread from bran;
black and green tea;
chicory, coffee;
herbal infusions and decoctions;
vegetable oil in small doses.
From the diet of the "Seven petals" diet, the following products are completely excluded:
fatty grades of meat, fish:
fats of animal origin;
Bakery and confectionery products, except admissible;
bananas, dates, figs;
semi-finished products;
canned vegetables and fruits;
other cereals;
carbonated drinks.
Despite the fact that the diet of 3 protein days, but there are no eggs in it.
Contraindications
The "Seven Petals" diet, like any other, has its contra-indications. Before you start it, you need to consult your doctor, and maybe even get a check-up. It can not be resorted to if there are pathologies of the gastrointestinal tract, low hemoglobin, diabetes mellitus, during chemo- and hormone therapy, and during pregnancy and feeding of the child.
Reviews
The diet of the "Seven petals" is perceived by all ambiguously. According to reviews, some jump off it, unable to withstand the test of malnutrition, others do not receive the promised result. But there are a lot of people to whom she approached, who got the results and got rid of a few kilograms per week, and then went on a new round. What if the diet "Seven Petals" did not help? The answer is one: "Try the others!". Each organism is individual, someone will help a protein diet, other buckwheat, fruit, kefir. Of the many developed dietary systems for weight loss, there must be one that works, if only the willpower failed.