Medical expert of the article
New publications

х
All iLive content is medically reviewed or fact checked to ensure as much factual accuracy as possible.
We have strict sourcing guidelines and only link to reputable media sites, academic research institutions and, whenever possible, medically peer reviewed studies. Note that the numbers in parentheses ([1], [2], etc.) are clickable links to these studies.
If you feel that any of our content is inaccurate, out-of-date, or otherwise questionable, please select it and press Ctrl + Enter.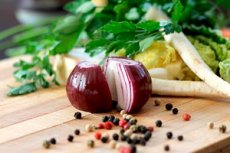 Onion is an indispensable and favorite ingredient of most of the dishes that are habitual for us. It is present in salads, without it we do not prepare soups and borscht, many meat and fish dishes, pie fillings, etc. This vegetable is perceived by us not only as a product that adds acuity and piquancy, but also as a very useful ingredient rich in essential oils, flavonoids, vitamins, including ascorbic acid, phytoncides and minerals. We are well aware that the lack of onions can cause scurvy (provided the ration is poor in vegetables and fruits). But the fact that there is onion diet is a discovery for many. Its authorship belongs to American dieticians, who have proved not only effectiveness, but also the ability to deliver gastronomic pleasure.
Indications
The onion diet is addressed to people who want to lose weight or maintain a good shape. Low calorie, based on the consumption of large amounts of fiber and vitamins, it is able to "pick up" a week before 5kg. Other indications for the appointment may be the desire to improve immunity, protect against colds in the cold period of the year, improve digestion.
General information of the onion diet
The first assumption that sitting on onion diet, you need to eat only this vegetable, wrong. The essence of the diet is that its main dish is onion soup several times a day, but apart from it you can eat other dietary products. The soup itself is very nutritious, has a pleasant taste, so for lovers of onions it is not difficult to "get hooked" on it. In addition, such a diet does not doom to starvation and, if not neglect the rules, it makes it possible to get rid of 2-3 kilograms in a few days.
Onion diet for 7 days
Onion diet is designed for 7 days. What you can not eat? Its requirements prohibit fatty foods, alcohol, flour products, sugar, carbonated drinks, sauces, mayonnaise and other high-carb products. The key product is an onion soup, and its consumption is allowed at any time when there is a feeling of hunger. Obligatory drinking is abundant, including tea and coffee without sugar. What else can you eat? Vegetables, fruits, chicken, fish, lean beef, milk are allowed.
Menu for a week onion diet
We suggest to take as a basis an approximate menu for a week of onion diet, which assumes a serving of soup 3-4 times each day, and in addition to it:
Monday: some fruits, except bananas and grapes;
Tuesday: raw vegetables, suitable stewed or baked, on the grill;
Wednesday: vegetables and fruits in small portions;
Thursday: vegetables, fruits, 250g low-fat milk, a pair of bananas;
Friday: a piece of boiled meat, you can fish, but not more than 0.5kg per day;
Saturday: boiled beef, fresh cucumber and sweet pepper (unlimited vegetables), greens (parsley, dill, salad);
Sunday: a portion of boiled wild rice, vegetables, fruit juice.
The food regime of the first four days should be constructed as follows: breakfast, lunch and dinner should be soup and the fruit, vegetable or salad recommended on that day, snacks are also made with their help. Milk on Thursday afternoon snack. On Friday, a serving of soup moves from lunch to a second breakfast, it will be replaced by meat or fish. On Saturday, soup instead of dinner is eaten at noon, and in the evening only a vegetable salad. Sunday completes the diet, so you can start to relax and organize meals at your own discretion.
Onion diet recipes
If you use only one recipe to prepare the dish, then the diet on onion soup will seem boring, monotonous, uninteresting. Simple recipes allow you to saturate soups in different shades. On average, when cooking a volume for one day, you need to use 6 bulbs. You can cook vegetables:
onion soup with celery: chop the onions, chop the cabbage, cut the tomato, a couple of bell peppers, the celery root. Pour water, cook until ready, at the end, add;
another variation of the use of celery looks like this: the onion is cut in half, smeared with butter and baked in the oven, then sent to a pan, where the celery root is rubbed, everything is filled with water and cooked. The prepared soup is blended with a blender;
with carrots: onions and carrots are steamed on sunflower oil, water, white cabbage, seasoning, pepper, salt, bay leaf are added to the pan. The number of ingredients, except for onions, depends on the density of the first dishes you prefer;
French: it is more caloric and they can be pampered no more than twice a week. Onions caramelize (you have to use a little sugar for this), the spoon of flour intervenes there, strengthening the fire, pour in a little wine and a weak chicken broth. Its consistency should not be liquid. All this on fire for about 10 minutes, add salt, bring to taste.
Benefits
First of all, onion diet is designed for weight loss, but it will undoubtedly benefit the cardiovascular system, liver, kidneys, help normalize blood pressure, activate metabolic processes, improve the skin, nails and hair. Since ancient times, onions have been used to treat joints with rheumatism and gout, disinfected wounds. The advantage of the onion diet is that it is acceptable even at a more mature age, in which severe restrictions on food can do more harm than solve the problem, as well as in the period of bearing the child.
[9]
Contraindications
Onion diet is one of the safest of all. The risks associated with it are minimal. And yet, people suffering from gastritis and other diseases of the gastrointestinal tract should consult with the attending physician before using it to avoid any complications in the form of exacerbation of the pathology. Although it is designed for a week, but if it does not cause disgust because of the specific smell and taste, is not accompanied by nausea (this also happens), then a longer period can be applied.
Reviews
Numerous reviews of onion diet testify to its popularity and, mainly, belong to the female sex. They emphasize that it really "works". For many women, it helps to return to the form after giving birth, while others resort to it before the beach season. Complaints about the difficulty of sustaining are almost absent, some confuse and turn away the flavors already at the stage of cooking, in this case, you need to consider other options for losing weight.