Medical expert of the article
New publications

х
All iLive content is medically reviewed or fact checked to ensure as much factual accuracy as possible.
We have strict sourcing guidelines and only link to reputable media sites, academic research institutions and, whenever possible, medically peer reviewed studies. Note that the numbers in parentheses ([1], [2], etc.) are clickable links to these studies.
If you feel that any of our content is inaccurate, out-of-date, or otherwise questionable, please select it and press Ctrl + Enter.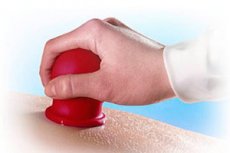 The mechanical effects on the skin used in apparatus cosmetology can be constant (they are usually called mechanical stresses) and variables caused by mechanical vibrations.
In turn, mechanical stresses can be divided into pressures higher (pressotherapy) and lower (vacuum therapy) atmospheric.
Let us dwell in more detail on the most common mechanotherapy procedures used in modern centers of beauty and health.
Hardware massage and pressotherapy (syn: pulse barotherapy) consist in periodic dosed mechanical action on the skin. In the case of pressotherapy, periodic pressure is applied to the fabric using cuffs with compressed air. The local change in pressure on the tissue can be modulated, i.e., the direction of fluid filtration in one direction or another in accordance with the Starling equation. The period of alternation of vacuum and compression during the pressotherapy procedure is from 30 seconds to 2 minutes. 
Pressotherapy, used in cosmetology, allows you to get rid of edema of various origins, to fight cellulite and obesity, to remove the flabbiness of the skin, making it supple and smooth. In addition, pressotherapy, providing spasmolytic and vasodilating effects, is used in the complex treatment of persistent muscular tension, and also for the prevention of varicose veins, removing the feeling of heaviness and fatigue of the legs.
Vibrotherapy - dosed exposure to mechanical oscillations of low frequency (20-200 Hz) and amplitude to the entire body of the patient or to parts of it. The effects of vibration therapy are as follows: increased blood circulation, stimulation of metabolic processes, improvement of neurotrophic functions, analgesic, anti-inflammatory and hyposensitizing effect. Vibrotherapy is used to treat diseases and traumas of the nervous system (neuritis, neuralgia, plexitis, radiculitis) and the musculoskeletal system (bruises, ligament ruptures, neurocirculatory dystonia).
Vibroacuum therapy is a complex effect on the body of local vacuum decompression (depression) and vibration to stimulate the nerve and muscle fibers. One of the effects of this effect is the activation of metabolism, including fat (which is useful in the treatment of cellulite), blood flow in the underlying tissues also improves and lymphatic drainage improves. The course of vibroacuum therapy promotes the enhancement of metabolism in all layers of the skin, which affects its appearance: its elasticity and turgor increase, wrinkles are prevented.
Endermoterapiya - combined effect of local vacuum decompression and roller massage: under the influence of vacuum, the skin is raised and forms a fold, which is captured by the rollers and kneaded by them. Thus, the skin and underlying tissues are found to be both negative (due to the vacuum-decompression system) and positive (transported rollers) pressure. Dosed endermoterapevticheskoe effect activates microcirculation and lymphatic drainage, which improves trophism of skin tissue and metabolism in all layers of the skin (including lipolysis in the subcutaneous fat).
Vibromassage relaxation is a combined effect on the human body of low-frequency vibration and periodic roller impact, which contributes to psycho-emotional and physical relaxation.