Medical expert of the article
New publications

х
All iLive content is medically reviewed or fact checked to ensure as much factual accuracy as possible.
We have strict sourcing guidelines and only link to reputable media sites, academic research institutions and, whenever possible, medically peer reviewed studies. Note that the numbers in parentheses ([1], [2], etc.) are clickable links to these studies.
If you feel that any of our content is inaccurate, out-of-date, or otherwise questionable, please select it and press Ctrl + Enter.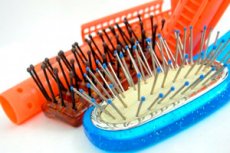 Increased brittleness of hair is a significant problem for female representatives.
With damages of the locks, it will not be possible to grow long thick curls, it will not come out to make a stylish stylish styling. Such hair is often broken, tangled and has a dull lifeless appearance. Most often, the hair breaks at the end, but sometimes it can happen all along its length. Why is this happening and how to deal with it? We'll figure it out!
Causes of brittle hair
They say that the state of the locks can say a lot about their owner, because any problems in the body, vitamin deficiency, bad habits, inaccuracies in nutrition - all this affects our health and our appearance. The usual shine, suppleness is lost, the hair structure is deteriorating, which sooner or later is manifested by fragility and dryness.
The causes of fragile ringlets can be listed in plenty. For example, this condition can be a consequence of anemia, trophic disturbances and oxygen deficiency in tissues. There may be a violation of capillary circulation in the skin on the head, as a result of which trophic follicles are disrupted, the hair structure changes.
Diseases of the digestive system can also cause a bad condition of the strands, because with problems with the intestines, for example, the absorption of important elements and vitamins deteriorates.
Diseases of the respiratory and urinary system can lead to impaired circulation and tissue hypoxia. The same can be expected from chronic inflammatory diseases, even such subtle as caries, chronic sinusitis or helminthic invasions.
However, no less important is the external care of our skin and strands. Thus it is necessary to look after equally equally carefully both for fatty or dry, and for normal hair. In addition to illiterate care, the appearance of brittleness is facilitated by frequent painting, chemical procedures, the use of thermal appliances for styling.
Not directly reflected in the state of strands direct sunlight, salt and chlorinated water, the intake of various medications.
The effect of too high or too low temperatures is detrimental to the hairstyle: it's washing your head with excessively hot water, visiting the steam room without a special cap, ignoring the hats in the winter, etc.
Among the additional factors that can lead to fragility of the strands, you can identify frequent negative emotions and stresses, excessive moral and psychological stress, constant fatigue, depressive states, etc.
Causes of brittle hair in women
Frequent diets, mono-diet, unbalanced diet, starvation.
Dysbacteriosis of the intestine.
Diseases of the teeth, giardiasis.
Illiterately selected means for hair care.
Frequent use of waving, styling, use of a hair dryer, curling iron, thermobigue, etc.
Frequent painting (especially ammonia paints).
Use of chlorinated and hard water for washing your head.
Chronic diseases of the genital area, decreased immunity.
Excessive fascination with sunburn, solarium, without protecting the head area.
Stresses, experiences.
[10], [11]
Causes of brittle hair in men
Excessive physical activity, overwork.
Neglect of high-quality means for caring for the hairy surface.
Bad habits.
Poor nutrition, insufficient amounts of vitamins and minerals in food.
Ignoring the hats in the hot and cold season.
Excessively low humidity in the room.
Chronic diseases of the digestive system.
The causes of brittle hair in children
Anemia, lack of vitamins and minerals in the body.
Use of hair care products for adults.
Constant wearing of hats, caps and other headgear.
Uniform unbalanced nutrition.
Excessively dry air in the room.
The presence of worms.
A sedentary lifestyle, a rare walk in the fresh air, a long sitting at the computer.
Symptoms of brittle hair
The fragility of the strands can pass along the longitudinal and transverse type. Breaking of the longitudinal type is the longitudinal splitting of the hair (starting from its end) or the formation of nodular formations. The transverse type of brittleness lies in the fragility of the hairs throughout their entire length.
Cross-section and brittle hair - this is a consequence of reducing the work of the sebaceous glands. With such a pathology, dry hair, dullness, loss of smoothness is observed. Locks often defatted and dehydrated. At close examination, the damaged hair is split at the end by 2-3 or more parts. In some cases, the pathology is observed together with the onset of alopecia (especially if the cause of fragility is anemia or chronic diseases in the body).
Hair loss and fragility can be accompanied by the formation of small knots of different colors directly on the hair. For example, nodes can be light in brunettes and brown-haired, or dark in blondes. The number of nodal formations can be different. Why do nodes appear on the hair? This happens with longitudinal brittleness, when the site of the bundle is knocked down into a knot - this place becomes the most vulnerable to breaking. By the way, loss and nodal fragility can also affect the mustache and beard of men.
Dryness and brittle hair means that the hairs can break easily enough even with ordinary combing. Such strands are rough to the touch, dry, do not shine at all. This condition can be caused by a disease of the skin on the head, or infectious or inflammatory system pathologies. More often the dryness and fragility is noticeable on long curls.
The breakage of nails and hair simultaneously also happens quite often. Typically, this condition is combined with dry skin, dandruff, scaling and itching sensation. In passing, you can determine the presence of anemia in the blood, a lack of nutritional and vitamin substances. The breakdown of nails and hair often occurs in the period of beriberi (winter-spring), with prolonged strict diets, as well as in women during pregnancy.
Strong fragility of hair is often accompanied by a "section" of hairs - a kind of brush on the end. At the same time, the skin on the head is rough, the hair follicles are in most cases deformed, and the torn off scales of the epidermis are visible between the roots.
What to do with brittle hair?
Broken strands can be resuscitated, and late never happens. True, efforts for this will have to be made different. At the same time, a major role in their recovery is played by a change in the approach to nutrition and a revision of the way of life.
Usually the patient is recommended to change the diet. Food should be enriched with proteins, the menu should contain enough vegetables, fruits, herbs, berries, nuts. Strict and monotonous diets are prohibited. A balanced diet, enriched with vitamins and other useful substances, is selected.
Among other things, it is recommended to use liquid in the form of pure drinking water (non-carbonated) in the amount of 2-2.5 liters per day.
In the heating season, when the air in our apartments is excessively dry, you can include special appliances that moisturize and purify it. If this device is not available, you should often ventilate the room, especially at night, and also put on ordinary heating plates with water, which will act as a kind of humidifier.
Going out on the street in the winter, do not forget to put on a warm hat, and during the summer heat, use a sunscreen or a cap.
In addition to the diet, smoking and drinking should be avoided, as well as reducing the amount of strong coffee drunk per day.
How to cure brittle hair?
The approach to the treatment of brittle hair condition must necessarily be complex. Compliance with diet, along with the use of conventional hair loss detergents, will reduce all your efforts to "no." The fact is that ordinary shampoos, as a rule, contain a minimum amount of reducing and active components. And cheap shampoos, among other things, generally can contain harmful substances that can even harm the curls. Therefore, the question of choosing a shampoo can be addressed to a dermatologist or a cosmetologist.
As for the special treatment procedures for brittleness and damage, experts use the following methods:
Cryotherapy is a very low temperature method. Includes cryolaserotherapy and cryoelectric effect;
massage procedures - the scalp area is massaged, which leads to improved blood circulation in the skin and facilitating the supply of hair follicles;
mesotherapy - the use of vitamins, preparations of homeopathy, medicinal mixtures that are injected into the layers of the skin;
physiotherapy - the method of high-frequency impulse current;
treatment of climate change - sanatorium treatment, rest.
The best method of treatment is chosen individually, based on the cause of the damage. Ask your doctor and choose the most effective option.
Means against brittle hair
The most effective means against brittle hair are selected individually, by trial and error. Start with the fact that change your usual shampoo to medical-regenerating. Pay attention to its composition: it is desirable that among the components were present lecithin, vitamins of group B, as well as extracts from medicinal plants (chamomile, linden, mint, cereals).
To protect the tips of hairs, it is better to buy a special cream (or cream-balm) for damaged strands. Such creams are applied to clean curls and left to dry completely. They do not need to be washed off: the product covers the split ends and creates an invisible film on them, restoring the hair structure. The protein components of such preparations penetrate into all the damages of the fibrous stem, filling the defects. Such additional components as plant extracts and keratins contribute to the strengthening of strands.
An excellent effect has a mask based on cosmetic oils. Such masks are applied once a week for half an hour before washing your head: they are well combined with a massage of the hairline.
Damaged tips should be periodically cut (once every 1.5 to 2 months). You can use the method of "hot scissors", which will allow you to "solder" the place of stratification.
Masks from brittle hair
Mask for hair L'oreal Elseve against brittleness - contains cement-ceramides and restores the hair structure along the entire length. Hair becomes stronger and more resistant to adverse external effects. With regular application returns shine and smoothness.
Balsam mask Dove Therapy Control of hair loss - is an express care, since it is applied to clean wet hair for only 1 minute. After several applications, the hair becomes supple, shiny. Combing is facilitated, strands are not tangled.
Mask Dove Smooth silk for hair, weakened and fragile - after the first application noticeably improving the condition of the hairline, shine appears, the curls acquire a well-groomed and healthy appearance.
Wella Pro Series "Repair" mask restores - protects curls from possible damages during laying, gives them a bright appearance, facilitates combing. Has an intensive regenerating formula.
In principle, every self-respecting cosmetic company can offer its customers a whole series of useful masks from damage to the scalp. You can choose such a mask yourself, or rely on the opinion of a beautician, doctor or best friend.
Shampoo against brittle hair
Quality shampoo against brittle hair is a combination of cosmetic products, which can solve most aesthetic problems with hair. First of all, it is dryness, fragility and hair loss. The effect of using such shampoos should be visible after several uses, which is guaranteed by a competently selected composition of the most important and irreplaceable natural ingredients.
What shampoos our users use most often:
Revlon Professional Hydra Rescue Shampoo - hydrohampoo with moisturizing effect;
L'Oreal Professional Absolut Repair - regenerating shampoo for damaged curls;
The series of Agafia's grandmother's recipes is Agafia's special shampoo against loss and fragility;
Elfa Repinaya - restoring shampoo burdock;
Organic Shop Shampoo - shampoo for damaged curls "Carrot - super firming".
Experts advise when choosing a shampoo to start using the samplers - so you better orient in favor of detergent and restorative remedies for your curls.
Oil against brittle hair
Essential oils are used as a treatment or prevention of diseases of the scalp. The main thing is to choose the most suitable oil. The effect of oils is multifaceted. They are used for the following purposes:
increased growth and density of hair;
strengthening curls;
getting rid of dandruff;
prevention of alopecia;
giving strands a healthy shine.
What oils can be used for strengthening and healthy appearance:
oil of juniper - has a beneficial effect on growth, nutrition and strengthening of curls;
ylang-ylang - restores brittle and damaged strands that formed with improper hair care;
Melissa - removes stratification and fights with excessive dryness;
cloves - accelerates growth and strengthens the hair;
fir - nourishes the scalp, eliminates dandruff and itching;
Cinnamon oil - eliminates damage and loss.
Essential oils can be used alone or in combination with each other. As a rule, they are used in two ways:
moisten the fingertips in the oil and easily rub it into the skin on the head (this strengthens the follicles and stimulates blood circulation, positively affecting the structure and growth of the curls);
soak the roots or the entire length of the hair with oil and leave it as possible for 2-3 hours, after which it is washed off.
In addition to essential components, you can use vegetable oils or their mixtures: olive oil, walnut oil, sea buckthorn, etc.
Vitamins from brittle hair
Now practically in any drugstore you can buy specially developed multivitamin preparations from brittle hair. Which of them are most common and effective?
Innes is a French plant-based preparation made from grape seeds, green tea leaves, tomatoes and soy. Very effective, but at a price superior to any other analogs.
Perfectil - it contains antioxidants, vitamins, minerals, extracts from plants. The manufacturer guarantees the improvement of the condition of the hair, skin and nails after 2-3 months of use. Caution: There are side effects, such as nausea and stomach pain.
Lady's formula is a complex vitamin and mineral remedy, according to the customers' feedback, it is very effective.
Vitrum Beauty Elite - a representative of the well-known brand Vitrum, contains extracts from herbs, minerals and all vitamins necessary for beauty. Restores the hair structure.
Compliwit "Radiance" is a domestic remedy, contains a specially developed combination of vitamins, minerals, and green tea extract.
All vitamins are recommended to be taken during or immediately after a meal, with enough liquid.
If you do not have the opportunity to purchase a full vitamin complex against any damage, you can buy a drug with group B vitamins (for example, Pentovit or Neuromultivitis), as well as any calcium supplement.
Anti-brittle hair balm
The conditioner, or a balm against brittleness of hair is a means for care of a hair covering which is used, as addition to shampoo. The balm softens and intensifies the action of the therapeutic shampoo. Most often, the effect of using balm can be seen immediately: the curls become more docile, get shine and softness.
Such funds have one indisputable advantage over masks for the scalp: the use of balm does not require much time. It is washed off literally in a minute after drawing, and some do not wash off in general.
Revlon Professional Equave Nutritive Defangling Conditioner - restoring indelible air conditioner.
Planeta Organica is a revitalizing provencal balm.
The series of Agafia's grandmother's recipes is a thick balsam, for strength, strength and growth.
Green Pharmacy - balm-mask against brittleness and hair loss "Burdock oil".
Himalaya Herbals Protein Conditioner - balm with proteins for dryness and damage "Recovery and Care".
Mineral Beauty System Conditioner - balm-conditioner with minerals of the Dead Sea.
Use balsams after each shampoo application. Some experts advise to apply shampoo and balm of one manufacturer, although in most cases it can be just an advertising move.
Recipes of alternative medicine from brittle hair
The use of olive oil is a common method of treating hair damages. You can grease the strands from the roots along the entire length, or only the roots, after which the head is wrapped in a towel and left for 30-40 minutes. After the procedure, the head should be rinsed well.
The use of beer is also very popular: a chicken egg is mixed with two st. L. Beer. The resulting mass is applied to clean and towel-dried strands, wrapped and wait for half an hour. After that, rinse with running water.
More complex recipe: take 100 ml of olive oil, as much birch tar and 3 tbsp. L. Of vodka. All mixed (mixed mass can be stored in the refrigerator in a closed jar). Mass grease the roots 2 hours before washing. Repeat once every week.
In addition to olive, you can use any other vegetable oil. For example: whisk 2 yolks, add 2 tsp. Any vegetable oil, mix. 20 minutes before washing the head, we lubricate the resulting mass with damaged curls and wrap the head with a handkerchief.
You can simply rub into the scalp and skin integuments warm sour milk or kefir, then wrap your head around with a kerchief. After 30 minutes, the procedure must be repeated and finally wash the head with an emollient shampoo.
A good effect is the washing of already clean curls with decoction of chamomile, burdock root, sage or lemon balm.
How to prevent brittle hair?
To prevent damage to the strands, it is recommended to use a hair dryer with a cool blowing, and also not to apply thermal effects (for example, curling irons and thermal rollers).
If the curls are long, then they should be combed as carefully as possible. Do not do this with a metal brush: get a special wooden comb with thin teeth. Sharp comb teeth and hairpins can also damage the hair structure.
On a sunny day, as well as in windy, frosty and rainy weather, it is necessary to wear appropriate hats.
Try not to use styling varnishes and foams to fix the hairstyle whenever possible. In most cases, they contain in their composition alcohols, which dry the hair rods. If you still had to use the varnish, then it should be thoroughly washed off with shampoo and plenty of water.
As for painting, it is desirable to use bezammia paints, as well as natural dyes that strengthen hair (for example, henna). Often the use of painting is not recommended, as well as doing a chemical wave: the locks need rest.
Do not forget about proper nutrition and healthy lifestyle. Healthy hair is promoted by an active lifestyle, walking in the fresh air, a full sleep. It is necessary to limit the amount of simple carbohydrates and animal fats in the diet, but there should be more vegetables and fruits.
Remember drinking mode - drink pure still water at least 2 liters a day, mainly in the morning.
If you follow all of the recommendations listed above, then you will definitely get around such a problem as brittle hair. Be healthy and beautiful!