Medical expert of the article
New publications
Ginger for hair - a unique remedy

х
All iLive content is medically reviewed or fact checked to ensure as much factual accuracy as possible.
We have strict sourcing guidelines and only link to reputable media sites, academic research institutions and, whenever possible, medically peer reviewed studies. Note that the numbers in parentheses ([1], [2], etc.) are clickable links to these studies.
If you feel that any of our content is inaccurate, out-of-date, or otherwise questionable, please select it and press Ctrl + Enter.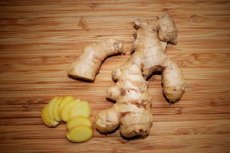 In hair care is used a great variety of plants - nettle, chamomile, hop cones, aloe juice, burdock root (in the form of burdock oil). It makes sense to expand this list and - for the sake of beauty and shine curls - to include in it a home remedy such as, for example, a hair mask with ginger.
In what cases and how can ginger help hair?
[1]
The treatment protocol
The Benefits of Ginger Hair
Before you tell how to properly use the root of ginger hair, it does not hurt to find out what substances contain the underground part of the Asian plant Zingiber officinale Roscoe (or Amomum zingiber L.), and, of course, what is the benefit of ginger hair and scalp head.
To begin with, as of today, about 500 different chemical substances have been detected in this spiny-broom and medicinal plant. In 100 grams of fresh ginger root contains: thiamine (vitamin B1) - 0.05 mg; riboflavin (B2) - 0.17 mg; nicotinic acid (B3) - 9.6 mg; pantothenic acid (B5) - almost 0.5 mg; pyridoxine (B6) 0.6 mg; folic acid (B9) - 13 mcg; vitamin C - 0.7 mg. Of the micro- and macroelements, most potassium (13 g), magnesium (214 mg), phosphorus (168 mg), calcium (114 mg). Also there are manganese, iron and zinc.
Non-volatile phenylpropanoid derivatives of gingerol, shogaol and eugenol give the ginger root an acute taste, and the stiffness is added by capsaicin (an alkaloid that is also contained in bitter pepper). A peculiar smell of ginger is the merit of its essential oil, consisting of terpenes (zingiberyrene, beta-bisabolene, farnesen) and monoterpenes (beta-felladrine, curcumin, cineol and citral). All these substances are antibacterial active, in addition, citral, gingerol and shogaol have anti-allergic properties; Capsaicin, curcumin and eugenol - anti-inflammatory; citral, cineole, gingerol and farnesene - antiseptics. As you can see, essential oil of ginger for hair can have a serious health effect.
The root of ginger contains natural fatty acids (lauric, linoleic, linolenic, etc.), which nourish the hair roots, and also promote faster growth and healthy hair.
Ginger is not related to cedar or fir, but, nevertheless, its root has in its composition protects from rotting gum, and the gum contains tar (terrenic) acids, including active against viruses abietic. A melatonin, the source of which is the root of ginger - a powerful natural antioxidant, and, more powerful than glutathione and vitamin E.
Hair treatment with ginger
To treat ginger hair as efficiently as possible, it is recommended to use fresh ginger.
Thanks to the antioxidant and anti-inflammatory properties of the plant, the hair mask with ginger is useful for oily hair, with excessive allocation of fat to the skin of the scalp. To make it, you need to grate a piece of peeled root on the smallest grater (the length of the slice is about 5-6 cm), squeeze the juice from the grated mass and apply it to the scalp (with a swab or dipping the fingers into the juice). In parallel - rubbing movements - you massage your skin, which is also very useful.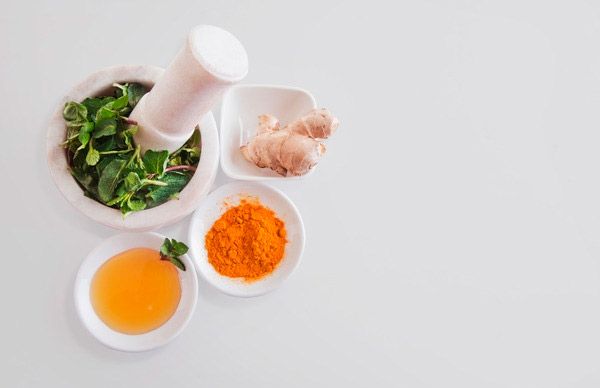 By the way, it is so necessary to use ginger for hair growth. The juice must be completely absorbed into the skin (excess will dry), and for this the duration of the procedure should be at least 40-45 minutes. Then the head is cleaned in the usual way, but it is better to dry hair naturally (without a hair dryer), because under the action of terpenes and capsaicin, the blood circulation in the scalp becomes stronger. In this hair follicles get more nutrients, oxygen, and, consequently, the growth and condition of the hair improves.
In addition, methoxyphenolic derivatives in ginger (dehydrozingeron, veta-iso-gingerone, etc.) are active against fungal diseases and in passing contribute to a decrease in the intensity of keratin proliferation. And this means that the juice of ginger hair is useful in the presence of dandruff.
Admission advice: rubbed root after the extraction of juice do not throw, but fill with a liter of hot water for about an hour, strain. The result is a therapeutic conditioner for normal and oily hair.
With dry hair and dried head skin, hair mask with ginger is prepared as follows: a tablespoon of grated root mixed with two tablespoons of any vegetable oil; mixture put on the scalp, wrapping the head with polyethylene and a towel for 30 minutes. Wash off with warm water followed by washing using shampoo.
Ginger against hair loss
Chinese traditionally use the root of ginger for the treatment of colds, abdominal pain and diarrhea, nausea, edema, rheumatism, toothache, snake bites and ... Baldness.
Ginger for hair strengthening also involves the use of freshly squeezed juice. The simplest hair mask with ginger is prepared from a mixture of juice and raw egg yolk (3-4 teaspoons of juice for one yolk). As expected, the head should be tied for at least half an hour with a kerchief or a towel.
For prematurely balding men, ginger against hair loss can be applied in the form of masks: with yolk and burdock oil - for dry hair; with honey and aloe juice for fatty. And you can apply to the scalp (and gently rub) the pure juice of ginger - on dry hair, and after an hour just wash your hair. This procedure is done twice a week for at least a month.
Powder of ground ginger can replace fresh ginger in a ratio of one to five. Dry ginger for hair is used to prepare a strengthening mask, which includes: dry ground ginger (3 teaspoons), curdled milk or kefir (50 ml) natural honey (1 teaspoon). This mask is done every 7-10 days. Hair becomes stronger and healthier, and the scalp ceases to peel.
It should be noted that the available reviews of ginger for hair talk about the unconditional effectiveness of using ginger to treat hair and as a preventive agent. Ginger - a unique tool that improves the structure and growth of hair, giving hair strength and shine, helping to prevent hair loss and dandruff.