Apitherapy in cosmetology: Honey facial masks

х
All iLive content is medically reviewed or fact checked to ensure as much factual accuracy as possible.
We have strict sourcing guidelines and only link to reputable media sites, academic research institutions and, whenever possible, medically peer reviewed studies. Note that the numbers in parentheses ([1], [2], etc.) are clickable links to these studies.
If you feel that any of our content is inaccurate, out-of-date, or otherwise questionable, please select it and press Ctrl + Enter.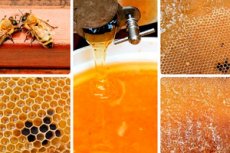 Honey has a very valuable effect on the face. Honey has the ability to penetrate through the pores of the skin, accumulating in the subcutaneous tissue - enriches it with vitamins, amino acids, glucogen and trace elements, thanks to this skin turgor (elasticity), elasticity, color is normalized.
Honey water (half a cup of water and one tablespoon of honey). With good tolerability, honey and water are taken in equal amounts. One tablespoon of honey and a dessert spoonful of milk. 100 g honey and 25 grams of water and alcohol mixed in a homogeneous mass.
Honey and glycerin one teaspoon and one egg yolk to mix. For oily skin, this mixture is used: a tablespoon of cottage cheese and half a teaspoon of honey.
Refreshing mask: one protein, one teaspoon of honey, whole milk and lemon juice. For the density, add ground hercules.
Mask honey-glycerin with oatmeal. One teaspoon of liquid lime honey mixed with 1 tsp. Glycerin and two teaspoons of water, gradually mix 1 teaspoon of oatmeal or wheat flour, mix thoroughly until a homogeneous mass is obtained. The mask is applied to dry skin of the face, 1-2 times a week for 1.5 months. The course should be repeated after 2-3 months.
Mask honey-glycerin with oat flour and aloe scoop. It is made from lime honey, water, juice, aloe and oat flour, taken in equal quantities. Technology - as in the previous one. It is indicated in dry normal skin with a clear sign of wilting. It tones well, refreshes, rejuvenates the skin of the face. It is applied 1-2 times a week. Course 1,5 months. Repeat after 2-3 months.
Mask honey-albuminous. It is used for flabby, listless, wrinkled skin. It tones well, refreshes, nourishes and rejuvenates. Preparation: 1 table is added to one tablespoon of liquid honey. Spoon of oatmeal, then, stirring with one whipped protein, apply a mask 2 times a week.
Honey and lemon mask. Two tablespoons of liquid honey mixed with the juice of one lemon. Dampened in this mixture gauze napkin impose on the face for 15 minutes. During this time, change the napkin 2-3 times. Course 15-20 masks. Or another proportion: 100 g of honey mixed with the juice of one lemon. One spoonful of honey, oat flour and one egg white. Dissolve the honey to a liquid state, add oatmeal, and then whipped the protein.
Egg-honey mask: whisk the yolk and add a small amount of acacia honey and apply a flat brush on the skin of the face.
Strawberry juice with honey. It is taken in equal amounts, mixed well and applied to the face for bleaching and giving freshness.
The yellow-honey-oil mask: the mask is prepared as follows: 1 yolk, 1 table, a spoon of butter and honey mixed. The mixture is applied layer by layer on the face and neck in three layers. It is removed by a wet swab.
When treating acne:
cucumber infusion with honey. Three tablespoons of crushed cucumbers pour a glass of boiling water and insist for 3 hours. Strain and to infusion add a teaspoon of honey. This mixture moisten the face and after 30 minutes. Wash with cold water at room temperature;
to a glass of warm water, add one teaspoon of honey and a medicinal tincture of calendula, apply in the form of lotions with oily acne skin; 17th
infusion of sage with honey: 1 tbsp. Spoon the leaves with a glass of boiling water, insist on low heat under the lid for 5 minutes, strain after 30 minutes. And add a teaspoon of honey. Do lotions in the morning and evening;
honey-potato mixture. To a glass of potato juice add a tablespoon of honey, mix well and apply on a gauze napkin.
[1]